IT jobs in cybersecurity and cloud computing are in great demand globally due to the advanced technological transformation of business processes and enhanced use of artificial intelligence, augmented and virtual reality and other devices. This phenomenon has created a huge scope for experts with degrees and skills in cybersecurity, AI, data protection, ethical hacking and cloud computing.
A report1 on Cyber Security Job Trends for the US market shows an enormous growth of 74% in the demand for Cyber Security jobs between 2007 to 2013. However, there aren't enough highly skilled cyber experts in the market to meet the current demand. There will be jobs for over 1 million cyber security professionals in India alone by 2020 according to NASSCOM2 and the international job portal Indeed reported that demand for cyber-security jobs grew by 150 percent between 2017 and 2018. University degrees in cyber security and investigation have become quite popular because of the vast potential for jobs in this sector.
How can a Degree in Cyber Security benefit IT Professionals?
In order to deal with future cyber threats, companies need more experts with superior data and AI skills who can develop artificial intelligence enhanced security models and improve cyber security. For this, companies are willing to premium salaries and have consequently increased their I.T. budgets. According to estimates:
The median salary for a Cyber Security Engineer is around $170,000 in the US
In India, employers are willing to pay anywhere between 1.5 to 4 crores for top talents2
Learn about the top jobs, degrees and programmes in Cyber Security below. To get more information about studying Information Technology degrees at global universities, book a free consultation in Delhi, Mumbai, Bangalore, Chennai, Pune and Coimbatore.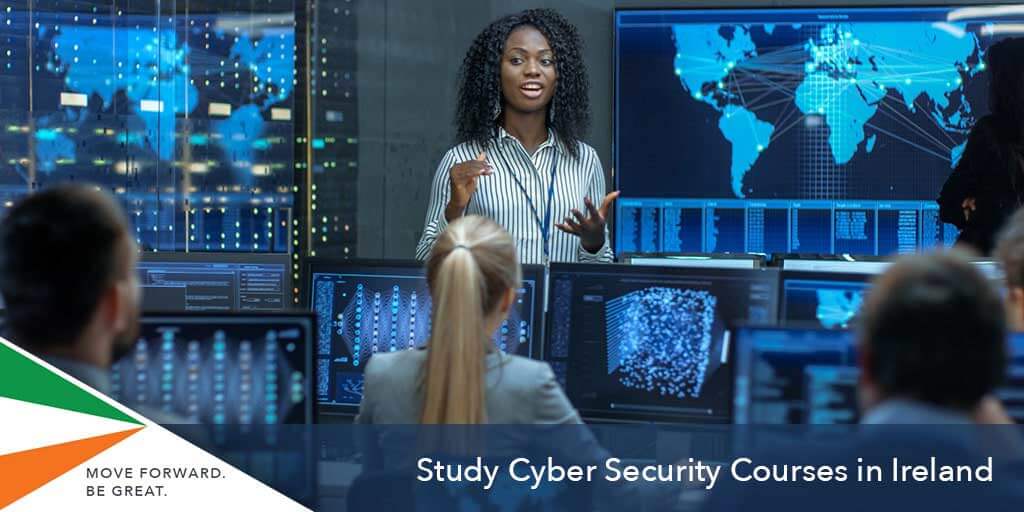 List of Cyber Security Jobs in High Demand Globally
Cryptographer
Security Analyst
Vulnerability Assessor
Forensics Expert
Security Engineer
Security Architect
Security Auditor
Penetration Tester
Incident Responder
Cyber Security Courses at Irish Universities
Types of Cyber Security Degrees in Ireland
Depending on your interests and choice of cyber security jobs, you can search a Cyber Security Degree from a list of reputable programmes at Irish Universities. These include the following:
Associate Degree Programmes
Certificate Programmes
Online degree Certifications
Study Cyber Security in Ireland
If you're interested in learning more about I.T. courses, admission requirements and what types of degrees are on offer (e.g. Cyber Security, Computer Science, Information Assurance, etc.) in Ireland, arrange a free consultation with specialist university consultants at SI-Ireland.
References:
http://www.burning-glass.com/wp-content/uploads/Burning-Glass-Report-on-Cybersecurity-Jobs.pdf
https://www.nasscom.in/sites/default/files/newsline_pdf/Newsline_November_2016.pdf