The University of Galway is one of Ireland's oldest and most picturesque universities, located in the distinctively charming city of Galway. The University has a distinguished identity among Ireland's best higher educational institutes and is known for its international outlook, research excellence, culture for innovation and high graduate employability scores.
Over 3,000 students from more than 110 countries come to the University of Galway each year, making it one of the most international universities in the country. A global community of staff, 35% from overseas, also distinguishes the university.
Learn more about studying at Galway University below. If you want to apply to Galway or have questions about studying in Ireland answered by SI-Ireland experts, arrange a free consultation with SI-Ireland today.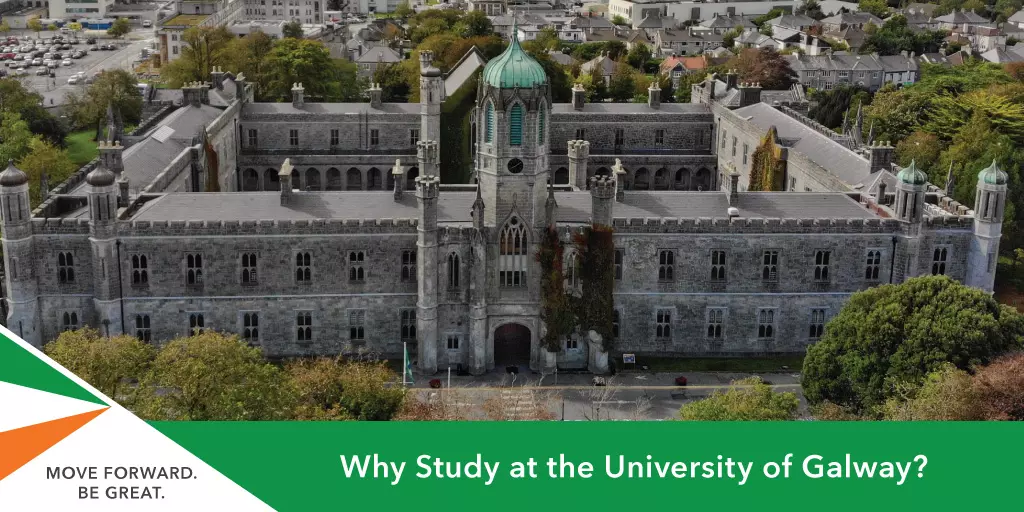 Five Reasons to Study at Galway University
1. International reputation and rankings
The University of Galway is firmly ranked in the top 2% of global universities both in the Times Higher Education (THE) World University Rankings, and in the QS World University Rankings. The latest editions of both these rankings see Galway ranked 258th in the world (QS) and top 350 in the world (THE). Galway has been named the Irish University of the Year by the Sunday Times University Guide multiple times.
2. High research impact
Galway is a research-led University, with research having impact on society, the environment, health and the economy. This dynamic community attracts researchers, academics, entrepreneurs and students of the highest calibre from all over the world.
Research initiatives at the University of Galway are changing the world with its specialised laboratories and strategic partnerships with numerous industry experts. According to Thomson Reuters, the University boasts more of the world's most influential scientific minds (with four professors earning this distinction) than anywhere else in the country. Being Europe's leading public research university, its researchers are the most cited worldwide.
Research focuses on some of the world's pressing issues through interdisciplinary programmes and collaborations with industry partners. The University's €30 million Biomedical Science Building has more than 300 researchers and scientists working in stem cell research, biomaterials, cancer biology, and regenerative medicine. R&D collaborations and innovative research initiatives receive the highest rate in Ireland for EU Research Funding, majorly through its Horizon 2020 program.
3. Exciting career prospects
98% of University of Galway graduates either start working or continue their studies six months after graduation, an extremely high figure. Hundreds of employers visit the University of Galway students each year giving them huge opportunities to start their careers in the city and country with jobs and internships. In fact, Galway is now the global hub for the med-tech industry, with eight of the world's top 10 medical technology companies based in the city.
4. Unique graduate courses
Each year, over 3,500 postgraduate students choose to study at Galway, travelling from all corners of the world, making our university a vibrant and diverse place for your postgraduate experience.
Many of Galway's graduate and postgraduate courses have won the prestigious gradireland Higher Education Awards. Particularly well-recognised are its courses in engineering, technology and computing. The University also offers unique courses in stem cell research, biomedical science, regenerative medicine, human rights and theatre studies, to name a few.
5. Great student experience in a welcoming city
Galway is the cultural capital of Ireland and has also been awarded as the friendliest city in Ireland. A favoured destination for international students in Europe for its affordable living and international outlook, Galway has more than 17,500 students and staff from 100 different countries.
Galway has everything - shopping facilities, theatres, restaurants, music venues, culture and sports facilities - but it is also small enough to get to know people easily and to keep in touch with your friends. This sense of community is one of the features of Galway life that our students love most. A medieval city, Galway is also steeped in history and culture and is a beautiful, vibrant place to live and study in.
Apply to Study in Ireland
Are you interested in studying at the University of Galway or getting more information regarding Irish universities and courses? Get in touch with Ireland application experts at SI-Ireland for a free consultation today.