If tackling problems and resolving conflicts in all areas of human life, including politics, society, business, human rights and environment, interests you, then a career in law may be just what you are looking for.
Studying Law will give you a broad range of professional skills and knowledge in legal matters, political systems, business policies, case studies and an understanding of society ethics and morality. Law degrees prepare you for a profession in legal fields such as practising solicitor, barrister or lawyer.
Studying Law in Ireland will also give you an edge over students in the neighbouring UK as Ireland has some of the best Law courses in western Europe, many of which are ranked in the top 100 globally. Law degrees from Irish universities are globally reputed for excellence and gaining legal skills.
Learn more about the best five universities to study law in Ireland below (QS World University Rankings by Subject) and if you wish to begin your application, arrange a free consultation with SI-Ireland today.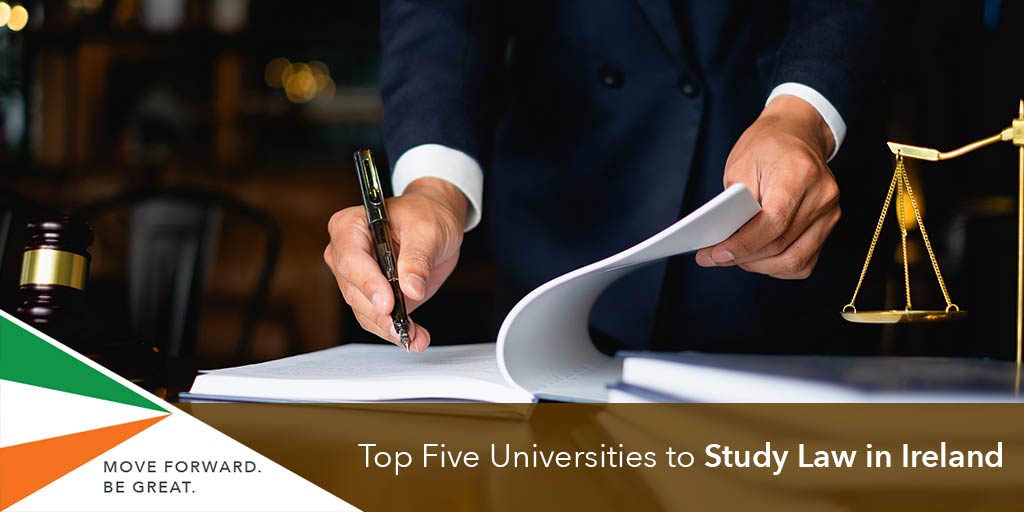 Best Universities to Study Law in Ireland
UCC is the best place to study law in Ireland and the University allows students the flexibility to choose from specialised modules to suit the requirements of a diverse range of students. Students also have opportunities to combine postgraduate and undergraduate modules and to study or work abroad for a year. It offers seven undergraduate programmes in law and postgraduate degrees in business law, children and family law, marine and maritime law, among others.
Selected Law courses at UCC
Trinity's School of Law is consistently ranked in the world's top 100 law schools and is the oldest Law School in Ireland. Trinity's alumni comprise prolific lawyers, judges, Chief Justices and Presidents of Ireland, making it one of the best institutes to study law in Dublin and Ireland. The Trinity College Law Review and The Dublin University Law Journal are Trinity's legal publications with international dissemination.
Selected Law courses at Trinity
The Sutherland School of Law, one of the best institutes to study law in Ireland, is internationally recognised and the first Irish university to be accredited by the Bar Council of India. The school endeavours to develop critical thinking and interdisciplinary knowledge in students and courses are ranked in the world top 100.
Selected Law courses at UCD
Known for its innovative legal education and high-quality legal research, the School of Law at NUI Galway offers multiple undergraduate and postgraduate law courses and opportunities for clinical legal education. The Centre for Disability Law & Policy and Irish Centre for Human Rights are world leaders in their respective fields.
Selected Law courses at NUI, Galway
The University of Limerick's School of Law is famous for law and criminology courses in Ireland. Based in the historic city of Limerick, the university is home to some of the finest legal brains in the country. Limerick's state-of-the-art facilities include the A & L Goodbody Appellate Court. Students have access to multiple opportunities to enhance their legal understanding through practical teachings, workshops, internships, and intervarsity mooting.
Selected Law courses at Limerick
Study Law in Ireland
Are you planning to study law in Ireland? Arrange your free consultation with SI-Ireland and get all your queries answered related to legal studies courses Ireland.