Higher Education Institutes in Ireland are recognised globally for their excellence and many Irish universities consistently secure high ranks across major world university ranking league tables such as Times Higher Education (THE) and QS World University Rankings.
Read below to learn more about the 2023 Ireland university rankings (QS World University Rankings) and learn which university in Ireland offers the best courses for international students to study in Ireland.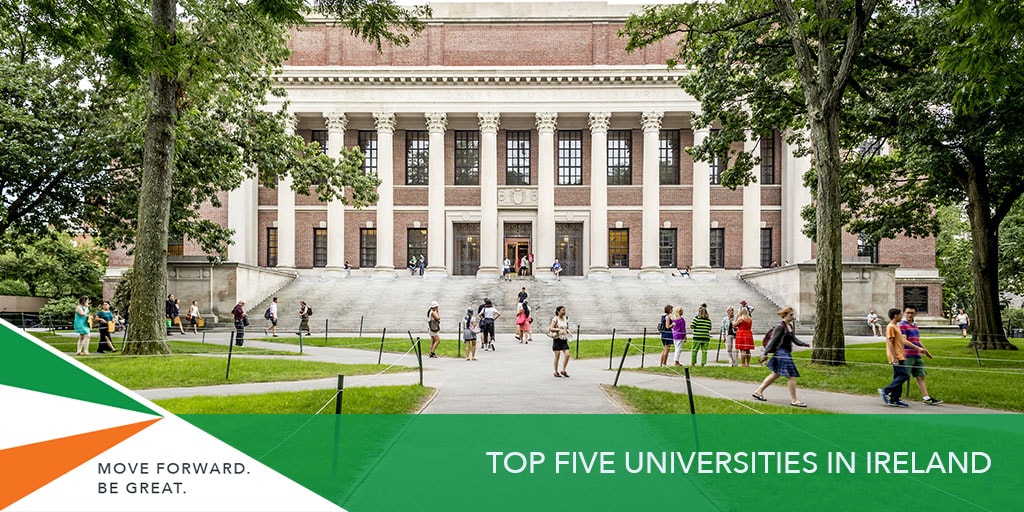 Best Five Universities in Ireland
Founded in 1592 by Queen Elizabeth I, Trinity College Dublin is one of Europe's most reputed and Ireland's best centres of learning. Over the course of its journey of more than four centuries, the institute has been a global leader in high-quality internationally-recognised education.
From arts to politics and from science to economics, Trinity College Dublin has a stellar record in almost all subjects. Trinity is the sole constituent college of the University of Dublin and has been the alma mater of several prominent figures, including Oscar Wilde, Mary McAleese, and William Rowan Hamilton.
The largest university in Ireland, University College Dublin is ranked in the top 1% of institutions worldwide (QS World University Rankings 2022). A leading research-intensive university in Ireland, UCD Dublin was established in 1854 and is the country's largest university, with more than 33000 students enrolled.
The main 133-hectare (330-acre) campus of UCD is based in Belfield. The stupendous list of UCD's alums includes over half a dozen Irish presidents, PMs, and several global leaders. The institute was ranked first in Ireland and 87th worldwide for graduate employability by QS 2022. UCD's Michael Smurfit School of Business got 28th place in the Financial Times ranking of leading European Business Schools.
One of the top universities in Ireland, the National University of Ireland was established in 1845. A member of the prestigious Coimbra Group, it was awarded the full five QS stars for excellence in 2012. NUI Galway is well known for its computer science, literature, and law programmes. Home to more than 40 sports clubs and 82 societies, the university pays immense attention to promoting social interaction for a better learning experience. International students make up about 12% of total students at NUI, ensuring a metropolitan environment at the campus.
University College Cork has been named Irish university of the year by The Sunday Times on five occasions (2003, 2005, 2011, 2016, and 2017). Founded in 1845 as one of the three Queen's Colleges, UCC is located in the second-largest Irish city, Cork, in southern Ireland and became the first university to achieve the ISO 50001 standard in energy management in 2011. One of the top universities in Ireland, University College Cork is home to over 22000 students, supported by about 3000 academic, research, and administrative staff.
Dublin City University was founded in 1975 as the National Institute of Higher Education. DCU is spread across five campuses: Glasnevin Campus (main campus), Sports campus (St Clare's), DCU Alpha Innovation Campus, St Patrick's Campus, and All Hallows Campus.
The first university in Ireland to introduce work placement as part of degree programmes, Dublin City University has been collaborating with several global universities, including the University of Wollongong (Australia), the University of Wales, Lampeter, and the University of Buffalo (US). DCU is regarded as one of the country's leading centres of entrepreneurial studies, thanks to its focus on promoting entrepreneurship through the DCU Ryan Academy.
Other Notable Ireland Universities
There are a number of other universities in Ireland as well. In Dublin, students can choose the Institute of Technology, Dublin, Technological University Dublin and University of Dublin (also known as Dublin University), while Maynooth University is just outside the Irish capital and Galway University on the west coast.
Study at Top Universities in Ireland
With SI-Ireland's free application service, it is effortless to apply to study the course of your dreams in Ireland. Arrange a free consultation today to begin your journey.