While historically renowned universities have established their excellence over time, it is essential to recognize the achievements of the younger institutions that have worked hard to provide high-quality education to students. Times Higher Education (THE) addresses this need by annually publishing the Young University Rankings, which celebrate the success of universities that are 50 years old or younger.
The recently released 2023 Young University Rankings featured 605 universities, reflecting an increase from the 539 institutions included in the previous year. Each year, these rankings are determined using 13 performance indicators, similar to those employed in the flagship THE World University Rankings.
Four universities from Ireland have secured their positions in the rankings, earning them the distinction of being the best young universities in the country. These institutions have garnered attention for their outstanding academic and research programmes, and, as a result, they have been successful in attracting students seeking a world-class education in one of the most beautiful European nations. Find more information on these top-ranked Irish universities below.
If you aspire to attend any of these fantastic institutions, book a free consultation with SI-Ireland today and start your path towards a brighter future.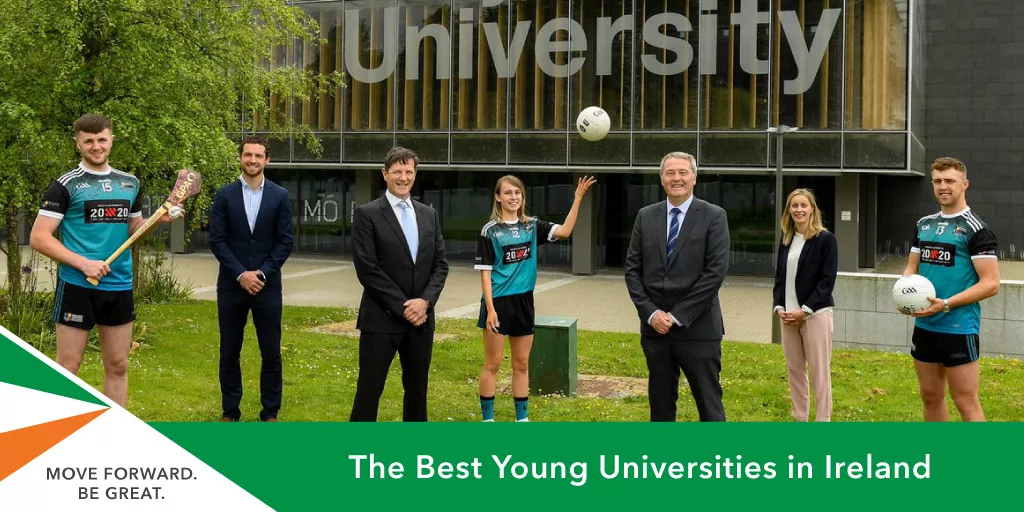 Best Young Universities in Ireland 2023
1. Maynooth University
Maynooth University is a prestigious institution of higher education located in Maynooth. Established as a college in 1997 and granted university status in 1999, Maynooth University has quickly gained a reputation as a leading centre for learning and innovation. It is the second oldest university in Ireland, with a rich history dating back to 1795 when St. Patrick's College, Maynooth, was founded. It is known for its academic excellence, vibrant campus life, and a strong commitment to research and teaching.
Maynooth University offers a range of undergraduate and postgraduate courses across various disciplines, including arts, science, social sciences, business, and engineering. It has four academic faculties: Arts, Celtic Studies, and Philosophy; Science and Engineering; Social Sciences; and the Maynooth University School of Business. Research is a core component of Maynooth University's identity, and it has established several research institutes and centres that tackle a broad range of societal challenges, including climate change, social sciences, digital humanities, and health sciences. The university is committed to fostering a supportive and inclusive learning environment. It emphasizes small class sizes, personal attention from faculty, and interactive teaching methods.
Location: Maynooth, County Kildare
Acceptance rate: 73%
Total students: 15,180
2. Dublin City University
Dublin City University (DCU) is a higher education institution located in Dublin. Established in 1980, DCU has quickly risen to prominence as a leading university in the country. DCU offers a comprehensive range of undergraduate and postgraduate programmes across various disciplines, including business, engineering, science, humanities, social sciences, and health sciences. The university is organized into five faculties: DCU Business School, the Faculty of Engineering and Computing, the Faculty of Humanities and Social Sciences, the DCU Institute of Education and the Faculty of Science and Health. One of DCU's distinctive features is its focus on providing a modern, cutting-edge education that prepares students for the demands of the professional world.
Research is a cornerstone of DCU's mission, and the university has established a strong reputation for its research excellence. The university emphasizes experiential learning, industry partnerships, and entrepreneurship. Students have opportunities to engage in real-world projects, internships, and placements, enhancing their practical skills and employability.
Location: Dublin
Acceptance rate: 20%
Total Students: 19,000
The University of Limerick is a leading institution of higher education located in Limerick. It was established in 1972 and has grown to become one of Ireland's most respected universities, known for its academic excellence, innovative degrees, and strong focus on research and industry engagement. UL offers a wide range of undergraduate and postgraduate courses across various disciplines, including arts, business, education, engineering, health sciences, humanities, and science.
The university places a strong emphasis on integrating theory with real-world experience, preparing students for successful careers. Research is also a core component of UL's identity, and it is home to a range of research centres and institutes that focus on areas such as materials science, software engineering, biomedical engineering, health research, social sciences, and applied mathematics.
Location: Limerick
Acceptance rate: 45%
Total Students: 16,000
Technological University Dublin (TU Dublin) is a prominent institution of higher education in Ireland formed through the merger of three pre-existing institutes of technology: the Dublin Institute of Technology along with the Institute of Technology Blanchardstown and also the Institute of Technology Tallaght. Established in 2019, TU Dublin is the country's first technological university, known for its strong focus on practice-based learning, industry collaboration, and applied research.
TU Dublin offers a comprehensive range of courses at undergraduate and postgraduate levels across diverse disciplines, including engineering, science, business, arts, computing, design, media, and social sciences. The university is organized into several faculties and schools, enabling students to pursue their academic and professional interests with a broad spectrum of options. One of the defining features of TU Dublin is its commitment to providing education that aligns closely with the needs of industry and society. The university emphasizes hands-on learning experiences, industry placements, and cooperative education courses, equipping students with practical skills and enhancing their employability. Research and innovation are integral to TU Dublin's mission, and the university is dedicated to addressing societal challenges and driving economic growth through applied research and development.
Location: Dublin
Acceptance rate: 46%
Total Students: 28,500