University College Dublin is an internationally recognised and research-driven university with a rich heritage of providing excellence in education since its founding in 1854 as part of the National University of Ireland. It is ranked among the top 1% of higher education institutions worldwide and attracts more than 8,500 international students yearly.
As Ireland's largest university, UCD offers an environment where research, community engagement and innovation form a dynamic spectrum of activities for students. At the same time, they undergo their undergraduate education and master's and PhD training. With 29% international students and 33% international staff, the university is truly global, making it the perfect choice for pursuing higher education among international students. UCD also has prestigious global alliances with leading schools worldwide, giving university students unique opportunities to mingle with peers internationally.
Read about the top five reasons to study at University College Dublin below and what makes it a coveted top ranked global university in Ireland. Book a free consultation with SI-Ireland to begin your application.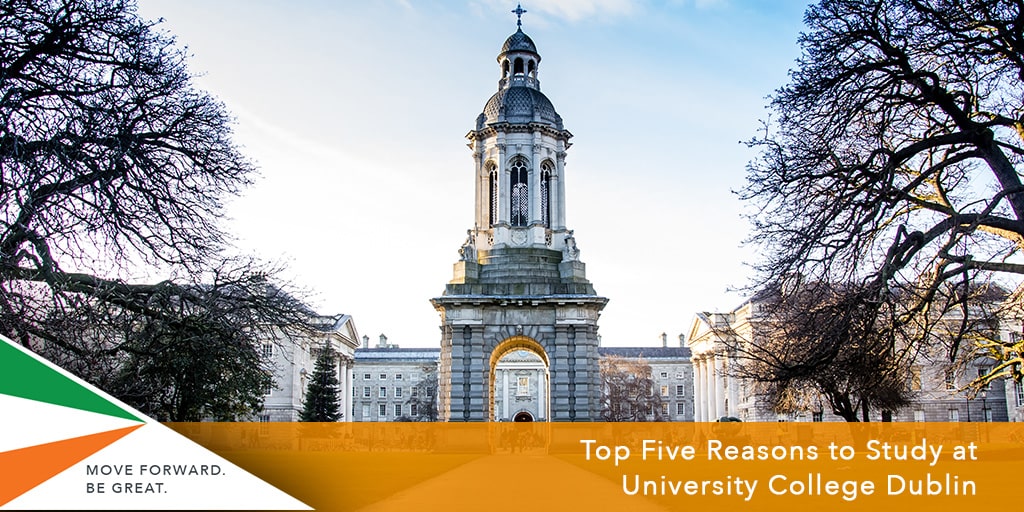 Five Reasons to Study at University College Dublin
1. Rankings and global reputation
University College Dublin is ranked in the top 1% of universities worldwide and 2nd in Ireland by the QS World University Rankings. It is also ranked in the top 250 universities in the world by the Times Higher Education World University Rankings 2023.
In addition, the UCD Michael Smurfit Graduate Business School is ranked in the top 100 business schools in the world by the Financial Times Global MBA Rankings. UCD is recognized as a top-tier institution by national and international ranking organizations such as The Guardian, Times Higher Education, and the Academic Ranking of World Universities.
As per the Times Higher Education Impact Rankings, which benchmarks institutions against the UN Sustainable Development Goals, UCD ranks 101-200th globally. The University has also been named The Sunday Times University of the Year in 2006 and in the year 2020.
2. Variety of courses
University College Dublin has six colleges with 37 associated schools offering a wide range of courses at undergraduate and postgraduate levels, across a range of disciplines, including:
Arts and Humanities
Business
Engineering and Architecture
Health Sciences
Law
Science
Social Sciences
UCD also offers a number of research-based postgraduate programs, including PhD and MPhil programs, in various fields of study.
According to the Subject specific rankings of QS World Rankings, Veterinary Science has the best performance at UCD. Other interesting subjects that have been ranked in the top 50 worldwide are: Sports-related subjects, Library & Information Management and Petroleum Engineering. Other subjects in the top 100 include English Language & Literature, Law, Nursing, Agriculture & Forestry, Politics & International Studies, Archaeology and Philosophy. The MBA and Executive MBA programmes at the Smurfit Business School of UCD are amongst the best in Europe.
3. Graduate employability and career prospects
University College Dublin places a strong emphasis on graduate employability and career development. According to the university, over 90% of its graduates are employed or in further study within 9 months of graduation.
UCD offers a wide range of career services and resources to students and graduates, including career guidance and advice, interview skills training and job and internship opportunities.
In addition, many of UCD's courses are designed with a focus on practical, hands-on learning and industry engagement. This allows students to gain real-world experience and develop the skills and knowledge that employers demand. UCD has a strong reputation among employers, which can benefit students and graduates seeking employment.
Dublin is considered Europe's Tech Capital, and graduates from the university can get jobs in IT giants like Google, Facebook, and Microsoft. Students can also land exciting jobs in industries like Pharma, Engineering, Food and Agriculture, MedTech and Financial companies.
4. Campus and facilities
University College Dublin has a large and modern campus, located in the Belfield area of Dublin, Ireland. The campus is well-equipped with modern facilities and services to support students' academic and personal development.
The main academic buildings on campus include the O'Brien Centre for Science, the Newman Building, and the James Joyce Library. The UCD Student Centre, houses a variety of student services, including the student advice center, the library, and the student welfare office.
The UCD campus is also home to many green spaces, including lakes and gardens, which provide a peaceful and relaxing environment for students and staff. The campus is well-connected to the city center by public transport, and is also served by several bus routes, making it easy for students to travel to and from campus.
5. Scholarships for international students
University College Dublin scholarships and financial aid programs support students in funding their education. These scholarships are designed to recognise and reward academic excellence and provide financial assistance to students from disadvantaged backgrounds or underrepresented groups.
It's important to note that the availability and criteria of scholarships can vary year to year and it's recommended to check the official website or contact the financial aid office for the most up-to-date information.
Study at University College Dublin
If you are interested in studying at University College Dublin and want to know more about courses, tuition fee and living costs, arrange a free consultation with SI-Ireland. Our education consultants and application experts will help you submit your application and receive an offer.