For those who are creatively inspired and inclined towards producing original works in any field of art, pursuing a degree at a renowned art school can be the pathway to an enriching career. Today, with the application of arts as a broad subject in many different fields, such as graphic design, art direction, interior design, music, dance, performing arts, and fashion design, students have various options to express their creativity and earn a living while truly expressing themselves through the art forms.
There are many prestigious institutions in Ireland, with art schools that offer undergraduate and graduate study options. If you earn a degree at Ireland's best art and design schools, you will also be eligible for a two-year post-study work permit. This can help you in getting job opportunities in the creative world. With a high-quality education that trains you to compete in the field, you can be an animator, creative copywriter, musician, art director, and graphic designer for Irish companies and also at the global level.
Are you interested in studying at Ireland's best art and design colleges? If so, book a free consultation with SI-Ireland today to learn more about the best study options available.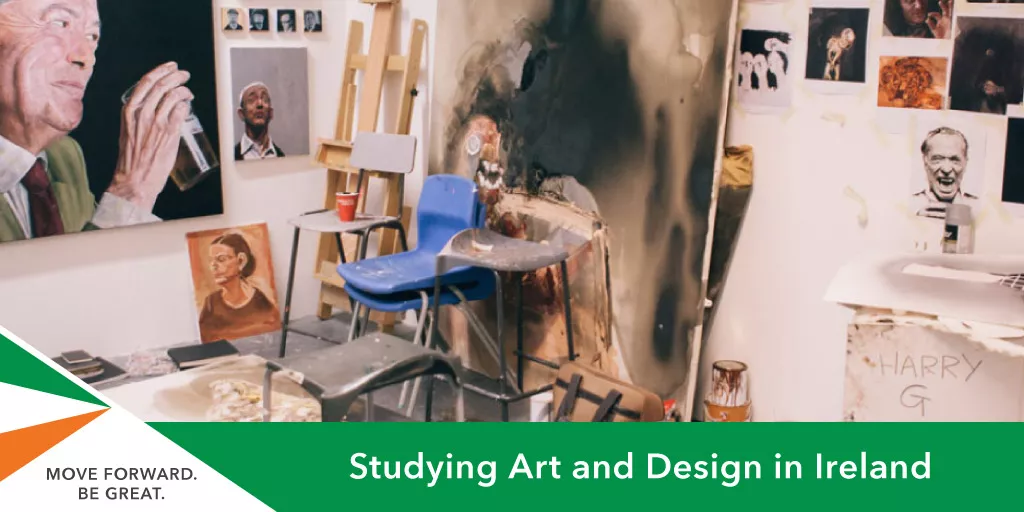 The Best Ireland Universities and Colleges for Art
The National College of Art and Design (NCAD) is Ireland's oldest art school, established in 1746, and it offers the largest range of programs in art and design, leading to degrees at both the undergraduate and postgraduate levels in the country. NCAD is a recognised University College Dublin college and a member of the European League of Institutes of the Arts. Some of the most prominent Irish artists, designers, and art teachers, have studied or taught at NCAD.
The college comprises four schools: Fine Art, Design, Visual Culture and Education. These schools impart high-quality education at all levels and offer research-based study with PhD options. NCAD has the widest range of interdisciplinary and specialist Master's programmes in Ireland. The college also has a department for Continuing Education in Art and Design which offers part-time accredited courses over a range of more than fifty programs.
Course to consider: BA Graphic Design
International fees: €13,500 per year
Entry requirements: Students must have passed their country's senior secondary level, equivalent to the Irish Leaving Certificate. A portfolio is also required for admission, apart from English Language proficiency.
The MA in Fine Art at the Technological University of the Shannon: Midlands Midwest prepares students for their chosen professional path. The University "enable postgraduate students drawn from the fields of fine art, cultural production, and creative thinking to establish links and a commonality between their art-based research and complementary research carried out within the cultural infrastructures of art, film, theatre and design, and within broader research in fields of science, technology, and social sciences."
Course to consider: MA Fine Art
International fees: Contact SI-Ireland
Entry requirements: English Language proficiency is necessary, and students are assessed on their school leaving certificates
The TU Dublin Fine Art course is designed to provide students with a broad-based education in contemporary visual arts practice, with a focus on developing students' creative and critical thinking skills. The course covers a range of subjects, including drawing, painting, sculpture, printmaking, digital media, and performance art.
The TU Dublin Fine Art course also provides students with opportunities to participate in exhibitions, both on and off-campus, and to engage with the wider art community. Students can also take part in study abroad programs, which allow them to gain international experience and exposure to different art cultures and practices.
Course to consider: Fine Art
International fees: €12,500 per year
Entry requirements: A minimum IELTS score of 6.0 and submission of a portfolio
Study Art in Ireland
If you are interested in studying the best art and design courses at Irish universities, book a free consultation with SI-Ireland today.