Studying pharmacy in Ireland is a rewarding and challenging experience. Pharmacy course in Ireland typically last for four years and includes both classroom-based learning and practical training.
During the course, students will learn about various aspects of pharmacy, such as pharmaceutical chemistry, pharmacology, pharmacotherapy, clinical pharmacy, and pharmaceutical care. They will also have the opportunity to gain hands-on experience by completing internships in community and hospital pharmacies.
In Ireland, pharmacy and pharmacology courses are regulated by the Pharmaceutical Society of Ireland (PSI), which ensures that the course meets the required standards and prepares students for a career as a pharmacist. After graduation, students must complete a one-year internship and pass a registration exam before they can practice as a pharmacist in Ireland.
Learn more about Ireland's best pharmacy and pharmacology courses below (QS World University Rankings by Subject 2023) and book a free consultation with SI-Ireland today to learn more about the application process and other relevant information.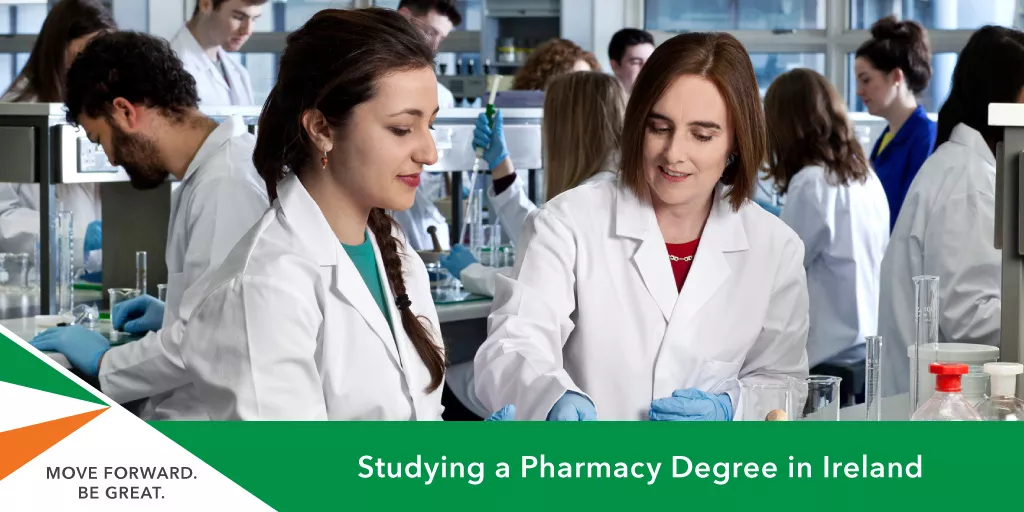 Top Three Universities for Pharmacy and Pharmacology in Ireland
TCD's School of Pharmacy and Pharmaceutical Sciences has state-of-the-art facilities for teaching and research. The research space for pharmacy as a discipline is at the Trinity Biomedical Sciences Institute, which develops the university's leadership position in neuroscience, immunology, and cancer research. The faculty offers undergraduate and graduate programmes in pharmacy and pharmacology, along with an integrated degree that is among the most popular among students as it allows them to earn a Masters in five years while enrolled in a single programme.
Suggested course: BSc in Pharmacy
World rank: 28th
Entry requirements: Candidates must have qualifications equivalent to an Irish Leaving Certificate with O4 or H6 in Mathematics and H4 in Chemistry or Chemistry/Physics, other subjects being biology, geology, computer science or agricultural science. English language proficiency is also required for non-native speakers of the language.
International fees: €19,820 per year
The School of Pharmacy at University College Cork is one of the five schools within the College of Medicine and Health. It offers undergraduate and postgraduate degree options in pharmacy and pharmacology delivered through state-of-the-art teaching and research facilities. The most popular option among students is the undergraduate course that leads to MPharm. In this degree, students complete their first four years and earn BPharm, then progress to the main degree. Placements are also an integral part of the course at University College Cork, and usually, students can be placed in the community, hospitals, or industry settings.
Suggested course: MPharm
World rank: 99th
Entry requirements: All the candidates must have passed the senior secondary education with 90% in two subjects, one of which must be chemistry and 75% in the remainder of subjects that must include English language, Physics or Biology, and Mathematics. All non-native speakers must also show proficiency in the English language.
International fees: €20,130 per year
The UCD Faculty of Pharmacy offers undergraduate and postgraduate degrees, and all pharmacology courses are accredited by the Pharmaceutical Society of Ireland and taught by experienced faculty members who are leaders in their fields. Research and placements are also essential parts of the curriculum. The university has strong ties with the pharmaceutical industry and major healthcare providers, giving students valuable networking opportunities and real-world experience, further enhancing their prospects.
Suggested course: BSc (Hons) in Pharmacology
World rank: 101-150
Entry requirements: Candidates must have attained educational qualifications equivalent to an Irish Leaving Certificate with a score of O2/H6 in Mathematics and O2/H6 in a laboratory science subject. All non-native speakers of the English language must also show proficiency through a standardised test.
International fees: €25,402 per year
How to become a Pharmacist?
To become a pharmacist in Irekand, students must complete their accredited degrees, including the Bachelors's and Master's levels integrated into one. After their education, students must also complete a one-year pre-registration training designed to enable them to practise the profession. Following the training period, they must register with PSI to practise as a pharmacist in the country, for which a registration examination with the PSI must also be passed.
After taking all these steps, you will be registered in the country to work as a pharmacist. To continue and maintain the registration, one must also engage in continuous professional development activities throughout your career, as this is a field wherein new developments and innovations keep taking place.
Ireland is a preferred destination for international students pursuing international higher education in pharmacy and pharmacology and according to Payscale, the average salary for a pharmacist in Ireland is €58,747.
Study Pharmacy in Ireland
Begin your journey towards studying for a pharmacy degree in Ireland by arranging a free consultation with SI-Ireland today.