Encompassing various study options at different levels, including diplomas and degrees, film and TV degrees enable students to find unique pathways according to their interests and career goals within the entertainment industry.
Ireland's picturesque landscapes and cultural influences make the country a great place to pursue the art of storytelling through film and television. Some institutions in Ireland don't just teach the craft to students but also nurture the creative spirit among them. The presence of these institutions in the land of myths and legends gives students unparalleled opportunities to turn their passion for storytelling into cinematic masterpieces. Irish degrees are greatly valued globally as the institutions are renowned for imparting high-quality education.
Learn more about the best universities in Ireland to study a film or TV degree, and begin your application by contacting SI-Ireland today.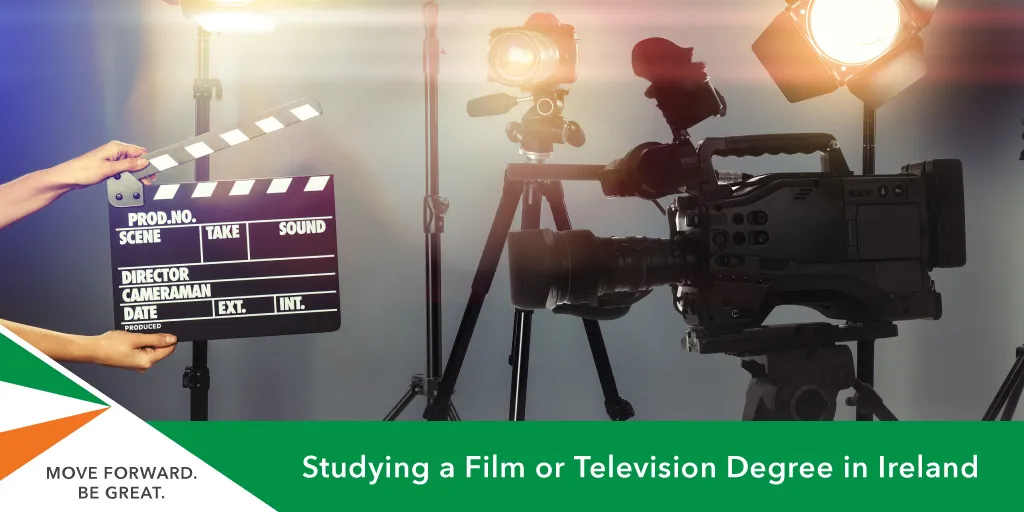 Top Universities for Film and Television Studies in Ireland
Students with a film and television degree can easily explore the entertainment industry in Ireland and other locations worldwide to become filmmakers and television creators. Find the top film and TV degrees in Ireland below.
TU Dublin has emerged as a dynamic centre for creativity, with courses integrating theoretical knowledge with hands-on practical training to empower students. Through the School of Media, TU Dublin offers a broad spectrum of filmmaking courses, from scriptwriting to production and post-production. Students also access industry-standard equipment and guidance from expert and professional faculty members. The university has deep links to the industry for all the programmes in the domain, which can help students join some of the leading companies for internships and jobs after graduation. The university's proximity to the capital city also enables students to explore the region's cultural tapestry and take inspiration to enhance their creative prowess.
Standing as a leading institution renowned for its commitment to innovation, Dublin City University offers a range of courses in film and television. Most Dublin City film and TV courses have been designed with a holistic understanding of the entire production process involving the components of scriptwriting and production stages to editing and distribution. The university offers specialised courses that reflect the latest industry trends through the School of Communications. Students become well-equipped with the skills needed in this rapidly evolving industry, with the help of guidance of expert faculty members and access to Industry-grade technology.
UCD is a prestigious Irish higher-education institution known for its academic rigour and vibrant campus life. The university's film and television courses incorporate a wide range of subjects to give a comprehensive structure to the study options, and the curriculum is designed to highlight the latest trends in the entertainment industry. Students are usually encouraged to explore their artistic visions while studying. They also get to develop a better understanding of the cultural impacts of film and television on society. Additionally, they are given access to cutting-edge studios and editing suites, which enable them to transform their creative ideas into reality. Being situated in the cultural city of Dublin, the university makes it easy for students to join the evolving film industry and find career opportunities.
TCD is an Irish university steeped in history and has a unique academic distinction for offering enriching educational experiences to students. TCD is considered one of Ireland's best universities for film studies as courses are built in strong academic and intellectual foundations. The film studies degree options at the university are world-renowned for providing a comprehensive exploration of the cinematic arts. Students are encouraged to delve into critical analysis, understand historical perspectives and gain practical skills in film production. Trinity's central location in Dublin also enhances students' experience as they are given immense opportunities to explore the cinematic history of the region.
UCC is a prominent educational institution offering dynamic film and media courses through its Film and Screen Media Department. Most programmes are designed to provide a nuanced understanding of the art and craft of storytelling and filmmaking. The curriculum at the university for these creative courses covers a broad range of subjects while incorporating theoretical and practical elements. This holistic approach towards education enhances the overall experience of students who learn from faculty members internationally recognised for their contribution to the cinema industry. Some courses have partnerships with film festivals, such as Schull's Fastbet Short Film Festival, which allows students to make films for screening at the festival.
Study a Film or TV Course in Ireland
If you want to begin a career within the entertainment industry and study in Ireland, book a free consultation with SI-Ireland today and we can help you successfully apply.
Film and TV Courses in Ireland FAQ
What is the scope of film and television courses in Ireland?
Film and television courses in Ireland offer a strong foundation for aspiring filmmakers and media professionals. Ireland's thriving film scene allows graduates to find avenues in film production, broadcasting, and digital media.
What are the benefits of a film course?
A film course helps students develop the creative and technical skills needed to excel in the field. Many of these courses also cultivate critical thinking and problem-solving abilities among students, which are essential in the fast-paced film industry.
What abilities do cinema studies provide you with?
Cinema studies equip individuals with a multifaceted skill set essential for navigating filmmaking's landscape. Students also develop their critical thinking and communication skills, which are valuable in various professional settings in the entertainment industry.
What career options are accessible in film and television courses?
These courses lead to several exciting opportunities to land film and television jobs in Ireland and abroad. Graduates of the film and TV courses can take up professional roles in film production, directing, cinematography, editing, and scriptwriting.
Do top universities offer any exposure in the film and television industries?
Top universities in Ireland provide invaluable exposure to the film and television industries through strategic collaborations, internships, and industry-focused programmes. These institutions frequently invite industry professionals as faculty or guest speakers. Access to the latest equipment, film festivals, and networking events further enhances the experiential learning journey of students.