To stay relevant in today's economy, businesses need to build strong brands that are able to communicate with their customers consistently. Qualified and experienced marketing professionals use cutting-edge marketing techniques to promote the messages of a business and increase sales and overall reach.
The high demand for competent marketing professionals in the business world is largely met by graduates who have done their Masters in marketing through prestigious universities having programmes with strong theoretical and practical learning pathways. The course content in a Master of Science in Marketing degree is particularly appealing for students as the in-depth knowledge and practical skills they gain during their education enable them to qualify for higher-level marketing positions in various industries. A master's degree in Marketing helps them specialise in particular areas of marketing, such as brand management, digital marketing, or market research.
Irish universities have some of the best marketing courses in the world that are delivered through experienced faculties and state-of-the-art facilities. Students pursuing higher education in Ireland can also benefit from the two-year post-study work permit, which allows them to stay back and start their careers after graduation. The country has many world-renowned companies looking for marketing graduates, such as Google, Facebook, Microsoft, Hewlett-Packard, Sony, and many more. Pursuing MSc in Marketing allows students to develop expertise in the field and become attractive candidates for the numerous job opportunities in the marketing sector.
If you wish to take up MSc in Marketing at the top-ranking Irish universities, book a free consultation with SI-Ireland today to start your application process.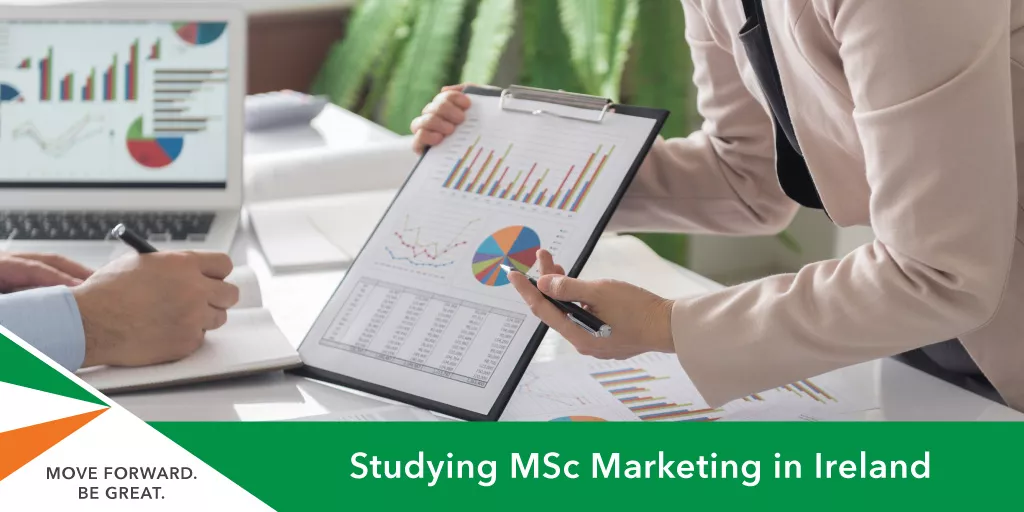 Best Ireland Universities for MSc Marketing
Founded in 1592, Trinity College Dublin is one of the most prestigious universities in Ireland. The MSc in Marketing degree at TCD is offered by the Trinity Business School. Trinity College Dublin is the best marketing university in the country according to the QS Business Master's Rankings for Marketing in 2023. The specialist course focuses on branding, marketing strategy, consumer psychology, and the communication skills students need for a successful marketing career.
Expert faculty and executives from top multinationals deliver analytical and practical-based training through interactive lessons and real-life case studies. The university also organises seminars and workshops with speakers working in various aspects of marketing practices.
The MSc in Marketing degree at UCD is provided by the Michael Smurfit Graduate Business School and is suitable for business and non-business graduates and professionals looking to build upon their existing skills. It is a rigorous course that has been designed to prepare students for higher positions in brand management and marketing in the country and abroad. The modules are delivered by senior industry practitioners and experienced faculty members, who provide various perspectives for a successful career. The university has strong industrial ties enabling students to work on Major Marketing Projects and develop strategies for global companies like Unilever, P&G, PepsiCo, Danone, and others.
Masters in marketing courses at University College Dublin are offered by DCU Business School and are delivered as a specialisation; MSc in Digital Marketing. The course has been designed in a manner that students understand how digital technologies can be used to optimise buyer awareness, intention and sentiment. Students gain in-depth knowledge and relevant skills in SEO, PPC, Content Marketing, e-Business Management, Social Media, Web Development and other important aspects of digital marketing. The course also involves a practicum project wherein students are paired with a client to oversee their digital marketing initiatives for six months.
The University of Galway offers a wide range of courses in various disciplines and through its College of Business, Public Policy & Law, the university has several programmes with a marketing specialisation, including MSc in International Marketing and Entrepreneurship, MSc in Digital Marketing, MSc in Marketing Practice and MSc in Marketing Management. The last course is among the most popular as it prepares students for a variety of marketing positions in the business world. It assists students in developing analytical and presentation skills and enables them to use research methodologies. The experienced faculty engages in innovative teaching practices to deliver marketing subjects at an advanced level.
Marketing Jobs
One of the best aspects of pursuing a master's degree in marketing is that graduates can work in various industries. All businesses need to engage in marketing strategies to stay ahead in the game, and companies from industries such as finance, consumer goods, technology, market research, pharmaceuticals, advertising and many more need qualified candidates to oversee their marketing initiatives.
The various career options after graduation include Marketing Management, Brand Management, Digital Marketing, Market Research, Consultancy, Account Management, Communications and Fundraising, among others. These can be present in big corporations or may be available in Marketing Firms. Separately, graduates can also take up freelance projects with various companies and startups.
Marketing Salary
Marketing is a field in which the salary goes higher with an increase in educational qualifications and years of work experience. Candidates with a master's degree earn higher than someone who has a bachelor's degree. Additionally, as the number of years passes by, marketing professionals get better packages. According to the Irish Council of Commerce and Industry, any graduate with a Master's degree can expect to earn around €53,000 yearly in the country.
Study MSc Marketing in Ireland
Are you considering studying MSc Marketing in Ireland? Arrange a free consultation with SI-Ireland to get all your queries solved regarding university selection, entry requirements, and scholarship opportunities.