Completing a master's after an undergraduate degree is one of the best ways to get a high-quality education and be prepared for a fulfilling career. The chance to study abroad and have a great university experience is something that many students wish to have while they try to decide on their master's degree.
Pursuing a master's in Ireland can be a truly enriching experience for international students who are seeking quality education and a vibrant cultural environment. The country is home to several prestigious universities and colleges offering a wide range of master's programmes in various disciplines. Many of these courses enable them to gain hands-on experience in the subject that gives them an edge over other students.
If you are interested in pursuing your masters in Ireland, consider booking a free consultation with SI-Ireland to learn more about the next steps to take.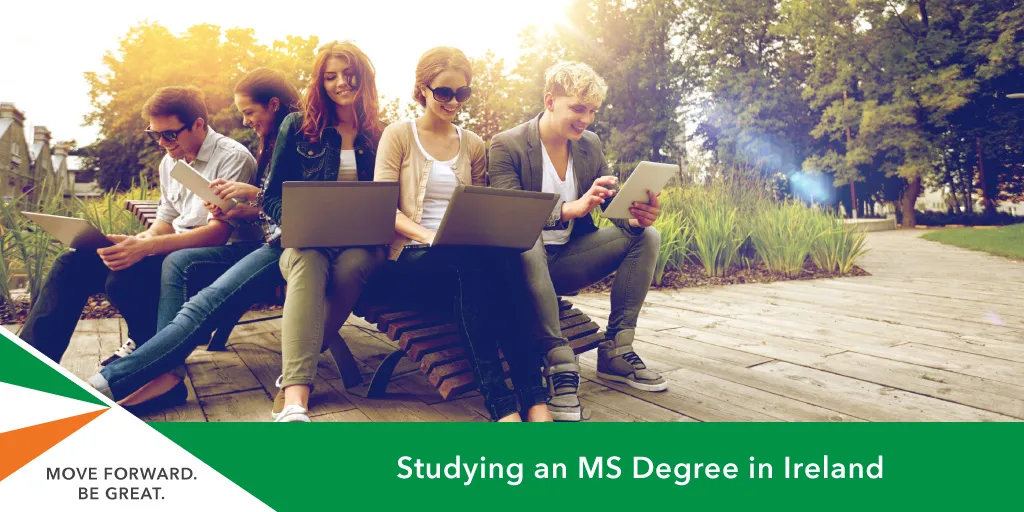 Requirements for MS in Ireland
Academic qualifications
To be eligible for a master's in Ireland, you will typically need to have a bachelor's degree from a recognised institution. The specific academic requirements may again vary depending on the university and the course you wish to pursue. Some master's programmes may have specific prerequisites or may also require a relevant background in the subject area that you wish to study. It is always advisable to look for specific details on the official website of the university that you are applying to in order to find the exact qualifications.
English language proficiency
As English is the primary language of instruction in Irish universities, proficiency in English is a must for international students. If English is not your first language, you will likely be required to provide evidence of your language proficiency through standardised tests. It is also important to note that each university and specific course may have different score requirements, so it's essential here as well, to check the specific language proficiency criteria of your chosen institution.
Admission tests
Certain master's degrees in Ireland that may also require applicants to take additional admission tests, especially in fields like business, law, or medicine. For example, the Graduate Management Admission Test (GMAT) is often required for MBA programmes, while some health-related courses may require the Graduate Record Examination (GRE). Make sure to check the programme's website or contact the admissions office to know if your chosen course has any specific admission test requirements. Find this out early on in the process so that you can prepare for the test and have your results in time to apply to the programme.
Statement of purpose
A statement of purpose (SOP) is a crucial component of the application process for a master's in Ireland. This personalised essay allows applicants to articulate their academic objectives, career aspirations, and reasons for choosing the specific course and institution. The SOP provides an opportunity for students to showcase their passion for the subject, their relevant academic background, and their potential contributions to the university's academic community.
Letters of recommendation
Letters of recommendation are also an integral part of the application process for masters in Ireland. These letters provide valuable insights into a student's academic abilities, their character, and potential for success in the chosen degree. Generally, applicants are required to submit two or three letters from professors, supervisors, or employers who can attest to the applicant's academic performance, work ethic, and overall suitability for the course. Strong letters of recommendation highlight specific achievements, skills, and qualities that make the student stand out from the pool of candidates. A well-crafted set of recommendation letters can significantly bolster your chances of securing admission to the desired course.
Transcripts and academic records
During the application process, you will also be required to submit official transcripts of your previous academic records. These documents should show your academic performance, grades, and courses taken during your bachelor's degree or any other relevant qualifications that you may have done before applying for the master's degree. The transcripts should be official and contain the relevant information for the admission committee to understand your educational background.
Work experience
Some master's in Ireland may also require work experience as part of their admission criteria. For instance, professional programs like MBA or MSc in Management might seek candidates with relevant work experience to enrich classroom discussions. Additionally, industry-specific courses such as MSc in Computer Science may prefer applicants with practical exposure to complex concepts. Research-oriented degrees could value prior research experience, while professional development courses like MSc in Education may find work experience beneficial for relating theory to practice. You should carefully review the admission requirements to understand whether work experience is a prerequisite and how it can enhance the application.
Visa and immigration
As an international student, you will need to apply for a student visa to study in Ireland. The specific visa requirements and procedures may vary based on your nationality, the duration of the course, and the university you are going to. It is highly advisable to visit the official website of the Irish Naturalisation and Immigration Service (INIS) to get accurate and up-to-date information on visa application procedures and to make sure that all the information is updated and correct for you to move ahead.
MS in Ireland FAQ
What is the eligibility criteria for MS in Ireland?
In general, international students are required to have a relevant undergraduate degree in a related field and show English language proficiency.
Is GRE required for Ireland study?
No, GRE (Graduate Record Examination) is generally not required for admission to universities in Ireland.
Is Ireland a good MS choice for Indian students?
Yes, Ireland is an excellent choice for Indian students pursuing a master's degree as the universities offer high-quality education, diverse and internationally recognised programmes and a student-friendly environment.
What is the minimum percentage for a master's in Ireland?
Generally, most universities in Ireland expect applicants to have at least a 2.1 honours degree (equivalent to a GPA of around 3.3 on a 4.0 scale) or its international equivalent in a relevant undergraduate field for admission to a master's programme.
What is the salary after MS in Ireland?
In the business and finance sectors, professionals with a master's degree may earn salaries that range from €30,000 to €50,000 per year, while in the engineering and technology fields, salaries for master's graduates can range from €35,000 to €60,000 or more annually.
What is the cost of MS in Ireland?
The cost of pursuing a master's degree in Ireland can range from €12,000 to €22,000 or more per year.