Ireland is one of the world's most sought-after destinations for higher education. The country has witnessed a huge inflow of international students in the last couple of decades, thanks to improved education infrastructure and better employment opportunities, and medical students, in particular, have a deep affinity with studying here due to the reputation an Irish medical qualification carries among global employers.
Dentistry courses in Ireland last for five years at undergraduate level, and once graduated, students will receive a Bachelor of Dental Surgery (BDS) degree and will be qualified to practice as a dentist in Ireland. All universities in Ireland that provide dental programmes have a strong reputation for their degrees thanks to state-of-the-art facilities for practical training, alongside key theoretical practices that make students highly employable.
Learn more about the top three universities in Ireland for Dentistry below, and if you would like to apply, arrange a free consultation with SI-Ireland today.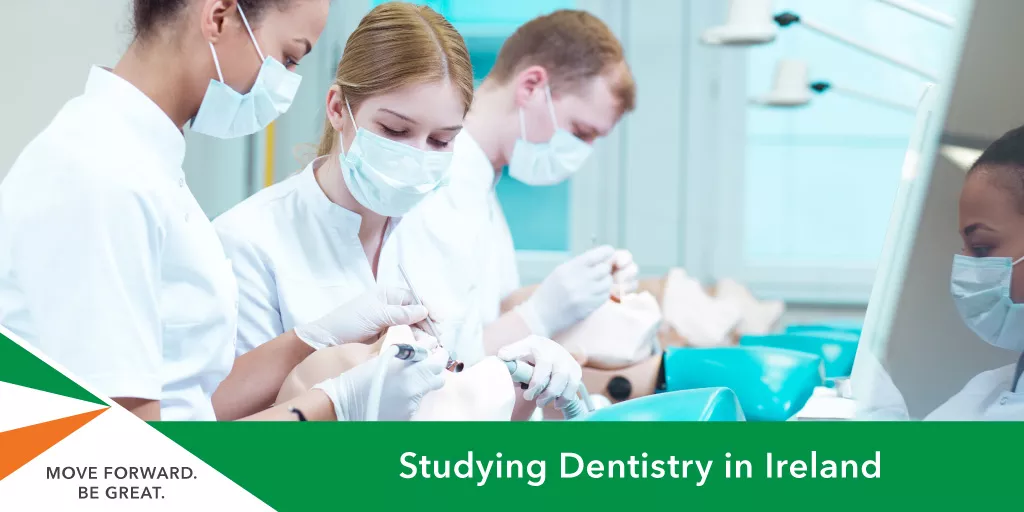 Top Three Universities in Ireland for Dentistry
The Trinity College Dublin School of Dentistry offers a five-year Dental Science programme designed to provide students with the scientific basis of oral health, clinical skills, and patient management. The course includes classroom instruction, laboratory work, and clinical experience. Graduates of the program are qualified to practice as dentists in Ireland and may also be eligible to practice in other countries. The Trinity College Dublin Dentistry programme is considered the best in Ireland.
Trinity dentistry course: Dental Science (B.Dent.Sc)
International fees: €49,500
Entry requirements: Leaving Certificate H3 + H4 In two of physics, chemistry, biology, physics/chemistry. Advanced GCE (A-Level) Grade B + Grade C In two of physics, chemistry or biology
University College Cork offers a Bachelor of Dental Science (BDS) program through its School of Dentistry. The course includes both classroom instruction and clinical training, and graduates of the programme are eligible to register as dentists with the Dental Council of Ireland and practice dentistry in Ireland and other countries. The course covers various dental topics, including anatomy, physiology, pharmacology, and dental materials.
UCC dentistry course: Dentistry
International fees: N/A
Entry requirements: Check the UCC website
The Royal College of Surgeons (RCSI) in Ireland offers a five-year Bachelor of Dental Surgery (BDS) degree program, which provides a strong foundation in the basic sciences and hands-on clinical experience through supervised patient care. RCSI also offers a one-year, full-time Masters in Dental Science (MDS) program, designed for dentists who wish to specialise in a specific area of dentistry such as endodontics, orthodontics or periodontology.
The Royal College of Surgeons also offers leading degrees in medicine, pharmacy, physiotherapy and nursing, as well as a range of research programs and opportunities for students to engage in cutting-edge research.
Study Dentistry in Ireland
Are you considering studying dentistry at an Irish university? Arrange a free consultation with SI-Ireland and get all your questions answered regarding programmes, university selection, and entry requirements.