Many aspiring international students strongly desire to pursue a career in the medical field, aiming to serve humanity and build a rewarding and prosperous professional life. To study many health-related courses, students must meet specific requirements, such as obtaining satisfactory scores on the Health Profession Admission Test.
The Health Profession Admission Test (HPAT) is an entrance test that assists Irish universities in selecting medical and health degree aspirants in Ireland. This standardised test, developed by the Australian Council for Educational Research, is a crucial component of the admissions process for many health-related degrees in Ireland.
In this article, we will be sharing with you all the major intricacies of the HPAT so that you know what to expect. If you need guidance to study in Ireland, you can book a consultation with SI-Ireland to learn more about the application process.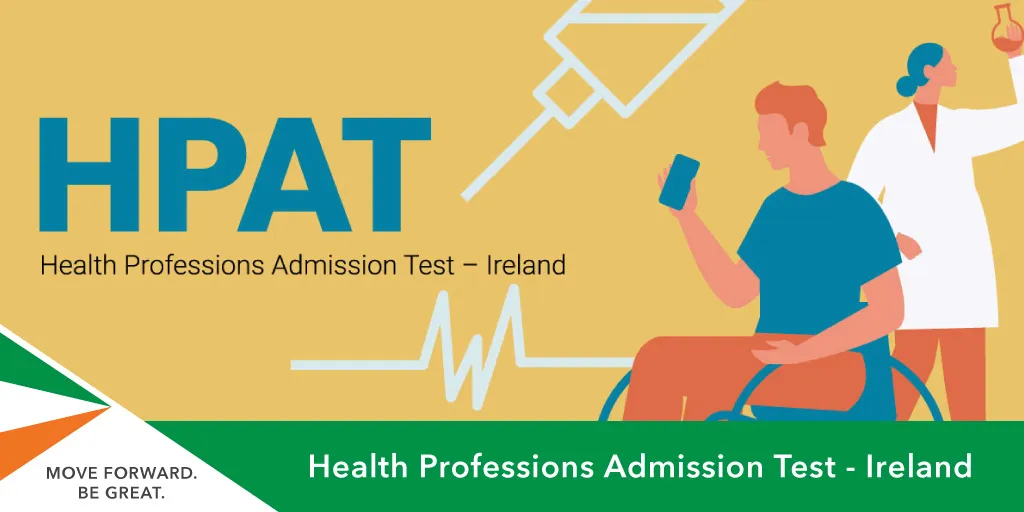 What is the HPAT?
The Health Professions Admission Test (HPAT) is a standardised test that has been designed to assess the skills and qualities necessary for success in various health professions programs, including medicine, dentistry, and optometry. It aims to provide admissions committees with a more holistic understanding of candidates beyond their academic achievements to pursue higher education in the medical field.
The primary purpose of the HPAT is to evaluate certain attributes and skills crucial for success in healthcare professions. These include critical thinking, problem-solving, empathy, ethical reasoning, and interpersonal communication skills. The admissions committees at most universities use HPAT scores and academic records to make more well-rounded and informed decisions to give admission to deserving candidates.
Irish universities that require students to sit for the exam include Trinity College Dublin, the Royal College of Surgeons in Ireland, University College Dublin, University College Cork, University of Limerick, and the University of Galway.
HPAT Structure
The HPAT typically consists of multiple-choice questions and written tasks that assess different skill areas of candidates in an exam held in a controlled environment for 2.5 hours. Each section is time-limited, and candidates must manage their time effectively to complete all questions within the allocated time frame. The specific format may even vary depending on the country and institution offering the test. However, the most common sections include:
Section 1: Logical Reasoning and Problem-Solving
This section evaluates a candidate's ability to think critically, analyze information, and solve complex problems. It includes questions that assess deductive reasoning, information interpretation, and logic application.
Section 2: Interpersonal Understanding
This section presents candidates with scenarios that test their understanding of human interactions, emotions, and social dynamics. It aims to assess empathy, communication skills, and the ability to perceive situations from various perspectives.
Section 3: Non-Verbal Reasoning
This section assesses spatial reasoning and visual acuity. Candidates are presented with patterns and sequences that they must analyse to identify relationships and complete the patterns accurately.
Scoring and Results
The scores for each section of the HPAT are combined to provide an overall score, which is then scaled to ensure fairness, as each year's cohort of test-takers can vary in their performance. Universities use the combined score to determine eligibility for their health-related undergraduate programmes. It's important to note that HPAT scores are only one aspect of the admission criteria, as academic results and other requirements also play a role in the selection process.
HPAT Eligibility
The eligibility criteria for the Health Professions Admission Test (HPAT) in Ireland may vary slightly depending on the institution and programme you are applying to. However, there are general eligibility guidelines that candidates need to meet to be eligible to take the HPAT exam, which are discussed below:
Educational Qualifications: You should have completed or be in the process of completing your secondary education, usually equivalent to a high school education in Ireland. Most candidates who take the HPAT are in their final year of secondary school or have already completed it.
Age: There is no specific age limit to take the HPAT exam, but you should be of an appropriate age to pursue undergraduate studies.
Residency Status: HPAT is open to both Irish and international students. There is no citizenship or residency requirement to take the exam, but it is mandatory for Irish students to have taken this exam, while some international students can be exempted from taking the exam.
Language Proficiency: Since the HPAT exam is conducted in English, a good understanding of English is essential to comprehend and respond to the test questions effectively.
Candidates interested in taking the HPAT exam should refer to the official HPAT website and the websites of the institutions they are applying to for the most accurate and up-to-date information on eligibility criteria and application procedures.
Preparation Strategies for Candidates
Preparing for the HPAT requires a well-rounded approach focusing on content and skill development. You must understand the format and familiarise yourself with the sections and question types to know what to expect. Use consistent practice with sample questions and mock tests to improve your overall time management skills and accuracy. Keep working on enhancing your critical thinking and problem-solving skills through puzzles, brain teasers, and logical reasoning exercises—also, practice written communication by writing essays or responses to prompts to improve clarity and coherence.
HPAT Ireland FAQ
How long does it take to study for HPAT?
The time required to prepare for HPAT can vary widely based on individual circumstances. On average, candidates spend several months preparing for the exam as they familiarise themselves with the test structure and question types, review content areas like verbal reasoning and non-verbal reasoning, practise under timed conditions, identify weaknesses, and take mock exams to gauge readiness.
How many questions are there in Section 1 of HPAT?
Section 1 of the exam typically consists of 26 multiple-choice questions, which assess a candidate's problem-solving and critical-thinking skills and ability to analyse and interpret information from various sources.
Could I sit the HPAT two times? For example, once in the 5th year and once in the 6th year?
You can sit the HPAT multiple times, including in the 5th and 6th years. The HPAT score is valid for one admissions cycle, so if you plan to apply for courses that require the HPAT in both years, you can certainly take the test in both years to improve your score.
What do I need to study for the HPAT test?
Preparing for the HPAT test requires a multi-faceted approach. You must focus on understanding the test structure and types of questions in each section. Enhance critical thinking by practising problem-solving puzzles and logical reasoning exercises. Work on reading comprehension for Section 1 and practice writing essays on various topics for Section 2. For Section 3, delve into social issues and ethical considerations.
Is HPAT similar to UCAT?
HPAT (Health Professions Admission Test) and UCAT (University Clinical Aptitude Test) are similar because they are both admissions tests used to enter medical and health-related courses in certain universities. However, they have some differences in terms of format, content, and the specific institutions that use them. HPAT is used in Ireland for medical and healthcare programmes, while UCAT is used in the United Kingdom and a few other countries for similar courses.