Royal College of Surgeons in Ireland (RCSI) is a world-renowned health sciences university and research institute based in Dublin, Ireland. It was established in 1784 by charter from King George III, making it the oldest continuously existing medical school in Ireland and among the oldest in the world. The private educational institution has been at the forefront of healthcare education since its inception and is dedicated to the training of professionals in the fields of medicine, nursing, and pharmacy.
RCSI is also responsible for accrediting medical programs and assessing medical practitioners in Ireland. Through its major faculties: the Faculty of Medicine and Health Sciences, Faculties of Radiologists, Faculty of Dentistry, Faculty of Nursing and Midwifery, and the Faculty of Sports and Exercise Medicine, it offers undergraduate, postgraduate and professional degree courses in the medical sciences. The research initiatives of RCSI focus on improving human health through translational research. Being one of the most prestigious institutions for getting a healthcare education, it attracts students from all over the world. Keep reading ahead to find four compelling reasons that make the Royal College of Surgeons in Ireland a great place to study. The Royal College of Surgeons Ireland acceptance rate is around 45%.
If you want to start your healthcare career through a highly valued degree from RCSI, book a free consultation with SI-Ireland today to learn more about the application process.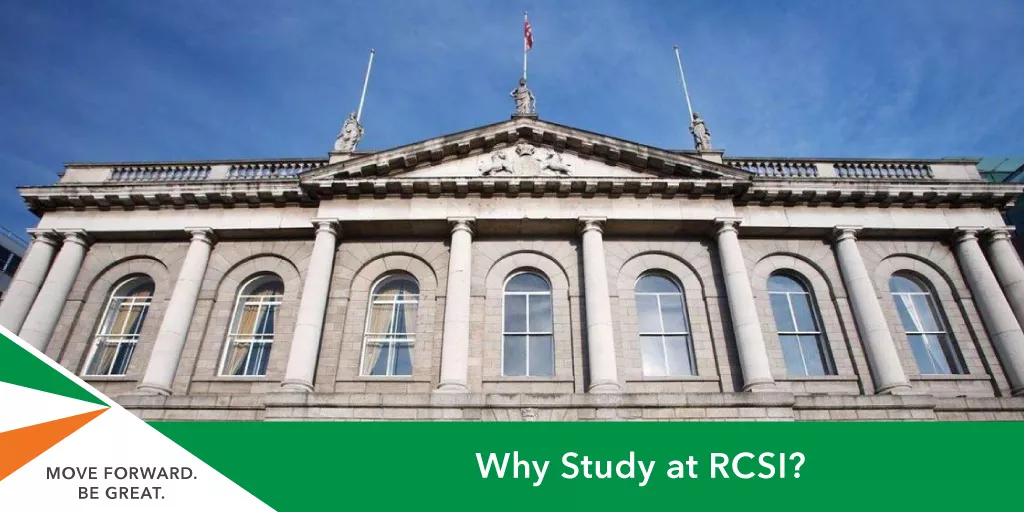 Why Study at RCSI in Ireland?
1. Leading global medical school
The Royal College of Surgeons Ireland has a distinguished history of being one of Ireland's oldest existing medical schools. RCSI currently has a strong international presence, with a number of campuses and partnerships with other institutions across the globe. Its graduates are highly respected and sought after in the medical profession in Ireland and other parts of the world. This is due to the quality of education and training that is provided to students while pursuing their chosen programmes that are designed to give students a strong foundation in the basic sciences and practical training in patient care, clinical skills and research.
The institution is committed to advancing healthcare, which is done through a strong research culture in areas such as neuroscience, cancer, regenerative medicine, and population health, among others.
2. Career-focused education
The Royal College of Surgeons Ireland provides high-quality, career-focused education and training to its students. With a strong emphasis on building their career right from the start of educational programmes, RCSI encourages early career planning by giving students the right resources and guidance. Most degrees at the Institution include extensive clinical exposure and work-based learning. These unique opportunities help students develop their skills and major competencies in a real-world setting.
RCSI has strong partnerships with healthcare providers, industry organizations, and hospitals, allowing students to learn from the professional network. The institution also offers a range of continuing professional development services to help its graduates stay up-to-date with the latest developments in the field and advance their careers, even after graduation.
3. Clinical exposure
Throughout the range of undergraduate and graduate programmes in medicine, nursing and pharmacy, The Royal College of Surgeons Ireland provides students with extensive clinical exposure at different levels. During undergraduate studies, the clinical experience starts in the first year through early patient contact. This system involves spending time in hospitals and community settings, shadowing healthcare professionals and observing clinical care.
During later years, students get a range of clinical placements in hospitals and healthcare facilities across Ireland and internationally, providing them with hands-on experience in a range of clinical specialities, including surgery, internal medicine, paediatrics, obstetrics and gynaecology. In one of the postgraduate courses in surgery, advanced training in surgical skills and techniques is given through placements in surgical specialities such as orthopaedics, neurosurgery, and cardiothoracic surgery.
4. Located in Dublin, a student-friendly city
The RCSI campus is located in Central Dublin, which is an amazing city having a vibrant culture and a welcoming community. There are various sites to explore, including museums, art galleries, theatres, and music venues. The city is also famous for its nightlife, with many pubs, bars, and nightclubs to suit all tastes.
Whether looking for a traditional Irish pub or a trendy nightclub, you'll find plenty of options in the city. Another factor for being popular among students is that despite being a capital city, Dublin is relatively affordable compared to other major cities in Europe. Student accommodation, food, and entertainment are all reasonably priced, making it an attractive option for students on a budget. The city overall has a friendly and welcoming attitude towards students, making them feel comfortable while pursuing their higher education.
Study at RCSI
Begin your Royal College of Surgeons Ireland application by arranging a free consultation with SI-Ireland today.