Universities and medical colleges in Ireland offer undergraduate, postgraduate and graduate entry courses that provide state-of-the-art facilities and teaching informed by some of the very best in clinical research.
Bachelor's degrees in Medicine in Ireland last 5 to 6 years, while the Graduate Entry Medicine courses are for 4 years. Integrated courses in Medicine at Irish universities give an opportunity to study Medicine in an interactive environment through Problem Based Learning (PBL) as against the traditional courses of studying Medicine.
Ireland is among the most popular destinations to study medicine in the world. Thousands of students aspire to get trained in a country with one of the world's best healthcare systems and, being the only English-speaking country in the EU, Ireland presents the additional advantage of providing lots of opportunities in the Anglosphere.
Learn more about the best medical colleges in Ireland below (QS World University Rankings by Subject) and if you would like to begin your application, arrange a free consultation with SI-Ireland today.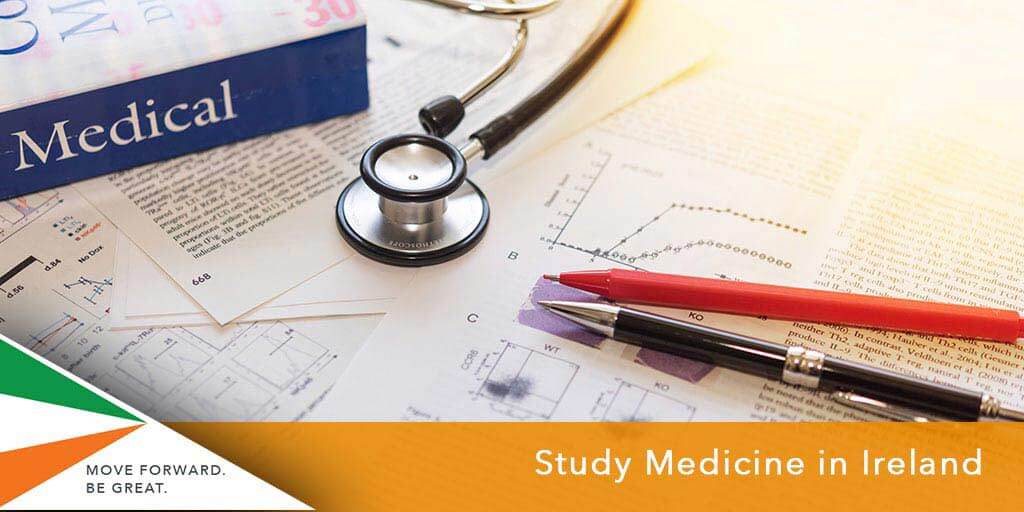 Top Five Universities in Ireland for Medicine
1. Trinity College Dublin, The University of Dublin
The School of Medicine at Trinity College Dublin is the oldest and most reputed medical school in Ireland. Established in 1711, the medical institute offers over 25 undergraduate and postgraduate courses. Two of the best-selling courses — MSc in Pharmaceutical Medicine and MSc in Entrepreneurship and Smart Medicines are widely recognised as the best in Ireland, thanks to their focus on instilling students with crucial theories and promoting their entrepreneurial endeavour.
2. Royal College of Surgeons in Ireland (RCSI)
The Royal College of Surgeons in Ireland was established in 1784 and has been one of the country's leading medical schools. RCSI offers a diverse range of options for students interested in pursuing degrees in medicine courses. Some of the top programmes at the Royal College are MSc in Healthcare Management, Master of Surgery, and BSc (Hons) Pharmacy. The institute is known for its deep connection with the industry, presenting an ideal platform for graduates to gain enormous working experience and opportunities.
3. University College Cork
BSc Medical and Health Sciences at University College Cork is popular for its detailed course module, covering a range of subjects, including Human Biology, Disease Mechanisms, Pathophysiology, and Immunobiology. MSc Midwifery is another popular programme at UCC, thanks to the world's increasing interest in women-centred care. Those interested in building a foundation for their upcoming careers can choose Paramedics studies.
4. University College Dublin
Through its history of more than 168 years, the UCD School of Medicine has produced some of the brightest minds in the medical field. From Child Health to Dermatology and from Physiology to Radiography, the college offers medical courses in almost all subjects. Apart from the high standards of UCD's programmes and its state-of-the-art medical infrastructure, the school has established connections with several reputed North American institutes, including Washington University, Harvard Medical School, and the University of Toronto.
5. National University of Ireland Galway
National University of Ireland Galway is among the most sought-after places to study Medicine in Ireland. One of the most popular medical courses at NUIG's School of Medicine is Bachelor of Medicine (MB) of Surgery (BCh) and of Obstetrics (BAO). The institute is known for promoting simulation-based programmes, allowing learners to understand enhanced patient care with improved safety. The course curriculum is designed to help graduates develop and manufacture the next generation of advanced therapeutic methods.
How much does it cost to study Medicine in Ireland?
Course fees to study Medicine in Ireland are normally lower in comparison to other popular study abroad destinations such as the UK or the USA.
Undergraduate fees are in the range of €45,000 - €50,000 per year
Postgraduate course fees are about €15,000 per year on an average
Medicine in Ireland entry requirements
AAA scores for A-level requirements with Chemistry/Biology/Physics
GAMSAT score for graduate entry Medicine courses in Ireland
Some universities may require HPAT scores for undergraduate Medicine courses
IELTS score of 6.5 overall with no less than 6.0 in each component
Study Medicine in Ireland
If you are interested in studying a Medicine course in Ireland, don't delay and arrange a free consultation with SI-Ireland today. We can assist with expert counselling and guidance on the application process and Ireland student visa requirements.