Dundalk Institute of Technology (DkIT) is a renowned higher education institution that is located in Dundalk, County Louth, Ireland. It was established in 1970 and, since then, has grown into a dynamic and innovative institution offering a wide range of career-focused programmes across various disciplines.
Dundalk Institute of Technology's dedication to providing relevant and practical education equips graduates with the skills and knowledge necessary to excel in their chosen fields and make meaningful contributions to society. DkIT has strong ties with the local and regional industry, fostering a collaborative approach to education, which makes the courses at the institute align with industry needs. Industrial ties also help students gain valuable exposure and work placement opportunities, which enhances graduate employability and facilitates knowledge transfer between academia and the industry.
If you wish to study at DkIT, arrange for a free consultation with SI-Ireland today to know more about the application process and start your academic journey to Ireland.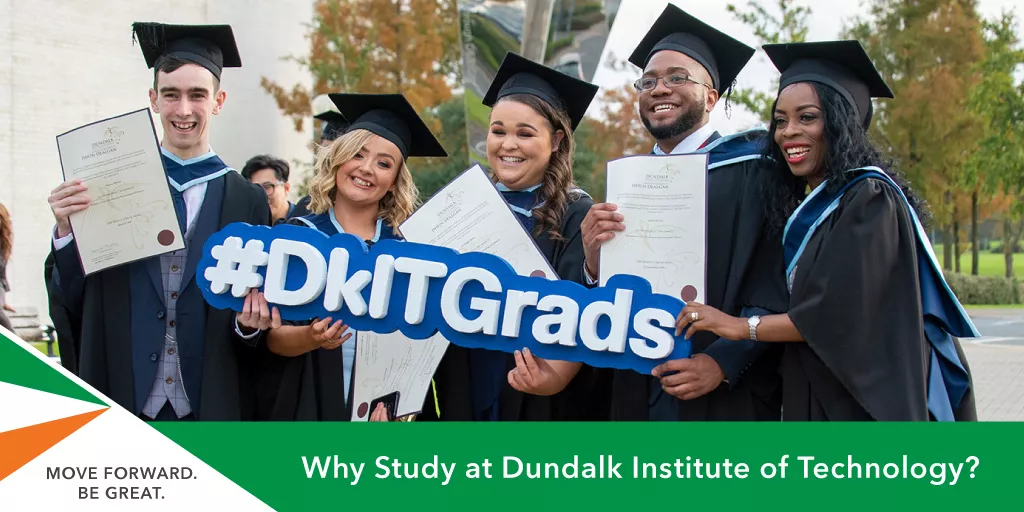 Five Reasons to Study at Dundalk Institute of Technology
1. Career-focussed courses
Dundalk Institute of Technology stands out for its extensive range of career-focused programmes across various disciplines. The institute offers a diverse selection of courses in multiple fields that have been designed to provide them with the knowledge, relevant skills, and practical experience to excel in their chosen professions.
In the field of business and management, DkIT offers programmes such as Business Studies, Marketing, International Business, Accounting, Finance, and Human Resource Management.
The institute offers Mechanical Engineering, Electronic Engineering, Civil Engineering, Renewable Energy Systems, Computing, and Computer Games Development courses for those interested in engineering and technology. DkIT offers Nursing, Health and Physical Activity, Pharmaceutical Science, Biopharmaceutical Science, and Applied Biosciences in the health and science field. Specialised courses for creative arts and media, humanities and social sciences, culinary arts and hospitality, and more exist.
2. Strong focus on research
DkIT has established itself as a hub for impactful research across a wide range of disciplines, and its research strength lies in its focus on applied research that addresses real-world challenges and contributes to societal and economic development. DkIT actively collaborates with industry partners, community organisations, and other research institutions to foster innovation and make a positive impact.
The institute excels in areas such as sustainable energy and renewable technologies, where researchers work on projects involving solar energy, wind power, and energy efficiency. DkIT is committed to improving health outcomes and well-being through research in health technologies, mental health, and healthcare innovation. DkIT's dedication to research excellence and its collaborative approach make it a prominent research institution that contributes to advancements in the knowledge and drives positive change in the world.
3. Affordable education
DkIT is known for offering affordable education to students, making it an accessible option for those seeking quality higher education without high costs. The institute is committed to providing value for money and ensuring that financial constraints do not hinder students from pursuing their specific academic goals.
One of the key factors contributing to the affordability of education at DkIT is its comparatively lower tuition fees compared to other institutions in Ireland and abroad. This makes DkIT attractive for students seeking a high-quality education without incurring substantial financial burdens. In addition to affordable tuition, DkIT offers various scholarships, grants, and financial aid programmes to support students in their educational journey. The institute also encourages responsible financial planning by offering flexible payment options, including instalment plans, which allow students to spread out their tuition payments over the course of their studies.
Moreover, DkIT's location in Dundalk gives students the advantage of relatively lower living costs compared to major urban centres in Ireland. Accommodation options, both on-campus and off-campus, are available at affordable rates, ensuring that students can find suitable and budget-friendly living arrangements while pursuing their studies.
4. Global community of students
Dundalk Institute of Technology prides itself on fostering a vibrant and diverse global community of students, as it attracts students from various countries, creating an enriching and multicultural learning environment. DkIT's global community enhances the educational experience, promotes cross-cultural understanding, and prepares students for success in an increasingly interconnected world. Students from different backgrounds and cultures come together at DkIT, and this diversity enriches classroom discussions, group projects, and extracurricular activities, allowing them to learn from one another and gain a global outlook. Interacting with peers from different countries fosters cultural exchange, promotes tolerance, and broadens the students' horizons.
DkIT also recognises the importance of supporting international students throughout their academic journey. The institute offers a range of services tailored to meet the specific needs of foreign students, including orientation programmes, academic support, and assistance with visas and immigration. The International Office at the institute serves as a dedicated resource centre, providing guidance, advice, and a welcoming space for international students to connect and seek support.
5. Award-winning faculty and exceptional facilities
Dundalk Institute of Technology has award-winning faculty and state-of-the-art infrastructure, which contribute to the institute's reputation for academic excellence and innovation.DkIT boasts a highly qualified and dedicated faculty comprised of accomplished academics, researchers, and industry professionals. All the faculty members are experts in their fields and bring a wealth of specialised knowledge and practical experience to the classroom. Many faculty members have even received prestigious awards, grants, and recognition for their contributions to research, teaching, and professional achievements.
The institute's infrastructure has been designed to provide students with modern facilities and resources that enhance their overall learning experience. DkIT has invested significantly in its campus infrastructure, creating a stimulating and conducive environment for academic pursuits.
The campus features well-equipped classrooms, laboratories, and specialised facilities that are tailored to various disciplines such as engineering, sciences, computing, and creative arts. These state-of-the-art facilities provide students with hands-on practical training and opportunities to apply their knowledge in real-world scenarios.