Technological University of the Shannon, more commonly known as TUS, is a newly established university located in the heart of Ireland. It was formed in 2021 through the amalgamation of the Athlone Institute of Technology and the Limerick Institute of Technology.
TUS offers a unique educational experience that blends industry-focused learning with cutting-edge research opportunities and offers a diverse range of courses across various disciplines, from engineering and technology to business and humanities. With state-of-the-art facilities, world-class faculty, and a commitment to student success, TUS is quickly becoming a top choice for international students seeking a modern, forward-thinking university experience in Ireland. The university's central location provides easy access to many of Ireland's most exciting and vibrant cities, including Dublin, Galway, and Limerick, meaning that students at TUS have access to various cultural and social opportunities, as well as many of Ireland's top employers.
If you are interested in studying at TUS, book a free consultation with SI-Ireland to learn more about available courses, scholarships and how to apply.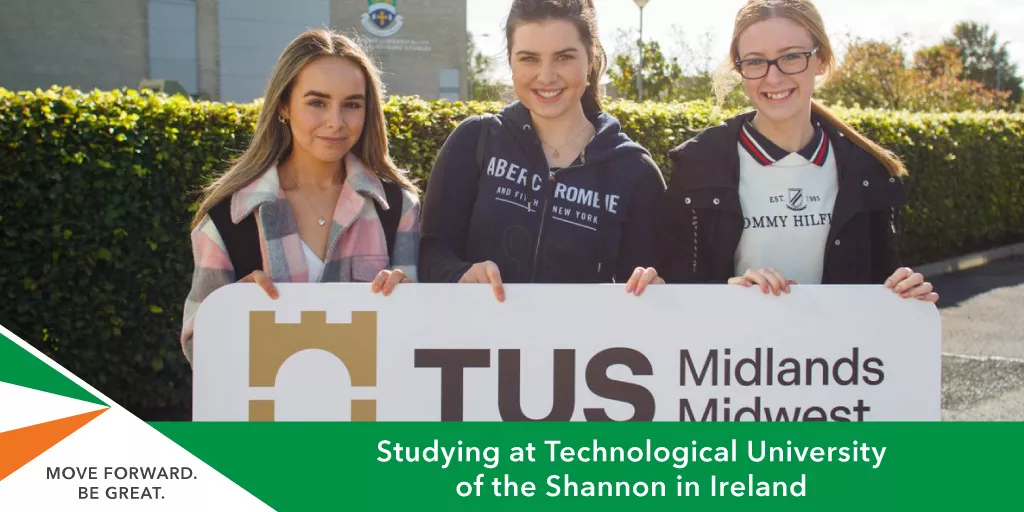 Eight Reasons to Choose Technological University of the Shannon
1. Innovative Courses and Teaching Methods
TUS offers a range of programmes in various fields, including science, engineering, humanities, business and social sciences. It is committed to providing a unique and challenging educational experience, preparing students for the ever-changing demands of the modern world teaching methods used at the university are modern and dynamic, emphasising practical learning, critical thinking, and problem-solving.
The university prides itself on using cutting-edge teaching methods that blend theory with practical experience, including work placements, industry projects, and internships. The faculty is dedicated to engaging students and encouraging them to participate actively in their learning experience. The university's commitment to innovation in teaching methods ensures that the graduates are well-prepared to excel in their chosen fields.
2. Research Opportunities
Technological University of Shannon's research centres focus on areas such as renewable energy, biotechnology, advanced manufacturing, and applied social sciences. TUS also offers many funded research programmes for students, such as the President's Research Fellowship, which basically provides funding and support for students to undertake research projects.
Students at TUS can work with world-class researchers, gain experience in conducting research, and contribute to developing new knowledge. The university's state-of-the-art research facilities have cutting-edge equipment and technology to support research across disciplines. Additionally, TUS has partnerships with various industry and community organisations, providing students with opportunities to work on real-world research projects and make an impact in their communities.
3. Strong Industry Connections
The university has a strong industry-focused approach to education, which has resulted in a wide range of industry connections and partnerships. These partnerships allow the university to offer students unique opportunities to engage with industry professionals and gain hands-on experience. The university has developed a range of industry-led research centres, such as the Center for Robotics and Intelligent Systems and the Center for Applied Data Analytics, which provide students with opportunities to work alongside industry professionals on real-world projects.
This enhances their practical skills and exposes them to potential career opportunities after graduation. Through its strong industry connections, TUS: MM provides students access to a wide range of internship and job opportunities, which can be invaluable in launching their careers. Students can also benefit from networking opportunities with industry leaders and guest lectures from prominent professionals.
4. Excellent Student Support Services
TUS provides a range of student support services to ensure that students have a positive and fulfilling academic experience. The university's dedicated student support team is available to assist students in multiple ways, from academic and career advice to personal counselling and wellness support. The university also offers a range of educational support services, including academic advising, peer tutoring, and study skills workshops. The Career Development Centre provides students with guidance and resources to help them find internships, co-op placements, and job opportunities after graduation.
The university's Student Wellness Centre offers confidential counselling services and resources to support students' mental and physical health. The university also offers a range of services and resources to support international students, such as orientation programmes, English language support, and assistance with visas and immigration. The International Student Services Office helps international students to adjust to life in Ireland and provides resources to support their academic success.
5. Vibrant Student Life
With a diverse range of student clubs and societies, students are encouraged to pursue their interests and passions outside of academics. The university has an active student union that organises several events and activities throughout the year, including cultural festivals, charity fundraisers, and sports competitions. The campus is also home to a state-of-the-art sports complex with a gym, swimming pool, and various sports courts, providing ample opportunities for students to stay active and healthy. The university also has a thriving arts and culture scene, with regular performances, exhibitions, and concerts organised by the students. With many activities available on and off campus, students can be sure to have an enriching and fulfilling university experience.
6. Ranking
34th in Ireland according to the Scientific Index Rankings of 2023
7. Scholarships
The Technological University of the Shannon for the Midlands Midwest offers several scholarships to deserving students to support them in their academic journeys. Some of these scholarships include:
TUS International Student Scholarships: These are available to students from all nationalities, and they can be awarded up to €3000 based on previous academic achievements, personal statements, with other exceptional achievements. Students can apply for these for the 2023 intake at the university.
Technological University of the Shannon President's International Scholarships: This scholarship is exclusively provided to international students, who can receive funding towards undergraduate or postgraduate degree programmes at the university. The students receive funding for the tuition fees for the undertaken programme.
8. Commute and Transportation Options
Students living near the campuses have various options to commute to and from the university. Private bus operators connect Athlone to Dublin, Ballina, Galway, Sligo, and other cities. A regular town service is also available within Athlone, which connects the university to every area of the town. Every day, 20 trains run on the Dublin-Galway, Dublin-Ballina and Dublin-Westport lines, enabling students to travel relatively long distances from the university campuses. If a student wishes to drive to the campus, there are excellent road links and ample spaces for parking at affordable rates.
Technological University of the Shannon FAQ
1. What is the average on-campus living expense at the Technological University of the Shannon?
The university does not provide on-campus living facilities, but the accommodation options near the university usually charge around €140-160 per week.
2. How many campuses does the Technological University of the Shannon have?
The Technological University of the Shannon is one of the latest multi-campus universities in Ireland, which is spread across six campuses, that are located in the cities of Athlone, Thurles, Limerick, Clonmel, and Ennis.
3. What factors should be considered when choosing the Technological University of the Shannon?
When considering the Technological University of the Shannon for your higher education, several important factors exist to evaluate. Firstly, examine the range of programmes and disciplines the university offers to ensure they align with your academic and career goals. Assess the qualifications and expertise of the faculty members in your intended field of study, as their knowledge and guidance can greatly enhance your learning experience. Moreover, explore the university's facilities, including research centres, laboratories, and libraries, as these resources contribute to a well-rounded education.
4. Does the Technological University of the Shannon provide scholarships for international students?
Yes, the Technological University of the Shannon provides scholarships for international students, which can be received to study the undergraduate and graduate programmes at the university.
5. Is the Technological University of the Shannon a good university?
Yes, the Technological University of the Shannon is a good university to pursue higher education. It was established in 2021, but the university's founding institutions have a long history of providing high-quality technical education in Ireland. The university offers a diverse range of study programmes and ventures into four faculty facilities of Science, Health, Business and Hospitality, and Engineering and Informatics.
6. What top courses can one pursue at the Technological University of the Shannon?
The top courses you can take at the Technological University of the Shannon include some of the most interesting courses, such as Culinary Entrepreneurship, Hotel and Leisure Management, International Business, Digital Marketing, Sport Management, Civil Engineering, and Law, among others. The university also offers some pioneering courses in Physical Activity and Health, Animation and Illustration, and
7. What is the Technological University of the Shannon GPA requirement?
The CGPA requirements at the Technological University of the Shannon mandate students to have a score of 6.0, and they must also have passing marks in an English language test.