Atlantic Technological University is a public technological university with multiple campus locations in Galway, Sligo, Castlebar, Letterkenny, Killybegs, Mountbellew and Letterfrack. It was formally established in April 2022 by the merger of three existing institutes of technology - Galway-Mayo IT, Letterkenny IT and IT Sligo and is one of the largest multi-campus universities in Ireland, having institutes in the West and northwest parts of the country.
With more than 600 courses at various levels, ATU attracts more than 20,000 students annually, almost 1500 of which are international from 93 counties. Atlantic TU is a research-oriented university having eight research centres across various campuses. A rich combination of academic and research excellence at the university is only one of the aspects that make it an attractive proposition for students to study at university.
If you want to join the international student community at Atlantic TU, book a free consultation with SI-Ireland today to start your application.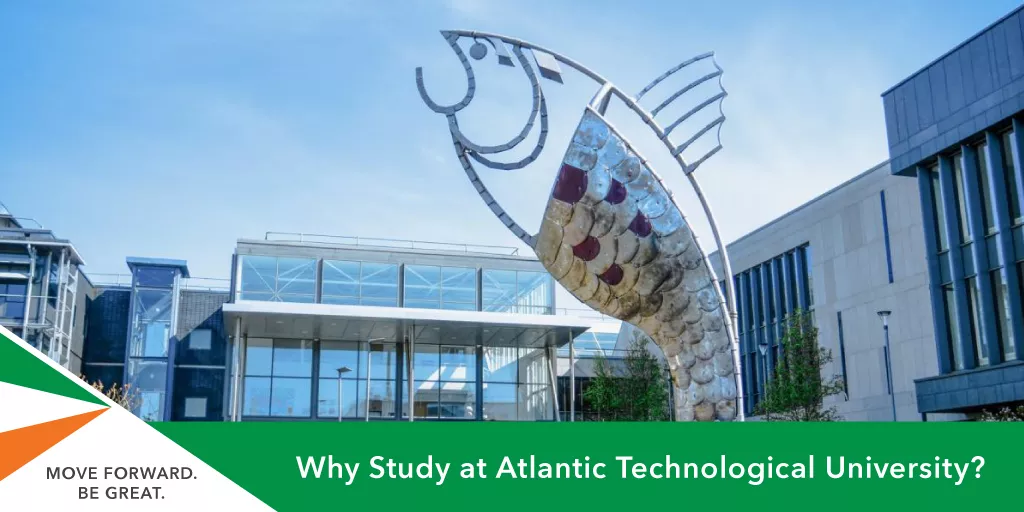 Three reasons to study at Atlantic Technological University
1. Academic excellence
Atlantic Technological University is known for its wide range of educational programmes. Students can choose from more than 600 academic programmes through which they can earn certificates, diplomas, and undergraduate and postgraduate degrees, including a PhD. Some of the most popular study options are offered in the fields of Engineering and Design, Manufacturing and Construction, Sciences, Education, Computer Science, Business, Social Sciences, Humanities and Tourism. The university also offers online and flexible professional development courses, which have been created according to the latest skills needed in the workforce through the combined efforts of the Academic Team with business partners and industry leaders.
2. Research and innovation
With eight research centres, Atlantic Technological University takes up various projects in collaboration with companies, the communities around and other stakeholders in the region. The initiatives also involve large-scale international networks and also get funding based on originality and excellence. There has been a 149% increase in the research provision over the last three years in different institutions of the university. Around 463 students are actively engaged in the research initiatives of the university, giving them the golden opportunity to invent and deliver products, processes and various systems that solve the most complex problems facing the world in today's times.
3. Campus locations
Atlantic TU has various campuses in different parts of the country, all of them giving a diverse range of experiences to students. ATU Galway City provides students with a transformative university experience through educational programmes delivered in one of the City's iconic landmarks. ATU Mountbellew has prominent agricultural courses, whereas ATU Connemara has furniture courses. ATU Sligo has become a market leader in online learning, and ATU Mayo has a dynamic campus. ATU Letterkenny is known for its career-focused education, while ATU Donegal Killybegs provides business and practical training in culinary arts, hospitality management, and tourism. These are some of the main campuses, giving students a chance to experience bustling cities and the Atlantic coastal regions of Ireland. The wide range of locations and programmes helps students to immerse themselves in a truly unique environment.