The scope of Big Data in supporting enterprises by analysing consumer preferences and social trends has created a niche market for data analysts and statisticians globally. Many countries have recognised the potential played by data sciences in channelising economic growth and development.
Accordingly, governments are initiating special efforts to provide support and funding to universities and higher-level education institutes to help them facilitate advanced and upskilled learning in data analytics.
The Government of Ireland has set out specific objectives to promote degree programmes in Data Analytics in Ireland. The concentration of leading multinationals in Ireland and a projected growth of USD 3.27 billion by 2026 of the Ireland Data Center Market has made Ireland an attractive destination for international students to study courses in Data Analytics.
Data Analytics is used to derive relevant information for enabling informed decision-making by scrutinising large data sets. A data analyst uses different mathematical and statistical tools to study various facts and trends emerging from the available data. Studying for a master's degree in Data Analytics can help you acquire the professional skills to start a lucrative career in this field.
Learn more about studying data analytics below and if you would like to begin your Ireland university application, book a free consultation with SI-Ireland today.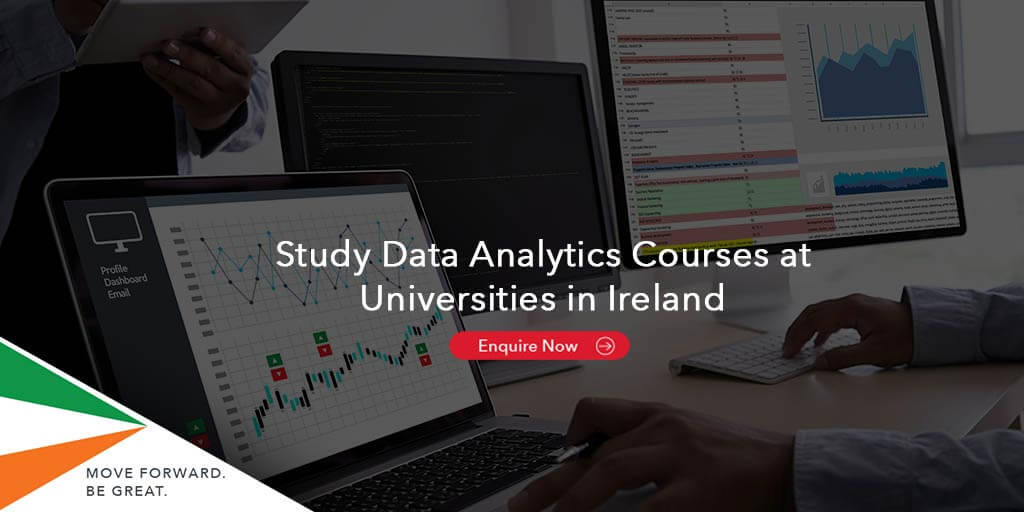 Best Universities in Ireland for Data Analytics
TU Dublin
The TU Dublin School of Computer Science is located in state-of-the-art facilities on the brand-new Grangegorman campus. The School offers professional-oriented programmes that are characterised by its strong industry engagement through internships, industry accreditation, and industry projects. Moreover, the British Computer Society, an international accreditation panel, commended the University's industry engagement as "exemplary".
TU Dubin's data analytics course module is designed around a data science methodology emphasising data science modules and mathematical rigour for generating actionable insights.
University College Dublin (UCD)
University College Dublin is home to the largest computer science department in Ireland. Computer courses at UCD are informed by state-of-the-art research within the University's School of Computer Science. Studying data analytics at the University will deliver students a deep understanding of statistics, applied mathematics, and computational science at the graduate level.
Masters in data analytics courses at UCD equip students with the requisite skills to build a solid career in the industry or academics. After completing a data analytics course from UCD, you can solve complex scientific problems and analyse large datasets using theoretical tools.
Every year, topical application areas are offered along with the course, including numerical weather prediction, cryptography, and financial mathematics. Data analytics graduates from UCD are suitable for PhD level at the interface of statistics, computational science, and statistics.
Trinity College Dublin
Created following the amalgamation of the Department of Computer Science and the Department of Statistics, The School of Computer Science and Statistics at Trinity College Dublin is centred in the O'Reilly and Lloyd Institutes at the east end of the campus.
When studying data science courses at TCD, you will be trained to gather and store data using cloud computing technologies and IoT, process them using advanced statistical techniques and deliver new insights extracted from the data. The core module of the course covers data analytics, data visualisation, applied statistical modelling, security and privacy, and the dissertation at the end of the course.
Dublin City University (DCU)
In an increasingly digital world, organisations these days need evidence-based reports to organise vast amounts of data and make informed decisions. And the business analytics course at DCU addresses the need by focusing on applying management science techniques and modern operational research.
The course module is delivered in three terms: the Michaelmas Term, Hilary Term, and Trinity Term. Topics covered over these three terms include Foundations of Business Analytics, Strategy for Analytics, Ethical and Privacy Issues in Big Data, Big Data and AI in Business, and a research project in the final term.
Maynooth University
Maynooth University's computer science courses are delivered through a mixture of lectures and lab work. The courses are designed to instil an in-depth understanding of the fundamental principles and develop analytical abilities and practical skills simultaneously.
While studying a data analytics course at Maynooth University, students gain the knowledge and skills required for collecting, analysing, and visualising data for extracting useful patterns and evaluating modules.
The course is delivered through a collaboration between the Department of Computer Science, Mathematics, and statistics and the National Centre for Geocomputation.
University College Cork (UCC)
University College Cork played a pivotal role in the development of computing. The University is where George Boole, the first professor of mathematics, developed the formal foundations of propositional logic, underpinning the software and hardware of all modern digital computers.
The postgraduate data analytics course at UCC is jointly offered by its Department of Statistics and the School of Computer Science and Information Technology. Courses are delivered through a combination of statistics modules and sophisticated computing, eventually enhancing your skills in database management, modelling, data visualisation, and interpretation of data.
The carefully curated modules will develop your skills in database management, summarisation and programming required for studying large-scale data.
Career Opportunities after Studying Data Analytics
Data Analysts are in high demand in software development companies, pharmaceuticals, financial and investment firms, manufacturing companies, communications and large government sector organisations. Various types of job opportunities are available to data science graduates, including:
Average salaries for data analysts in Ireland and the UK are between €35,000 - €90,000 depending on the industry and prior work experience.
Study in Ireland
If you are interested in studying Data Analytics in Ireland, arrange a free consultation with SI-Ireland today and get more information on Irish university courses, scholarships and study visas for Ireland.