Trinity College Dublin was founded in 1592 and is one of the world's leading universities, the best in Ireland, and consistently ranked in the top 100 globally.
For over 400 years, this historic institution has been a world leader in high-quality, internationally-recognised education. The University brings together a vibrant international community of almost 17,000 students and 2,860 members of staff, and its stunning campus of historic buildings and cobblestoned walkways is juxtaposed with its state-of-the-art facilities and world-renowned centres of excellence.
Student life at Trinity College Dublin is also about much more than education: with over 200 sports clubs and societies ranging from athletics to tennis, debating to investing, and drama to science fiction, there is something to suit every interest. Trinity is also one of the world's only universities to provide all undergraduate students with a personal tutor – a dedicated faculty member who can offer academic, personal and professional guidance throughout their degree.
Learn more about why Trinity College Dublin is Ireland's number one university below, and you can arrange your free consultation with SI-Ireland today to begin your application.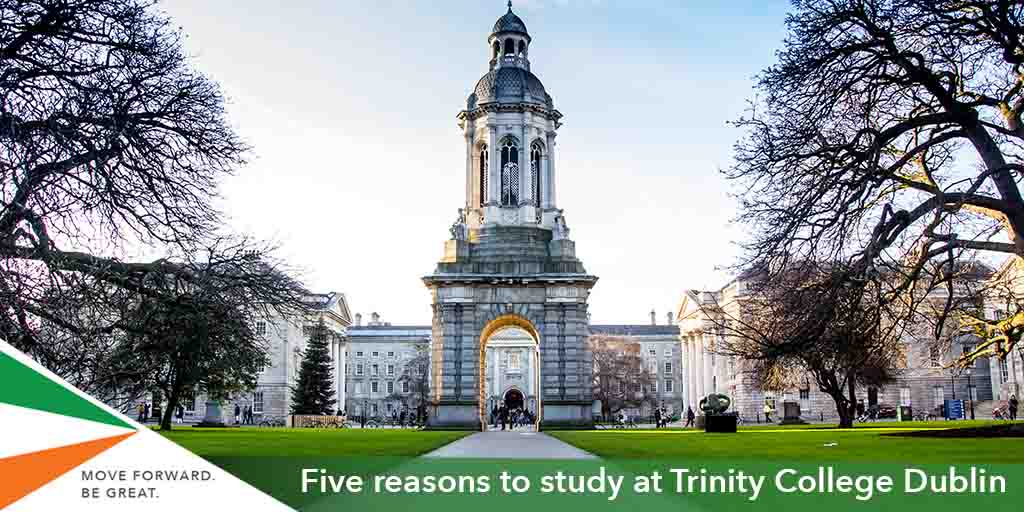 Why Choose Trinity College Dublin?
1. Trinity is Ireland's top university
When looking at studying abroad in Ireland, Trinity College Dublin ranks first in all university league tables. The Trinity College Dublin ranking is 81st in the QS World University Rankings and 134th in the Times Higher Education World Rankings of 2024. Trinity has the highest number of international students, highly qualified faculty, the best teaching standards and the finest research of all Ireland universities.
Trinity Business School is ranked among the top 30 business schools in the world. For nearly a century, it has been pioneering cutting-edge research, teaching and learning in management and entrepreneurship.
2. Employability
Trinity has the highest number of employable graduates in Ireland, with 95% of its pass-outs in employment or further study within six months of completing their programme. It also boasts a higher industry income as compared to other Irish institutes.
3. Brilliant campus
Trinity College Dublin is Ireland's most historic university, fashioned after the prestigious UK universities of Cambridge and Oxford. The campus is vibrant with state-of-the-art facilities and has been ranked by Forbes in the 15 most beautiful colleges in the world. It has the largest library in Ireland and several sports grounds and facilities.
4. Wide variety of courses
The three faculties are Arts, Humanities & Social Sciences, Engineering, Mathematics & Science and Health Sciences. There are 24 schools with about 600 courses offered at undergraduate and postgraduate levels and many research areas to choose from. The University is known for its courses in Nanotechnology, Mathematics, Engineering, English and Politics.
5. Fantastic location
Trinity College Dublin is an oasis of learning in the middle of one of the most vibrant, friendliest cities in the world. The campus is located on College Green opposite the Irish Houses of Parliament. The University is located around the regional headquarters of leading corporations such as Microsoft, Google, AirBnB and LinkedIn.
Trinity's bustling 47-acre campus is an oasis in the heart of Dublin, a vibrant and safe European capital city. The university's city-centre location offers students a unique opportunity to blend a rigorous academic programme with an unparalleled array of cultural, social and professional experiences. Many museums, theatres, galleries, cafes, restaurants and historic tourist sites are located right on Trinity's doorstep.
Study at Trinity College Dublin
If you are considering joining an institute of higher education in Ireland, book a free consultation with SI-Ireland today.
Trinity College Dublin FAQ
What is Trinity Ireland known for?
Trinity College Dublin in Ireland is known for its stellar academic reputation and rich history. It also houses the Book of Kells, a 9th-century Gospel book that is one of the world's greatest artistic treasures.
What programmes is Trinity College known for?
Trinity College is known for offering high-quality education in many disciplines. The best Trinity College Dublin courses include history, performing arts, philosophy, classic & ancient history and computer science.
Where is Trinity College Dublin ranked in the world?
In the 2024 QS World University Rankings, TCD is ranked 81st globally.
What are the benefits of studying at Dublin Business School?
Students who study at the Dublin Business School can take advantage of the institution's location, as being in the capital city of Ireland can give them several career options. The diversity in the student population and the flexible study options are reasons studying at Dublin Business School can be great for students.
Is Trinity College Dublin good for a master's in marketing?
Yes, studying for a master's in marketing at TCD is a great choice for students as they get access to a strong academic environment where a wealth of knowledge is present for the subject.