Many Indian students studying at Irish universities choose independent, self-catered accommodation due to the easy availability of quality rental properties in Ireland. In rented accommodation, students get to experience an independent lifestyle and often prepare meals for themselves, buying their own food supplies and groceries.
Food expenses in Ireland depend on where you live and where you buy from. Students can easily spend between €70-100 per week on food expenses, including groceries and expenses for eating out at reasonably priced restaurants. An increasing number of Indian stores have opened up in Ireland making it easier for Indian students to buy Indian grocery items and food supplies for cooking. Also, you can find great Indian restaurants in Ireland.
Listed below are some healthy, affordable, tasty and quick-fix food options for students living independently in Ireland.
If you want to know more about studying in Ireland book a free consultation with SI-Ireland today.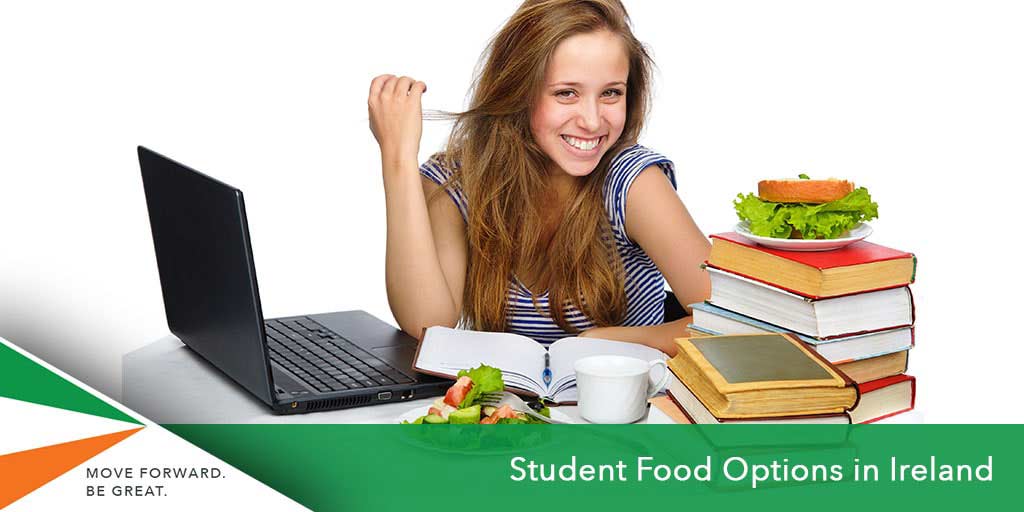 Student Food Options in Ireland
Exam Day Breakfast Options
High protein and low GI food items such as milk, yoghurt and eggs combined with slow release carbohydrates such as whole grain breads or porridge are considered healthier breakfast options for an exam day. Some healthy breakfast options include:
Crunchy Banana Yoghurt can be prepared in less than 30 minutes and is a perfect low calorie breakfast to help you stay energetic till lunchtime
Boiled Egg and Rye Bread is another classic high protein breakfast for an exam day
A high protein Fruit Smoothie, mixed with almonds and oats, is another healthy, fibre filled breakfast option to give your day an energetic head start
Healthy Student Packed Lunches
Sweetcorn Pasta Salad is an ideal student lunch option which is quick to prepare and easy to carry. Students can add their choice of vegetables or tuna to make it a high protein meal.
Chickpea meals such as smoky baked chickpeas or chickpea, spinach and egg curry are some healthy and nutritious post work meal options which can be easily prepared by students. These vegetarian, low calorie meals are rich in protein and fibre with low GI.
Popular Indian Restaurants in Ireland
Indian students in Ireland can also enjoy Indian food at popular Indian restaurants serving Indian delicacies in and around Dublin.
Veda at Dublin
Pink Salt Indian Restaurant at Bray
Daata Tandoori at Bray
Chakra by Jaipur at Greystones
Mt. Everest of Kathmandu at Bray
Rasam Restaurant at Dun Laoghaire
Masala Killiney at Dublin
Shanai at Dublin
Study in Ireland
At SI-Ireland, we assist students in the Ireland university application process and provide all necessary guidance for Ireland Study Visa Application. Book a free consultation to start applying at Irish universities.