UCD School of Veterinary Medicine is Ireland's only veterinary school and one of the best in Europe, known for its high quality of education, clinical practice and research initiatives. If a student truly wants to immerse themselves in the experience of handling animals, learning how to treat them, and also how to manage the relationship between the animal kingdom and human beings, UCD can be the right place for you. UCD offers a variety of veterinary medicine degrees at undergraduate and graduate levels.
Veterinary medicine graduates get the opportunity to work with national and international organisations, such as the World Health Organisation, as experts or researchers. If you are considering becoming a veterinarian and also want to study abroad at a prestigious university with one of the best veterinary schools in the world, then University College Dublin is the perfect option. UCD is the largest Irish university and is constantly ranked among the best in major ranking systems in the world.
Book a free consultation with SI-Ireland today if you want to apply at UCD to study veterinary medicine.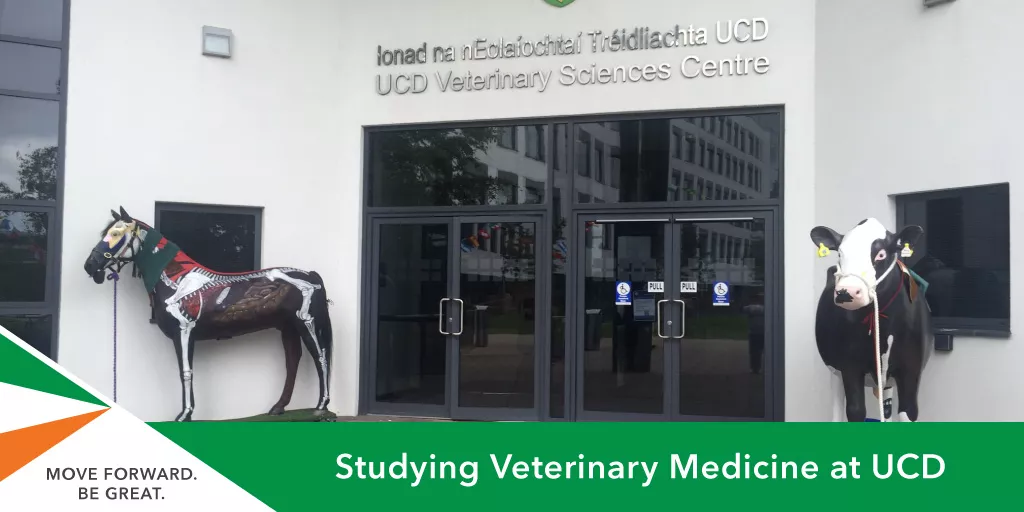 Five Reasons to Study Veterinary Medicine at UCD
1. Only veterinary school in Ireland
The UCD School of Medicine is a premier institute for the subject in Ireland. Being the only centre for veterinary education in the country, it boasts of a long and proud history of imparting the very best education in this complex field, graduating students with the best skills and knowledge, ensuring they are workplace ready.
2. State-of-the-art facilities
UCD School of Veterinary Medicine has impeccable facilities at its state-of-the-art veterinary hospital located on the UCD campus. These include:
Diagnostic Laboratories: The UCD Veterinary Diagnostic Laboratories provide a range of diagnostic services to veterinary practitioners and researchers, including pathology, microbiology, and parasitology.
Teaching and Learning Centre: This is a modern facility with classrooms, lecture theatres, and computer labs used for teaching veterinary medicine students.
Clinical Skills Centre: This facility is used to teach practical clinical skills to veterinary medicine students. It includes surgical suites, animal handling areas, and diagnostic equipment.
Research facilities: UCD has a range of research facilities that are used for veterinary medicine research, including a genetics laboratory, a clinical trials unit, and a research farm.
3. Varied course options
The Veterinary Medicine department at University College Dublin offers a variety of course options to students. Here are some of the key features of the program:
The Bachelor of Veterinary Medicine (BVM) at UCD is a five-year undergraduate degree that trains students to become veterinary professionals. The course covers all aspects of veterinary medicine, including animal health, disease prevention and treatment, surgery, and animal welfare. The Veterinary Medicine (Graduate Entry) provides an additional year of study beyond the BVM degree that allows students to achieve a higher level of specialisation and expertise in their chosen area of veterinary medicine.
UCD offers opportunities for Veterinary Medicine students to study abroad at partner universities around the world and the Veterinary Medicine degree includes a mandatory work placement component, which provides students with hands-on experience in a clinical or research setting.
4. Study in Dublin
Dubliners are known for their friendly behaviour, which makes it easy for international students to settle in a city that is consistently ranked among the friendliest in the world. Dublin also has a rich cultural and historical heritage. Students can easily see Gothic cathedrals and Georgian townhouses while roaming the streets and exploring the museums and art galleries. As an international student, one can have a memorable university experience while studying in Dublin.
5. Elite accreditation
The UCD School of Veterinary Medicine is accredited by the Veterinary Council of Ireland and the European Association of Establishments for Veterinary Education.
Accreditation by these organisations ensures that Veterinary Medicine at UCD meets strict standards for curriculum, faculty qualifications, facilities, and other factors. Graduates of accredited programs are typically eligible to take licensing exams and practice veterinary medicine in a variety of countries around the world.
Study Veterinary Medicine at UCD
If you want to study veterinary medicine degree at University College Dublin, arrange a free consultation with SI-Ireland today.