If you are considering studying in Ireland, there are few better places than the University of Cork (UCC). Located in the beautiful city of Cork on the banks of the River Lee, the University offers students a rich academic experience in a city and country which is friendly, safe and offers plenty to do away from your studies.
Universities in Ireland combine a great higher education experience with fantastic career opportunities. Irish university towns with their rich heritage and warm culture provide a memorable study abroad experience to international students.
Learn below more about studying at the University of Cork and the experience to expect as an international student. Begin your Ireland study application by arranging a free consultation with SI-Ireland today.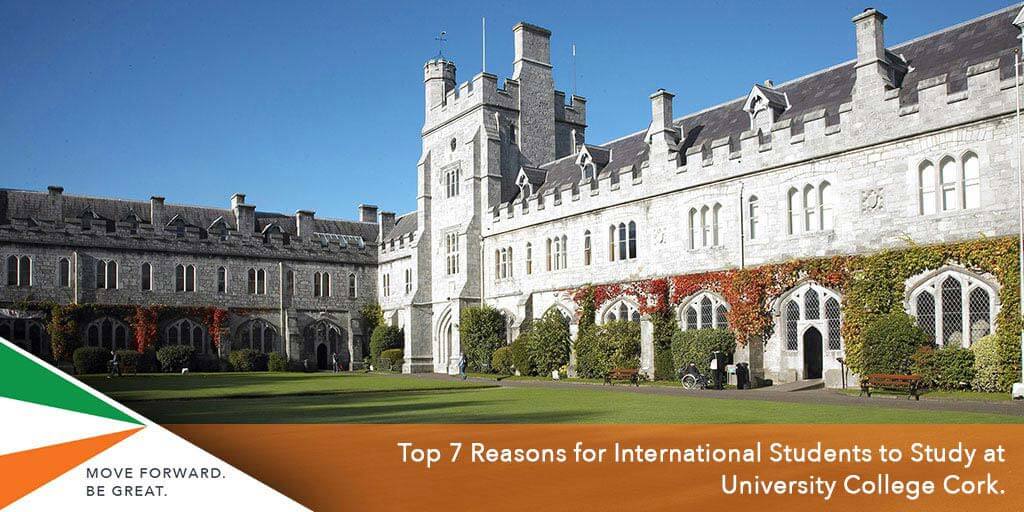 Seven Reasons to Choose University College Cork
1. Award-Winning Global University
UCC has made its mark across leading league tables and in Europe by being the first recipient of a number of awards. UCC ranks among the top 2% global universities and the university in Ireland to win The Sunday Times University of the Year title two years in a row and the first five-star university in Ireland. Currently, UCC ranks 303rd in the QS World University Ranking 2023.
2. World's Safest Campus
Located in the heart of the city of Cork, UCCL combines modern facilities with its rich history and tradition, along with delivering a safe campus experience to its students. The International Graduate Insight Group rated UCC as the safest campus in Ireland and one of the safest in the world.
3. Best in International Student Satisfaction
UCC is home to over 20,000 students from over 104 countries. So, regardless of the degree, if you choose to study at the University, you will be learning in a diverse environment and building a network with students from around the world. UCC Master's courses in particular see students graduate and complete their study career ready.
4. High-Impact Research and Learning
Research impact is a core part of University College Cork's strategic priorities and research mission. The University ranks 62nd in the Times Higher Education Impact Rankings 2022 and UCC offers a research-led curriculum across 120-degree programmes, including Architecture, Business, Humanities, and Medicine.
5. Best Sports Facilities
UCC is ranked 1st in Ireland for Sports Facilities and is home to 59 Sports Clubs and 78 active student societies. The university campus holds a 25m swimming pool along with an international-sized basketball court, climbing wall, dressing rooms, along with a newly installed outdoor and indoor running track.
6. Most Sustainable University with the Greenest Campus
UCC is the first Green Flag Campus in the world. Led by a small group of students with support from the university, the Green Campus Programme was formed. Whilst studying at the University, you can also learn about the best practices and get involved in green projects. The knowledge you earn at UCC's green projects will help you make a significant contribution on a global scale.
7. Cork is the Friendliest City in the World
The city of Cork has a unique character and charm, which is what attracts international students from all over the world. Compared to the rest of the cities in Europe, the city of cork is highly affordable. Living in Cork is 22 per cent cheaper than in Dublin and 24 per cent than in London. The locals of Cork are one of the friendliest people you will ever meet. It seems the city is always saying, "all are welcome here".
Study at the University of Cork (UCC)
Book a free consultation with SI-Ireland today if you want to study at University College Cork.