An accounting and finance degree in Ireland typically covers a wide range of topics related to accounting, finance, and business.
Students studying a bachelor of accounting in Ireland will be provided with a strong foundation in accounting principles, including topics such as financial accounting, managerial accounting, auditing, and taxation, enhancing their knowledge of core topics related to the subject in the form of corporate finance, financial analysis, investments, and financial markets. Students will also take courses in areas such as management, marketing, economics, and law.
The demand for accounting and finance graduates overall is always high and is projected to grow by five per cent by 2029, according to the Bureau of Labour Statistics. This means that employment opportunities with high-paying accounting and finance salaries will keep increasing, making the subjects a preference for students who like to delve into numbers and wish to have prosperous career options.
Ireland has become one of the most preferred destinations among prospective international students. The presence of world-class universities with state-of-the-art facilities and award-winning faculty leads to a high quality of education, which means that students can grab exciting job opportunities in the country as well as at the global level. The post-study work visa also allows students to stay back for two years after graduation, giving them more reasons to start their careers in the country. This is also made possible by the presence of the world's biggest companies that have stationed their operational offices in the country. Leading companies such as JP Morgan, HCL, Northern Trust, Central Bank, Google, Apple, and HCL hire accountancy and finance graduates from renowned universities.
Learn more about the best accounting and finance universities in Ireland below (QS World University Rankings by Subject 2022) and if you would like to begin your application, arrange a free consultation with SI-Ireland today.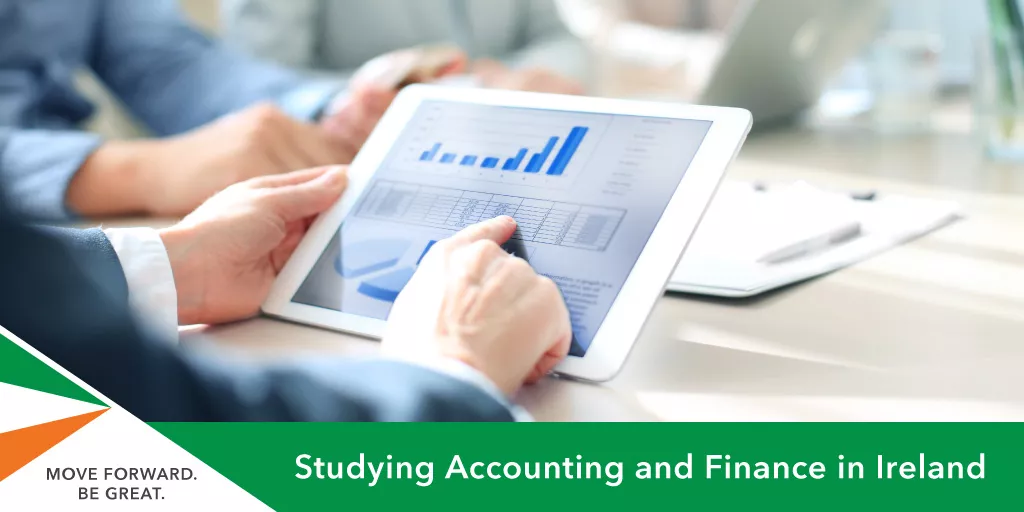 Top Five Universities for Accounting and Finance in Ireland
Founded in 1592, Trinity College Dublin is among the most prestigious institutions in Ireland, offering high-quality education across various disciplines. Trinity Business School offers specialist courses in accounting and finance that range from degree options to diplomas in specific subject fields. The Business School at TCD is a globally-recognised, triple-accredited school that delivers an ultra-modern educational experience with innovative research output. The various courses in the programmes have been designed to push students to their full potential by immersing them in the latest business theory and practice methods. The networking opportunities at the university with industry players and alumni enable students to gain special insights and accelerate their career prospects.
The UCD Business College has four schools, namely: Micheal Smurfit Graduate Business School, the UCD College of Business Global Campus, UCD Smurfit Executive Development and the Lochlan Quinn School of Business. These schools offer business-related courses at the undergraduate and graduate levels and are world-renowned for their teaching and research capabilities. Undergraduate courses are mostly in combination with other business and economics degrees, whereas the graduate courses are more specialised in their approach. The curriculum has been designed in a manner that students get foundational as well as detailed knowledge on the aspects of corporate finance, accounting, taxation, consulting, and much more.
Through its Business School, Dublin City University offers undergraduate and graduate degrees in accounting and finance. At the undergraduate level, the BA in Accounting and Finance serves as a premier degree in the country that enables students to gain knowledge and skills required in a wide range of industries. At the master's level, different accounting and finance programmes provide detailed study options. The curriculum encourages critical and creative thinking, communication and teamwork skills, and other professional qualities that help students become tomorrow's business leaders.
The University of Galway offers undergraduate and graduate degrees through its Discipline of Accountancy and Finance, which has an outstanding reputation for excellence in teaching and learning. The school also engages in impactful research on applying and developing expertise in accounting and governance to support good decision-making and insightful corporate reporting. Some of the most popular courses include BComm Accounting, BComm Accounting (International), Master of Accounting, MSc in Corporate Finance and MSc in International Accounting & Analytics. All the accounting and finance programmes at the school are accredited by professional accountancy bodies, which can help the graduates in the form of significant exemptions from professional examinations.
Through the College of Business and Law, UCC offers undergraduate and graduate degree options to students with specialisations in accounting and finance. At the undergraduate level, BSc Honours in Accounting serves as a distinctive broad business degree that prepares students to pursue professional accounting qualifications and enhance career progression in the business world. A wide variety of subjects are taught in the degree, including finance, law, economics, management, accounting, information systems, marketing, and statistics. At the graduate level, an intensive tutoring methodology in the core technical subjects of accountancy helps students gain exposure to the contemporary business issues needed in the professional world.
Study Accounting and Finance in Ireland
If you want to study an undergraduate or master's degree in accounting and finance at an Irish university, arrange a free consultation with SI-Ireland today.