Three Irish cities have been selected amongst the friendliest cities in the world by Condé Nast Traveler, a US based travel magazine, in its 2018 Reader's Choice Awards survey. These cities not only attract tourists from all over the world, but are also home to the best universities in Ireland. They are popular amongst students who want to get a world class education, and at the same time study in one of the most friendly cities of Europe.
What are the best cities in Ireland to study?
Condé Nast Traveler's readers selected the picturesque Irish cities of Cork, Galway and Dublin amongst the friendliest cities in the world. The warm, friendly nature and free spirited ways of the Irish have been delighting global travellers and promoting Ireland as a popular destination for short term stay and visits. Moreover, Ireland's top 5 universities are concentrated in these three cities making them hugely popular with international students.
The 2018 list of top ten friendly cities in the world features Irish cities:
Cork at 3rd
Galway at 5th
Dublin at 8th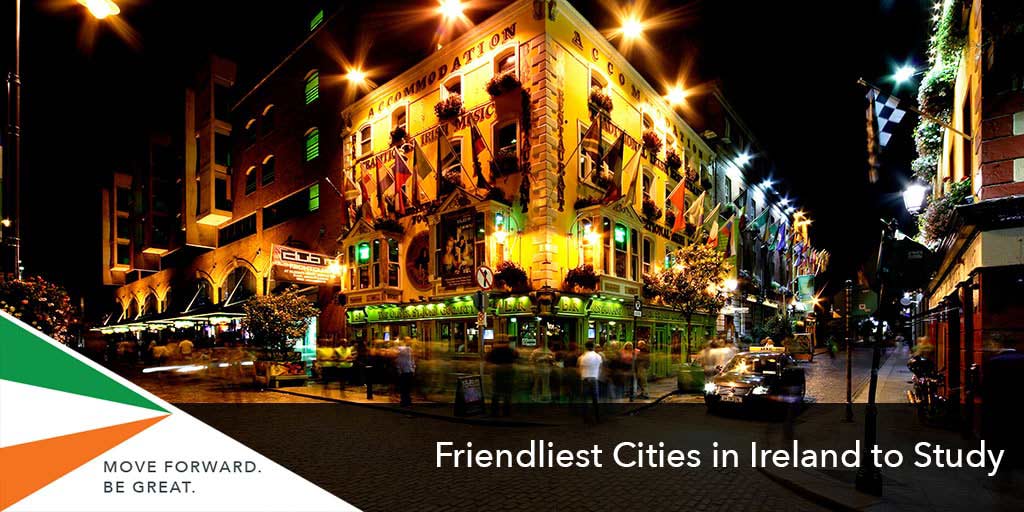 1. Cork City
Cork, situated on the River Lee, is famous for its riverfront location, beer gardens, English Market, art galleries and cozy pubs. It is also one of the most important education centres in Ireland and has a high concentration of students with over 3000 international students. University College Cork, Cork Institute of Technology, National Maritime College of Ireland, Cork School of Music and Griffith College Cork are the famous educational institutes located in Cork.
Best university to study in Cork: University College Cork
Ranked 4th in Ireland and 283rd in the world
UCC has been named 'Irish University of the Year' five times
2. Galway
Known for its lively and charming people, festivities, musicality, cobbled streets and ancient architecture, Galway is often regarded as being the most Irish city. The Spanish Arch and the Claddagh add to the beauty of this tribal city. Galway is also the 2020 European Capital of Culture.
Best University to study in Galway: NUI Galway
Ranked 3rd in Ireland and 243rd in world
Leading research university of Ireland
3. Dublin
Dublin, Ireland's capital city, is cosmopolitan, friendly and offers a vibrant nightlife with its terrific pubs and buzzy restaurants considered the city's gems. Dublin is home to three national universities, Dublin Institute of Technology, Royal College of Surgeons in Ireland and many other higher education institutes.
Best universities in Dublin include:
*All rankings are based on QS World University Rankings 2018/19
Study in Ireland
Apply to study in Ireland with SI-Ireland today and book a free consultation to begin the application process at an office near you.