IELTS is an English language test which students from non-english speaking countries must take to be eligible for studying in Ireland, Australia, Canada, US and the UK. Securing a satisfactory IELTS score is also a prerequisite for applying a Study Visa in countries like Ireland. The minimum IELTS score requirements vary between universities and courses, however, a score between 6.5 to 7.5 is usually acceptable for most courses.
IELTS candidates often find it hard to score well in the Writing Test as it is quite challenging to produce a good quality composition within a limited time. Writing a high scoring IELTS essay is a skill which can be learnt with practice and by paying attention to the critical details.
Useful IELTS Writing Tips to get above 7.5
Always express a clear opinion in your essay. The conclusion must reflect your point of view
Be creative with your ideas and writing
Organise your ideas cohesively and use effective linking and transition words to produce a coherent composition
Choose your words carefully as the focus should be on clarity rather than use of complex or difficult vocabulary
Maintain a logical flow of ideas in your composition while keeping it straight to the point
Learn more simple hacks for IELTS essay writing and common IELTS essay questions below. To learn more about IELTS and english language requirements for studying abroad, arrange a free consultation.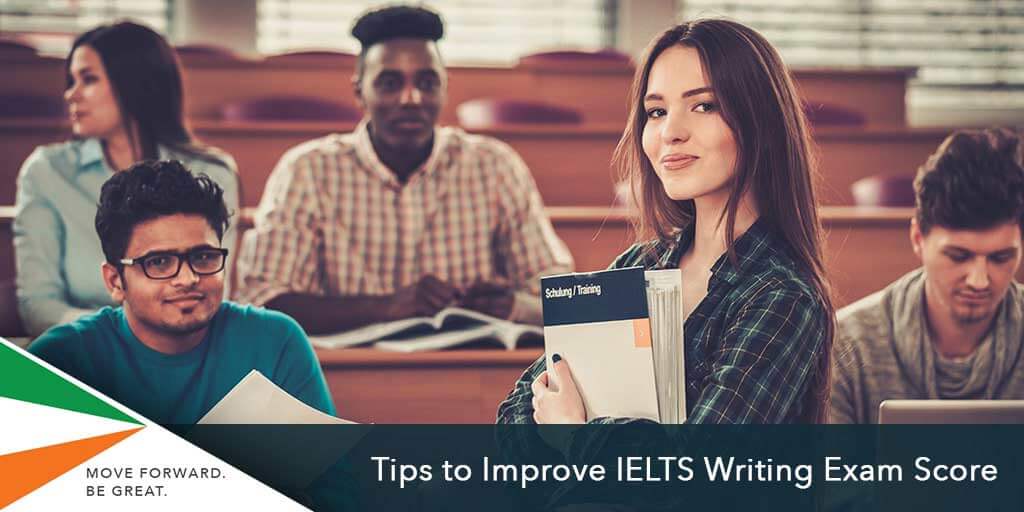 Hacks to simplify IELTS essay writing
It is very helpful to plan the structure of your composition or essay to produce a good quality write-up. Spend the initial 3-5 minutes to plan your essay structure and the ideas to be included.
Divide the structure into 4 or 5 paragraphs which must include 1 introduction and 1 conclusion paragraph in addition to 2 or 3 body paragraphs.
Approach the essay topic by dividing it into a series of 4-5 small questions and answer each one separately in a few lines (around 40- 50 words each) rather than trying to develop a single block or paragraph of 150- 250 words.
Maintain the flow of ideas to provide a smooth reading experience.
Use simple vocabulary to express ideas and opinion clearly.
Common Essay Writing Topics in IELTS
IELTS essay writing tasks generally include five types of questions - solution essay, advantage/disadvantage type essay questions, questions requiring opinion or discussion essays and direct essay questions. Find here a list of ten most common essay topics for IELTS writing test.
Education
Business and Money
Society
Crime and Punishment
Communication and Personality
Media and Advertising
Environment and Technology
Health and Education
Work and Equality
Sports
Study in Ireland
Ireland has become a popular European study destination for Indian students. Book a free consultation with SI-Ireland to learn more about the application, visa and IELTS requirements for studying in Ireland.