Universities in Ireland are globally recognised for academic and research excellence, with many consistently ranked amongst the top universities worldwide. Irish universities are also hugely popular among international students for their affordable education, low tuition fees and relatively lower living expenses.
Tuition costs in Ireland vary according to EU and non-EU residence status, study level, subjects, and selected universities. Tuition fees for subjects like Medicine, Engineering and IT are higher than for other subjects. Similarly, the overall cost of studying in Ireland is affected by accommodation and living expenses, which differ between bigger cities such as Dublin and smaller university towns like Maynooth, Limerick or Galway. Many universities offer scholarships to students to further reduce tuition costs for students in Ireland.
With SI-Ireland, you can find out more about all the low-cost courses at universities in Ireland. Our Free Application Service will help you successfully apply for an affordable degree in Ireland.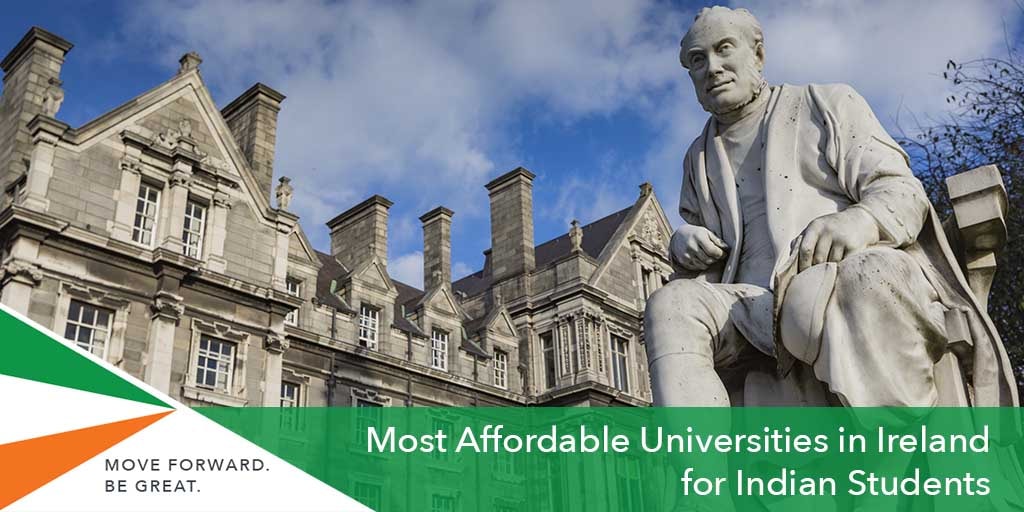 Affordable Universities in Ireland
Trinity College Dublin is the oldest and the most reputed institute in Ireland, having ranked among the world's top 10 universities. It was also ranked the European Union's most international university in 2021, with over 30% of students from outside Ireland. Established in 1592, Trinity is known for offering quality education with research-intensive academic excellence at an affordable fee, making it one of the most sought-after European universities for international students.
Undergraduate: €10,000 - €45,000
Postgraduate: €7,000 - €49,000
Established in 1845, the University of Galway is among the most popular Irish universities. Galway is a member of the Coimbra Group, a network of 40 long-established European universities. In 2012, NUIG was awarded the full five QS stars for excellence. Over 12% of the university's students are from outside Ireland, making it one of the most highly diverse campuses in the country.
Undergraduate: €12,750 - €31,000
Postgraduate: €13,250 - €15,000
With over 33000 students, University College Dublin is the largest university in Ireland. It is also amongst the country's most prestigious universities, with more than 160 years of history. UCD is ranked 2nd in Ireland by QS World University Rankings 2023. It consists of mainly six colleges or departments: UCD College of Arts and Humanities, UCD College of Business, UCD College of Engineering and Architecture, UCD College of Health and Agricultural Sciences, UCD College of Social Sciences and Law, and UCD College of Social Sciences and Law.
Undergraduate: €18,000 - €53,000
Postgraduate: €5,000 - €31,000
University College Cork was established in 1845 and has been one of the country's premier higher education centres. UCC was named the Irish University of the Year by The Sunday Times five times. The University is home to more than 21000 students and houses Ireland's first "plastic-free" café.
Undergraduate: €12,400 - €45,000
Postgraduate: €5,000 - €22,000
One of the newly formed Irish universities, Dublin City University, has become a top-rated destination for state-of-the-art academic excellence just four decades after its establishment. The university has five campuses in Dublin and was named Irish University of the Year (2004-2005) by the Sunday Times.
Undergraduate: €10,800 - €12,600
Postgraduate: €9,425 - €19,000
Maynooth University was named 'University of the Year' by The Sunday Times in 2008. It became the first and only European institution to be included in The Princeton Review of Best Colleges three years later. Thanks to its excellent educational reputation and affordable tuition fee, Maynooth has become one of the most sought-after universities by international students.
Undergraduate: €12,000 - €13,500
Postgraduate: €6,500 - €15,000
The University of Limerick was established after Irish Independence in 1922. UL is known for its science and engineering courses supported by the university's state-of-the-art infrastructure. Limerick has a beautiful 340-acre campus on either side of Shannon River.
Undergraduate: €5,000 - €45,000
Postgraduate: €6,000 - €40,000
Technological University Dublin was formed in 2019 by amalgamating three former institutes of technology in the Irish capital – Dublin Institute of Technology, Institute of Technology, Blanchardstown, and Institute of Technology, Tallaght. Home to about 29000 students, TUD is based mainly on five campuses in the Dublin City area: Grangegorman, Aungier Street, Bolton Street, Blanchardstown, and Tallaght.
Undergraduate: €10,000 - €12,500
Postgraduate: €3,500 - €15,250
Average tuition fee for popular subjects in Ireland
Irish universities provide unique courses in various fields of study. Learn more about the average non-EU course fees for the most popular subjects in Ireland according to the latest QS World University Rankings by Subject.
Medicine at Trinity College Dublin - €45,000
Nursing at Trinity College Dublin - €11,700
Engineering and Technology at Trinity College Dublin - €24,700
Arts and Humanities at Trinity College Dublin - €18,900
Business & Management Studies at University College Dublin - €18,700
Social Sciences & Management at Trinity College Dublin - € 18,800
Study in Ireland
Arrange a free consultation with SI-Ireland to learn more about how to apply to Irish universities, visa requirements, and the finance and scholarships available to international students.