Undergraduate degrees from universities in Ireland are internationally accredited, and Irish university graduates are offered excellent job opportunities from the world's leading multinationals in diverse fields. Ireland has over 18 listed universities, out of which eight are globally ranked. These universities offer over 2,000 courses in multiple areas of interest, with many of them also providing guidance in job placements in multinational companies.
The Human Development Index by United Nations has placed Ireland in the second spot globally for quality of life, based on three living factors- health, education and income. All these factors contribute to the popularity of Ireland among foreign students. Currently, over 32,000 international students in Ireland from over 100 countries have taken courses at the universities. The country's education system is similar to the UK's, making it all the more appealing to international students.
Learn more about why you should study for a Bachelor's degree in Ireland below and if you are interested in learning more about studying in Ireland, arrange a free consultation with SI-Ireland today.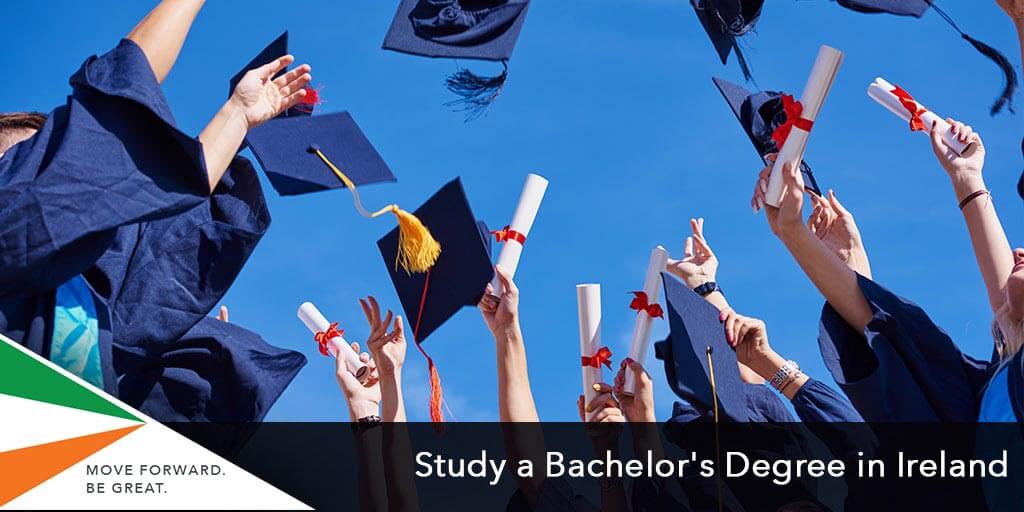 Five Reasons to Study a Bachelor's in Ireland
1. High-quality education
Ireland's high-quality education system delivers university education that emphasises meeting the challenges of a highly competitive economy on a global level. Bachelor's degrees at top Irish universities are world-renowned, as they are taught by expert faculty members imparting knowledge and practical experience to the students.
Bachelor's degree courses and modules are industry oriented and maximise knowledge transfer between industry and universities. This scenario helps instil skills imparted to students to prepare them for the workplace in an international job market.
Irish universities also have state-of-the-art infrastructure and facilities with a distinguished academic staff comprising experienced faculty members and industry experts.
2. Integrated masters options
Many 3 or 4-year bachelor's degrees in Ireland are available with options for a 4-year integrated masters course in subjects like engineering, economics, business and management, and science. These programs help students gain practical knowledge in a shorter period while also allowing them to earn reputable degrees.
3. Placements and employability
Most 4-year undergraduate degrees at Irish universities offer an optional placement year to emphasise practice-based learning and enhance employment opportunities. Ireland university graduates are amongst the most skilled in the world and are actively sought after by corporate organisations, government agencies and NGOs.
4. Rankings and reputation
Bachelor's degrees from universities in Ireland have universal accreditation and are internationally reputed and recognised by recruiters, employers and international institutions. Many universities are ranked among the top internationally by the major ranking systems such as QS World University Rankings and Times Higher Education World University Rankings.
5. Ireland is among the safest countries in the world
Ireland ranks 10th in the Global Peace Index of 163 countries and is one of the safest study-abroad destinations for international undergraduate students. International students in Ireland experience the warm hospitality of friendly Irish people and study in cities and campuses, an amalgamation of hundreds of years of rich culture, history and modernity.
Best Bachelor's Courses in Ireland
Computer Science
Computer Science is the study of computers and how they work. Irish universities are at the cutting edge of delivering courses reflecting the growing demand for skilled computer scientists in the 21st-century workforce.
Business and Management
Solid training in the field of Business and Management enables students to gain the knowledge and expertise to outshine in the business world. Pursuing a business and management degree has always been preferred by people who wish to lead in the corporate world or start their own business someday.
Biotechnology
Biotechnology delves into an understanding of life sciences and applies the concepts to the benefit of humankind. Modules can include environmental biotechnology, pharmaceutical science, food biotechnology, management and biotechnology, drug discovery, cell biology, molecular biology, genes and genomics, immunology, protein structure and biochemical and chemical engineering.
Economics
Among the most popular of social sciences, Economics is a subject that is widely taken by students who wish to study the patterns of human behaviour in terms of economic theories. Economics is usually taught in combination with other social science subjects, such as history, politics and law, to help students understand the economic models and their background.
Engineering
Having world-class infrastructure with excellent teaching practices applied by experts, Irish Universities are well-known to graduate engineering students to build a career in the leading industry.
Marketing
Marketing degrees facilitate students with the expert knowledge to deal with challenging and unique circumstances that are being presented in the business world. Degrees teach students to promote and sell the products and services so that the target audience is motivated to take up the products and services.
Pharmacy
One of the health sciences that assist in making patients feel better by applying medicines and pharmaceutical drugs, pharmacy is in demand. The program's modules mostly include biology, physiology, pharmacology, chemistry, pharmaceutics and ethics.
Food Sciences
Students interested in being a part of the food industry while making new attempts to make the food nutritious, taste better, and improve the cost of manufacturing, can take up Food Science programs.
Medicine
Studying Medicine as a student is one of the most challenging and rewarding experiences. The course is highly competitive, particularly in Ireland, where many universities ask for the scores in the Health Professions Admissions Test (HPAT), apart from the admission interviews. Irish Medical Schools offer degrees that usually range from 4-6 years, and most have one year of compulsory internship in the program.
Law
Pursuing law as a degree is considered reputable in its own right due to the high demand for lawyers worldwide. Law programs in Ireland provide a critical understanding and comprehensive knowledge of the core legal concepts.
Study Undergraduate Courses in Ireland
Study undergraduate programmes in Ireland and apply with our international education consultants, who can help you receive an offer with expert application support. Book a free consultation today.