Foundation courses are for international students who wish to study undergraduate degrees at Irish universities but require a preparatory course to meet the undergraduate eligibility requirements. Students need to study a foundation course in Ireland if they have:
Studied a non-Irish high school curriculum
Completed less than 13 years of education
Requirements to improve English language skills
Need to meet academic requirements
Foundation courses act as a bridge for international students to enter Irish universities and help them plug the gaps in eligibility requirements if any. An International Foundation Year Programme is usually a one-year course in partnership with universities either on campus or away. A direct progression to the desired university undergraduate programme is possible upon successful completion of the foundation year.
Learn more about foundation year programmes in Ireland for International students below and book a free consultation with our education consultants if you have any questions about studying in Ireland.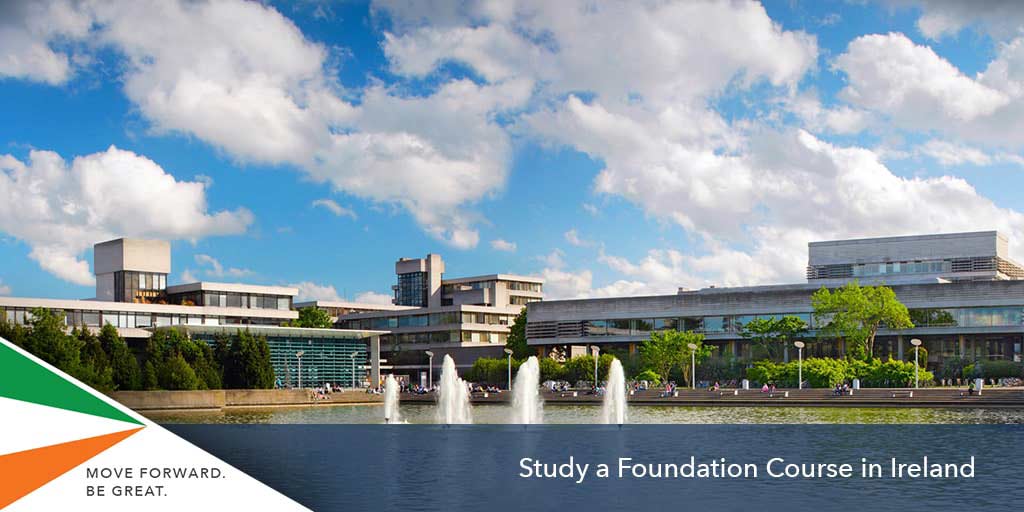 Foundation Courses in Ireland
Trinity College Dublin
Trinity College Dublin's one-year international foundation programme is designed to develop skills to excel in a competitive university. This programme is delivered at Trinity's associate college, the Marino Institute of Education and accepted candidates to the Trinity Foundation Course are also given conditional offers for undergraduate programmes at Trinity College Dublin and University College Dublin for the following year.
University of Galway
The University of Galway's Foundation Programme is offered by Galway Business School (GBS), in collaboration with Galway Cultural Institute (GCI). Students are offered English language classes with subject-specific business, science or engineering knowledge during the foundation programme. A student has to pass this programme at the requisite level to get the conditional offer letter.
Major subjects taught during the programme are academic English, computer application, quantitative methods, introduction to marketing, and business communications.
Dublin City University
The foundation programme at Dublin City University is a full-time course of one academic year, covering the English language course and several subject-specific modules. The programme is an ideal transition to a specialist DCU course by facilitating students with English language training and other support. You can choose one of the multiple subject routes: Science, Engineering, Business, and Humanities. After completing this course, graduates will have gained the knowledge, skills and confidence to begin their undergraduate studies at DCU.
University of Limerick
The International Foundation Programme is ideal for those international students who do not hold the required qualifications, including English language skills, to get admission to the University of Limerick. After the programme, students can demonstrate the necessary study skills to enter their chosen course. The Limerick foundation course is a two-semester course that consists of core modules (English language subject) and stream-specific modules.
Maynooth University
Maynooth University offers foundation and preparatory courses intending to mature students and gain the required skills and knowledge to enter the university world. As an international student, if you want to strengthen your skills and knowledge to study at an Irish university, Maynooth's courses will significantly help. Maynooth offers these three courses:
Maynooth University Certificate in Return to Learning
Maynooth University Certificate in Science/Computer Science
Maynooth University Think About Teaching Foundation Certificate
University College Dublin
The International Foundation Year Programme at University College Dublin is a three-term course which combines training in English language skills, academic preparation and general study skills to prepare for a bachelor's degree-level study.
Course modules include four core subjects and six specific subject modules focussing on the academic areas most beneficial for the degree. Students can choose from two routes depending on the bachelor's degree they want to access:
Business, Economics and Social Studies
Engineering and Sciences
TU Dublin
A foundation year at TU Dublin is a one-year programme upon completion of which students are guaranteed a place on the undergraduate programme of their choice at TUD. Students will not require an IELTS score for progression to undergraduate level. There are two types of foundation programmes:
Standard International Foundation Year for students with IELTS score 5.0
Extended Foundation Year is for students who have an IELTS score of 4.5
Study in Ireland
If you want to study a Foundation Course in Ireland, book a free consultation with SI-Ireland today.