Choosing the right degree in Ireland is a critical decision that has the potential to shape your career path and financial future. When considering studying abroad, it is always advisable to go for degrees that you are in interesting in, plus that are also among the highest-paying ones. Because, let's face it, the entire process of going, living and studying in a foreign country can get quite expensive if we factor in the tuition fees, living costs and other financial implications. What may be the point of spending so much when you are unable to have a good return on your investment? And in this case, the return is your career and future.
In Ireland, certain education degrees have the potential to lead to high-paying jobs and lucrative career opportunities and if you want to pursue that option and want to know more about the application process, book a free consultation with SI-Ireland now to talk to our education experts and start your academic journey to have a great financial future.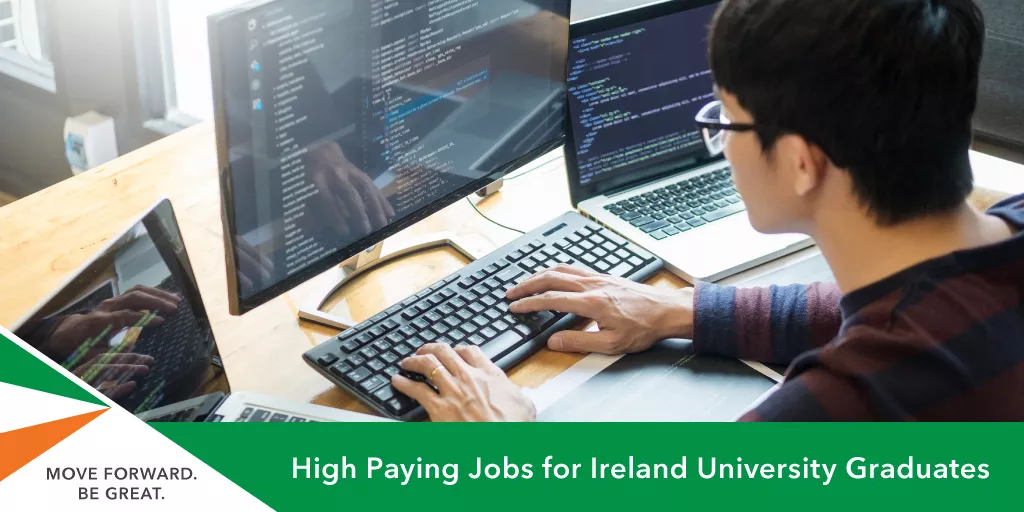 Ireland University Degrees that Result in High-paying Jobs in Ireland
Computer Science and Information Technology
With the rapid advancement of technology, the demand for skilled professionals in computer science and information technology has skyrocketed in several countries. Ireland, in particular, has become a tech hub, with many IT global giants setting their European headquarters in Ireland. This scenario has resulted in many lucrative job opportunities, and graduates with degrees in computer science, software engineering, data science, and related fields are highly sought after in Ireland. Job roles such as software developers, data analysts, and cybersecurity specialists are in high demand, commanding competitive salaries due to the high technical skills and great demand.
Average expected salary: €67,500 per year
Engineering
Engineering degrees, especially in disciplines like electrical, mechanical, and civil engineering, offer excellent earning potential in Ireland. It is a well-known fact that engineers play a vital role in various industries, including construction, manufacturing, and technology. The complexity and scope of engineering projects contribute to competitive salaries, and career growth opportunities for engineering graduates are plenty as it is one of the booming economies in Europe that has many companies settling in due to the favourable business climate.
Average expected salary: €52,500 per year
Medicine and Healthcare
The healthcare sector is a crucial component of any nation's economy, and Ireland is no exception. This demand has seen a massive increase during and after the pandemic. Medical professionals, including doctors, dentists, surgeons, nurses and other specialists, are among the highest-paid individuals in the country. Pursuing a medical degree or a degree in healthcare-related fields can lead to well-compensated positions in public and private healthcare institutions, not only in Ireland but in several parts of the world.
Average expected salary: €100,700 per year
Pharmacy
With an increase in the need for medical care, the demand for skilled and talented pharmacists has also increased in recent decades. Pharmacists play an essential role in dispensing medications and providing valuable healthcare advice, which is essential for better healthcare facilities in any country. A degree in pharmacy can lead to a high-paying job in both community and hospital pharmacy settings. Additionally, there are opportunities for research and development roles within the pharmaceutical industry, which is a significant sector in Ireland.
Average expected salary: €74,042 per year
Finance and Accounting
Professionals in the finance and accounting sector are in demand across various industries. A comprehensive programme in finance, accounting, or related fields can lead to lucrative positions as accountants, financial analysts, and financial managers. The finance industry in Ireland offers substantial salary packages and opportunities for great career advancement as the global rise of business has led to professional finance and accounting positions being available in all companies that are serious about growing their revenue and being relevant on the financial front.
Average expected salary: €55,000 per year
Law
A law degree opens doors to a range of career opportunities in the legal profession and is considered a highly reputed educational option. Lawyers, solicitors, and legal advisors are highly valued and can achieve attractive salaries, especially with experience and specialization. The legal sector in Ireland offers opportunities in corporate law, intellectual property, family law, and more.
Average expected salary: €70,500 per year
Business and Management
A degree in business and management can lead to a variety of high-paying careers, including roles in marketing, human resources, and general management. With a strong and growing economy, Ireland has several booming businesses, and many more are entering the market continually. In this scenario, talented business professionals are vital for the success and growth of organizations, making them highly valuable and well-compensated in the job market. By earning a comprehensive degree in business and management from a reputed university in Ireland, you can open doors to a financially rewarding career in the field in the country and start an international career in Ireland.
Average expected salary: €57,773 per year
Ireland Degree FAQ
What are the most common degrees in Ireland?
In Ireland, like many other countries, specific degrees are more popular and common than others due to their relevance in the job market and the societal needs of the region. Currently, these include business and commerce degrees, computer science and information technology, medicine and healthcare, engineering and arts and humanities degrees that are most popular in Ireland.
Which education degree is Ireland famous for?
Ireland is famous for providing excellence in higher education across various fields, but one of the most prominent and well-known educational degrees that the country is famous for is the Master of Business Administration (MBA) degree.
What is the most popular profession in Ireland?
Information Technology and telecommunications professionals are the most popular in Ireland. The country is a growing tech hub, and with the demands of these professionals on a constant rise, their overall popularity has also skyrocketed.
Is Ireland a good choice for a master's?
Yes, Ireland is an excellent choice for pursuing a master's degree, as it offers a high-quality education system, a diverse range of academic degrees and a welcoming environment for international students.