Studying in Ireland offers more than just an enriching academic experience; it serves as a stepping stone towards a rewarding career after graduation. Similar to many other countries that provide work opportunities for international students, Ireland also excels in this regard, making the entire educational journey truly valuable.
For students who entered Ireland via the student visa route and aspire to extend their stay after completing their studies to explore job prospects, the post-study work visa opens up a world of opportunities. Specifically, the Ireland Work Permit serves as a gateway to various career prospects, enabling international students to smoothly transition from their educational journey into a fulfilling professional life in Ireland.
If you wish to study in Ireland and start a professional career, book a free consultation with SI-Ireland now to learn more about the application process, scholarships and other important information.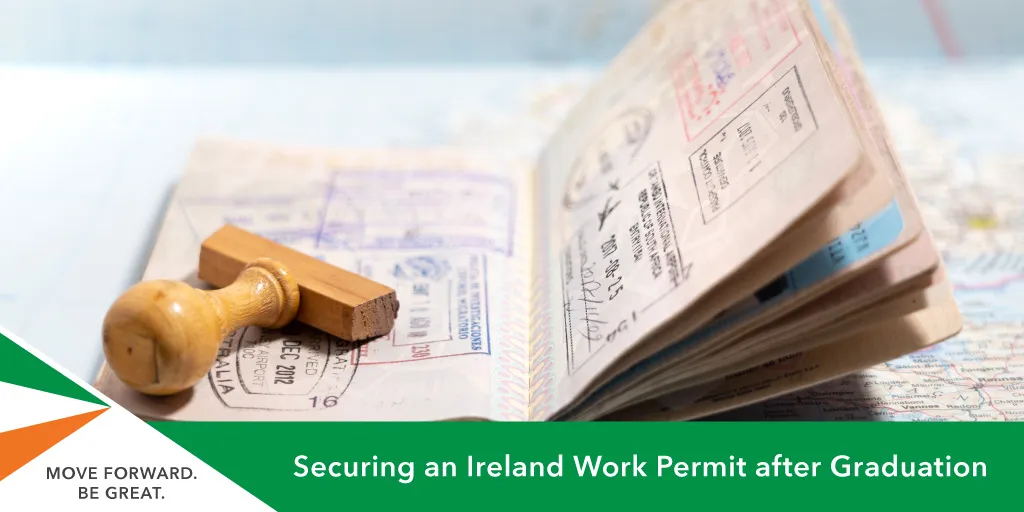 The Benefits of an Ireland Work Permit
The Ireland Work Permit, officially known as the "General Employment Permit," plays a pivotal role in allowing non-European Union (EU) and non-European Economic Area (EEA) nationals to work legally in Ireland. This permit acts as a bridge between your academic journey and a potential career in the country, making it a significant consideration for international students with aspirations of building a future.
Apart from providing an opportunity to gain practical work experience in the country, the work permit can also be your launchpad for long-term career growth. Beyond the professional aspects, the permit allows you to immerse yourself in Ireland's rich culture, explore its stunning landscapes, and build a network that can be invaluable for your future endeavours.
Additionally, for students who want to make Ireland their long-term home, a work permit can prove to be a significant step in the direction of your dreams. The work experience gained through the permit can be an essential factor when applying for permanent residency. Understanding the available routes to transition from a work permit holder to a permanent resident is crucial for those with a desire to put down roots in Ireland.
Eligibility Criteria for the Ireland Work Permit
The eligibility criteria for the Ireland Work Permit is aligned with Ireland's labour market needs while ensuring fair opportunities for international students. To be eligible, you must have a specific job offer from a registered employer in Ireland. Additionally, your prospective salary, qualifications, and the demand for your skillset in the Irish job market will also be taken into account.
Ireland Work Visa Requirements
Ireland work visa requirements can vary based on several factors, such as your nationality, the type of work you intend to do, and your qualifications. But, to provide an overview, we have listed some general requirements that are needed for obtaining an employment visa in Ireland:
Job offer: You must have a confirmed job offer from an employer in Ireland before you apply for the visa. You also must ensure that the job offer should be for a role that is not on the ineligible occupations list in Ireland.
Employment permit: Depending on the type of work you will be doing, you might need an employment permit. Your employer in Ireland should apply for the appropriate employment permit on your behalf.
Skills and qualifications: You should possess the skills and qualifications necessary for the job you are being offered. Your qualifications might also need to be assessed for recognition in Ireland.
Labor Market Needs Test (LMN): In some cases, your employer might need to prove that no suitable candidate from the European Economic Area (EEA) or Switzerland is available for the position by conducting a Labor Market Needs Test.
English language proficiency: If your job requires interaction with the public or clients, you may also need to demonstrate English language proficiency through recognised tests.
Sufficient funds: You should have sufficient funds to support yourself and any dependents during your stay in Ireland.
Health insurance: You might be required to have private medical insurance to cover any potential medical costs during your stay.
Application form: You need to complete the appropriate work permit form and pay the required fee.
Passport: Your passport should be valid for at least six months beyond your intended stay in Ireland.
Ireland Work Permit Application
The application process is a critical juncture in your journey, as it involves various steps, including gathering essential documents, completing the appropriate application forms, and paying the necessary fees. Navigating this process requires careful attention to detail and an understanding of the timeline, as well as potential challenges that may arise. You need to take the following steps to apply for a work permit in Ireland:
1. Secure a job offer
Before applying for the Ireland Work Permit, you must first secure a job offer from a registered employer in Ireland. This job offer is a crucial requirement, as the permit is job-specific. You must also make sure that the job offer aligns with your qualifications, skill set, and the occupation lists defined by the Department of Enterprise, Trade, and Employment (DETE).
2. Determine your eligibility
You must check whether you meet all the eligibility criteria for the Ireland Work Permit. For this, you need to ensure that the job offer meets the required salary thresholds and falls within the occupations eligible for the permit. Review the specific requirements based on your situation, such as recent graduates' schemes or critical skills employment permits, to ascertain your eligibility.
3. Gather the necessary documents
After you have found that you are eligible, you must collect all the required documents to submit your application. These documents typically include:
A valid job offer letter from your prospective employer detailing the job title, salary, and other relevant information.
A completed work permit application form is available on the Department of Enterprise, Trade, and Employment website.
Proof of your qualifications, such as educational certificates and transcripts.
A proper copy of your valid passport or other identification documents.
Evidence of your English language proficiency (if applicable).
4. Complete the application form
Fill out the work permit application form accurately and completely. Double-check all the information you provide to avoid any errors or discrepancies. You must follow all the instructions that the Department of Enterprise, Trade, and Employment provides.
5. Pay the application fee
Pay the required application fee for the work permit, which may vary based on the type of work permit you're applying for. You must also keep a copy of the payment receipt for your records.
6. Submit your application
Then, you should submit your completed application form and all supporting documents to the Department of Enterprise, Trade, and Employment. Make sure you follow the submission instructions, whether it's through an online portal or a physical application.
7. Await the decision
Once your application is submitted on the portal, the authorities will review it. The processing time may vary, but it's essential to be patient during this period. To keep things transparent from your end, you must ensure that you have a copy of the application and all relevant documents readily accessible.
Navigating the Ireland Work Permit application process may seem complex, but with careful preparation, attention to detail, and a clear understanding of the requirements, you can successfully secure this essential permit and embark on an exciting chapter of your life in Ireland.
Ireland Work Permit FAQ
Can I get a work permit for Ireland without a proper job offer?
It is generally not possible to obtain a work permit for Ireland without a job offer from a registered employer in Ireland. The work permit, also known as an employment permit, is job-specific, and the primary purpose of the permit is to allow non-EU/EEA citizens to work in Ireland in specific occupations where there is a shortage of qualified candidates in the Irish labour market.
How long does it take to get an Ireland work permit?
The processing time for obtaining an Ireland work permit can vary based on several factors, including the type of work permit you are applying for, the demand for the specific occupation, the completeness of your permit application, and the current workload of the Irish authorities responsible for processing work permits. The general processing time for a standard employment permit in Ireland is typically around 8 to 12 weeks. However, this timeframe is approximate and subject to change based on the factors mentioned above.
Can you convert the tourist visa to a work permit in Ireland?
It is not possible to convert a tourist visa (short-stay visa) directly into a work permit in Ireland.
How much bank balance is required for an Ireland visa?
The specific amount of bank balance required for an Ireland visa can vary based on the type of visa you are applying for and the duration of your intended stay. Additionally, the financial requirements may differ for different categories of visas, such as tourist visas, study visas (for students), and work visas.
How long does it take to get a work permit in Dublin?
The processing time for a work permit in Dublin can range from 4 to 12 weeks.
How do I know if my work permit is approved in Ireland?
The process for knowing the status of your work permit application in Ireland involves checking the Irish Naturalisation and Immigration Service (INIS) website and following up with the relevant authorities if necessary. The INIS website provides an online portal where you can check the current status of your application.