Choosing the right course for undergraduate or postgraduate study is a challenging task that is of utmost importance in determining career prospects for a student. Because students have to repay their education loans and student debts, they are naturally interested in courses that offer great job opportunities with good salaries.
Various organisations such as the Bureau of Labour Statistics and the National Association for College and Employer collect, process and analyse student data to make career projections and help students make the right career choice. Listed below are the top ten degrees with the most job opportunities, according to a survey by the National Association for College and Employers (NACE).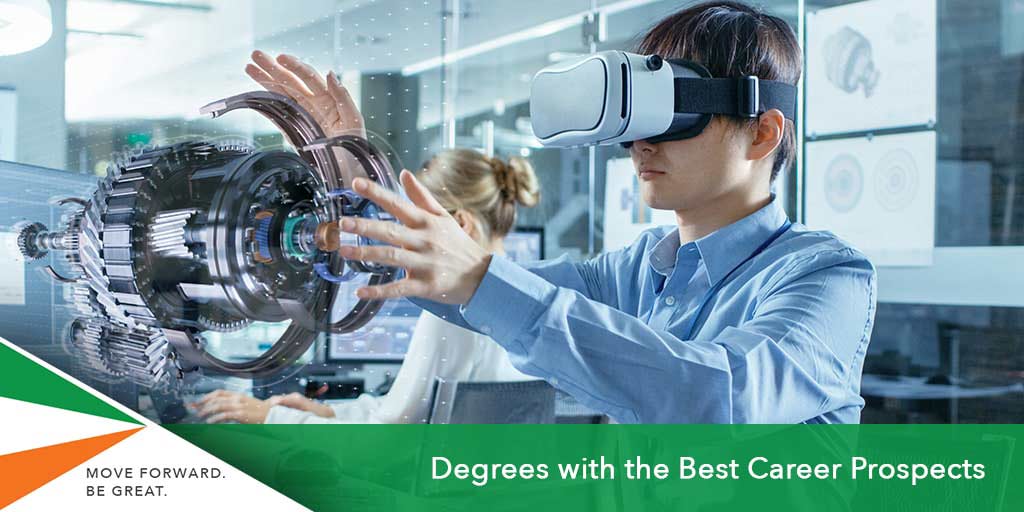 Ten Degrees with Great Job Prospects
1. Computer Science
According to estimates by NACE, 70% of computer science graduates were offered a job before graduating from college. Computer Science graduates work in diverse fields, such as system analysts, software developers and programmers, data analysts, software design and security, artificial intelligence and hardware.
2. Economics
Almost 61.5% of Economics graduates are in jobs after completing their degree. They find employment in banking, investment, and finance sectors, public sector and government agencies, natural treasuries, bureau of statistics, and Central Banks.
3. Accounting and Finance
Accounting and Finance professionals work as investment analysts, chartered accountants, banking and financial advisors, tax advisors, and insurance brokers. An estimated 61% of accounting majors are offered jobs before they graduate.
4. Engineering
Engineering jobs offer some of the highest salaries to graduates, and, as per estimates by NACE, around 59% of engineering students easily find at least one job opportunity before graduating.
5. Business and Management
Business and management graduates are highly employable with placements offered by global companies in various fields, including organisational management, finance, human resource, marketing, communications, administration, consultancy and advertising.
6. Sociology/Social Work
Sociology is another field with high employability ratios. Graduates typically find jobs based on their specialisations in many public and private sectors.
7. Mathematics/Statistics
The demand for Mathematics graduates has increased across all sectors, from technology, data sciences, healthcare, finance and retail. High average salaries in the industry also complement this exponential growth in the job market for highly skilled maths professionals.
8. Psychology
Psychology majors have career options in various public and private sector roles such as human resources, marketing, social work, mental health care, psychotherapy, advertising, and teaching.
9. Political Science
Political Science graduates find employment with higher education institutions, law firms, government agencies, banks, publishing companies, management consultancies, schools, television and radio broadcasters, retailers and accountancy firms.
10. Healthcare
Healthcare jobs are some of the most challenging, sought-after, well-paying jobs that are often highly specialised. Healthcare professionals work in the fields of medicine, nursing, pharmacy, dentistry, veterinary medicine and physiotherapy, for instance.
Study in Ireland
Are you interested in studying for one of the above degrees in Ireland? If so, arrange a free consultation with SI-Ireland today.