According to estimates, the number of students studying outside their home country has tripled over the past 25 years. Studying abroad is often regarded as a life changing experience. It can significantly impact students' personal and professional lives with the knowledge, experience and skills gained expanding their horizons both inside and outside the classroom. Learn about the five major advantages of studying abroad below to understand how it benefits your education, career and life.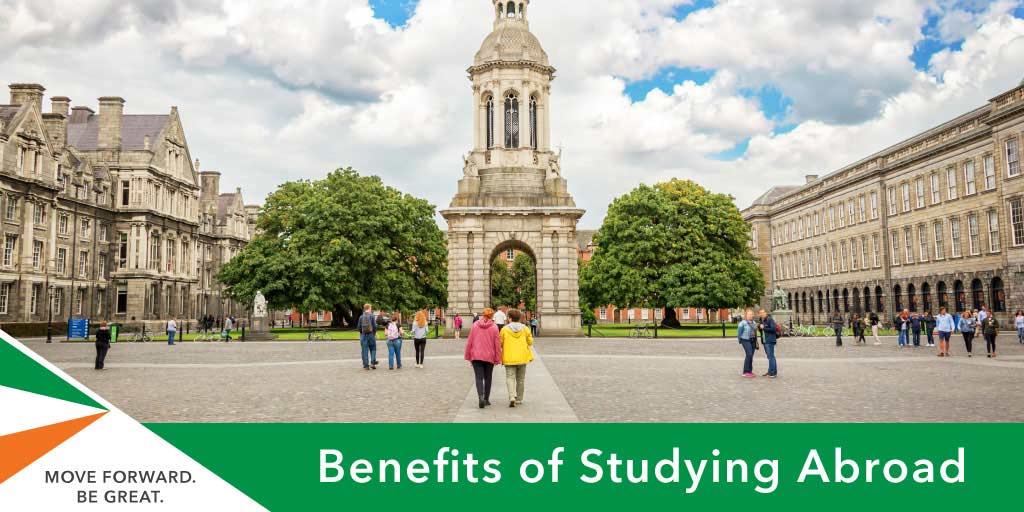 Five Benefits of Studying Abroad
1. Academic benefits of studying abroad
The most important academic benefit of studying at renowned global universities is the availability of diverse courses and industry oriented degree programmes to choose from. Study abroad programmes open a world of new educational opportunities, research options and provide skill based training. Students at foreign universities learn to adapt to different educational settings expanding their academic horizons.
The different teaching styles impart versatility and flexibility to work under different managerial systems and culturally different work places. Many study abroad programmes also offer internship and work opportunities to help students gain practical work experience in their chosen field of study.
2. Professional benefits of studying abroad
Studying abroad is an added advantage on the CV and makes a candidate more employable. It also increases international job prospects and opportunities to work in diverse cultural environments. Those with a global degree are considered more competitive by employers looking for transferable skills in potential employees. International experience makes people more resourceful, open minded and adaptive to meet new challenges. An Erasmus survey shows that 64% employers find a study abroad experience desirable.
3. Personal benefits of studying abroad
A study abroad experience is a great way for students to move out of their comfort zone and become more adaptive to change and dealing with challenges. It is an opportunity to live independently and seek adventures and spontaneity in life and become self reliant. Studying abroad also gives opportunities to explore and travel to different locations broadening individual perspective. Such an experience is also beneficial for boosting self confidence and developing leadership and communication skills as well as cross-cultural awareness.
4. Social benefits of studying abroad
Meeting people from different countries while studying abroad effectively develops interpersonal skills. It is a great way for networking and making good friends for life. These international connections can lead to better career opportunities, internship and job offers and business partnerships. Students learn to work in different social settings. There are ample opportunities for students to travel and explore other countries making for a holistic experience and all round development.
5. Other Cultural benefits of studying abroad
Statistics show that understanding of a foreign language leads to score improvement by as much as 37% for those who study abroad for at least one semester. Learning a foreign language and studying abroad helps students to immerse themselves in a new culture and consequently enhances their learning and understanding abilities allowing them to look at things from a new perspective.
While studying abroad students are able to enhance their world awareness and gain better understanding of other country's issues. In the process they become global citizens and are more equipped to work in the prevailing global business environment.
Study Abroad in Ireland
If you are interested in studying a bachelors or masters degree in Ireland, book a free consultation with SI-Ireland and learn more about top ranking Irish universities and courses.