There are seven national universities in Ireland which are run autonomously, as well as several private colleges and technological institutes in Ireland. Together these universities and colleges offer a range of undergraduate and postgraduate courses for the most popular subjects in Ireland.
Read below to learn about the most popular subjects in Ireland for Indian students and how to apply to Irish universities with SI-Ireland. Ready to begin your Ireland university application? Arrange a free consultation with SI-Ireland today.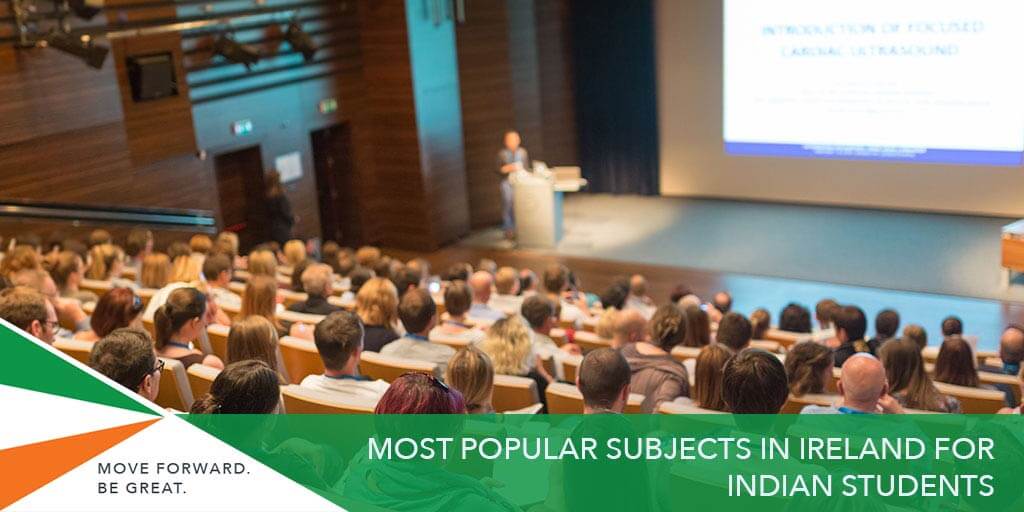 Popular University Courses in Ireland
Many popular subjects taught at Ireland universities are ranked among the top 100 in QS World University Rankings by Subject. They include popular courses in nursing, medicine, political and international studies, English, finance and MBA.
Studying a Finance course in Ireland will help you become an expert in critical subjects such as economics, accounting, mathematics, wealth management, psychology and investment theories. Students will have unique perspectives on preparing and interpreting financial information for local, national, and international businesses.
Computer Science programmes at Irish universities are loaded with exciting modules based on innovation and cutting-edge technologies. Students understand the theoretical issues in computer science associated with abstract notions of computation and information, developing their core skills and knowledge in IT, software, and IoT.
Digital Marketing programmes in Ireland aim to provide students with the skills and tools required to become highly skilled digital marketers while learning how to plan and implement digital strategies. The course modules deal with digitalisation as a mode to enhance the user experience by helping students understand the meaning of online business, analytics, and social media.
A degree in business and management focuses on strengthening students' expertise in organisational leadership, business management, finance handling, marketing, human resource management, entrepreneurship and administration. You will be able to solve business and financial problems through actionable actions.
Irish Universities are among the most popular destinations for engineering students around the globe, thanks to state-of-the-art engineering facilities and advanced curricula that aim to make graduates market-ready to fit into the ever-evolving field of engineering.
Studying Economics in Ireland will help you develop critical pro-market skills like problem-solving, data analysis, computing, and written and oral presentation skills. The proximity to London helps Irish students avail multiple job and internship opportunities.
Irish Medicine courses are known for their research-intensive modules, loaded with practical and theoretical ways of teaching. The programmes cover all aspects of medicinal science through modern tech-driven medical developments, from Immune Therapy to Oncology and from Paediatrics to Therapeutics.
Ireland has become one of the world's most sought-after destinations for studying Agriculture and Food Security. Courses deal with various topics, including agricultural systems technology, crop science, and agricultural innovation, to easily equip students with the knowledge and skills for managing global food and agriculture businesses.
Study Options in Ireland
Irish universities are famous across the globe for their quality education at comparatively lower costs. The Irish education system is one of the best in Europe. It offers 3-4 year full-time undergraduate degrees, 1-2 year postgraduate courses and research and PhD programmes, all developed in consultation with industry experts and professional bodies in different subject areas.
Study in Ireland
Do you want to study at a top-ranking Irish university? Arrange a free consultation with SI-Ireland and let our specialist education consultants help with your application.