Digital marketing is a booming industry in the times of the internet and social media. Even though traditional marketing methods have been used by businesses worldwide, the e-commerce and social media marketing era has led to a significant rise in the demand for digital marketing graduates. Businesses of all sizes need to reach their customers, and that is best achieved through digital marketing campaigns that are created and run by students who have gained the right amount of knowledge and skills to make this happen.
Many Irish universities are providing the best Master's in Digital Marketing programmes in Europe. Ireland has been attracting international students from all over the world as it offers great value for money in terms of the degrees earned and the overall university experience.
Additionally, when students get the chance to have a two-year post-study work visa, they can start their exciting careers in Ireland itself. On average, after graduation, a digital marketing salary can lead up to having 70,000 in your bank account each year. The various job roles that a graduate in the field can apply to also makes the prospects exciting for students as they can be a Social Media Manager, Digital Marketing Executive, Digital Marketing Manager, Business Analyst, Marketing Manager, and Product/Project Manager. In this article, we have created a list of the best digital marketing universities in Ireland, their entry requirements and international fees.
Learn more about the best universities in Ireland for MSc Digital Marketing (QS Business Master's Rankings 2023: Marketing) and book a free consultation with SI-Ireland today to start your application.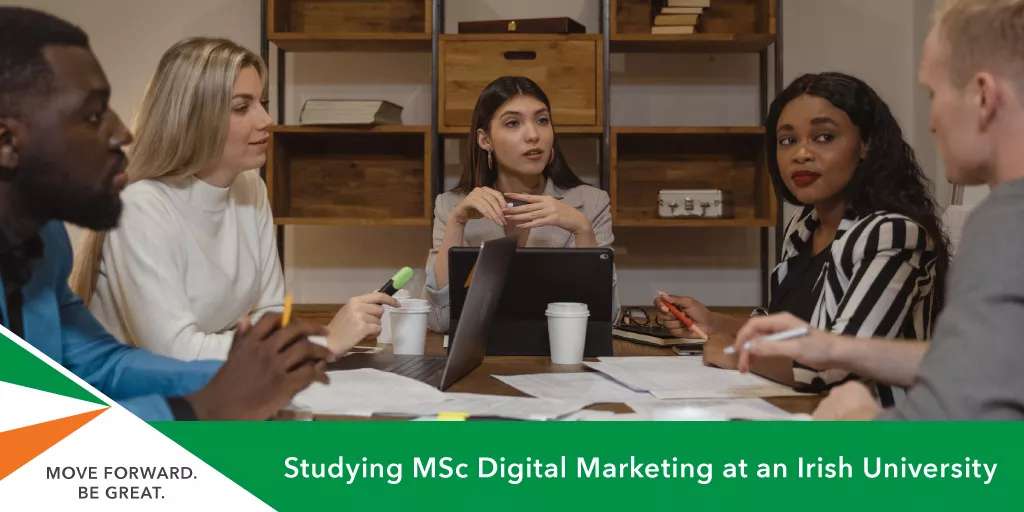 Best Universities in Ireland for MSc Digital Marketing
Trinity College Dublin offers MSc in Digital Marketing Strategy through the Trinity Business School. The course has been designed to provide the students with the comprehensive knowledge and tools required to become highly skilled digital marketers. The university focuses on how companies do business and teaches the most effective strategies through a strong industry and partnership approach. The classes are held by experienced faculty and expert guest speakers from multinational companies like Facebook, Google, Twitter, and Microsoft. Students can also take company trips to the offices of the giants to learn more about the various tools and techniques.
University College Dublin offers its graduate degree in digital marketing through the UCD Michael Smurfit Graduate Business School. The vision of the course is to train the students to become experts in both marketing and, specifically, digital marketing so that they are employed by the top businesses in Ireland and other parts of the world. The curriculum involves a combination of analytical, strategic, and practical elements that give the UCd graduates a distinct advantage in the job market. The course content is delivered by a special team comprising leading academics in the field and top professionals from major internet companies worldwide.
Dublin City University offers MSc in Digital Marketing through its leading business school. The one-year course has been designed to help students understand how the latest digital technologies can be used to optimise buyer awareness, intention, and sentiment. All the graduates are trained to have highly-developed competencies in online advertising, data-driven decision-making, communicating for marketing through social media, and the usage of other digital and mobile technologies. The curriculum involves six core modules and an applied research project or dissertation to be completed within the year.
Being one of the country's leading tertiary education and research institutions, the University of Galway has been imparting high-quality education since it was founded in 1845. Through its College of Business, Public Policy, & Law, Galway offers a Masters in Digital Marketing degree that strives to build the technical skills of students.
The course enables students to earn globally recognised certifications from industry leaders like Hubspot and Google Analytics Academy. The university has also made an arrangement with the Marketing Institute of Ireland (MII), which allows students to sit the Qualifier Exam. This leads to membership in the institute, which is highly beneficial for the students as they get to use the letters MMII Grad after their names, and also become listed as Qualified Marketers in the institute's Register.
The MSc in Digital Marketing degree at Maynooth University develops the critical and analytical capabilities of students through a combination of knowledge and experience in both the strategic and tactical use of the latest technologies. The curriculum includes tools and techniques used in traditional marketing messaging to give students a wider range of options to enhance their campaigns. The course has been designed by looking at what is happening in the industry. Students get to engage in a business research project/ placement that further develops their core competencies to progress professionally.
Study Masters in Digital Marketing
Learn more about studying for a masters in digital marketing at an Irish university by arranging a free consultation with SI-Ireland today.