Ireland has some of the world's best universities providing comprehensive marketing and business courses along with the option to work for two years in the country to graduate in the subject. The country's vibrant economy has big multinational corporations stationed in the major cities. These companies are always looking for talented people with particular skill sets, making the job market a perfect place for students having marketing degrees.
Marketing has truly emerged as one of the most important departments in any business as it directly impacts a company's success. With technological advancements and the growth of the internet, traditional marketing methods have been joined by digital marketing concepts. Marketing courses have been in demand for decades, and currently, digital marketing courses are on the rise, with universities across the world offering the latest skills to students who wish to pursue a career in marketing, especially through earning a digital marketing degree.
If you are looking forward to a prosperous career in marketing and digital marketing, book a free consultation with SI-Ireland today to find the best marketing universities you can attend for higher education.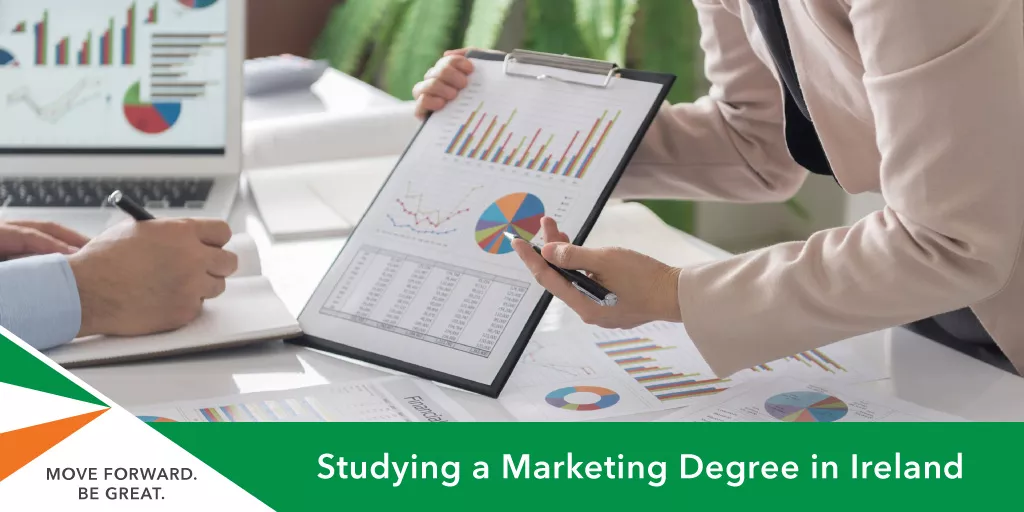 Top Five Universities for Marketing in Ireland
University College Dublin has been imparting high-quality education to thousands of students since it began in 1854. Marketing courses at UCD have an international reputation for the quality of education, including research output and teaching. Through the UCD Lochlann Quinn School of Business and the UCD Smurfit School, the university offers specialised graduate programmes in marketing. Students get the chance to work with leading international faculty and industry partners to build a strong foundation of business knowledge. The interaction between teaching and research departments is particularly strong at UCD, leading to international-standard of research publications on the subject.
The University of Limerick's specialised Department of Management and Marketing at the Kemmy Business School engages in teaching and research across the disciplines of information management, marketing, management, communications, entrepreneurship, and project management. The courses at the school are taught by award-winning faculty that draws on insights gained from their research and industry experience. The department overall also has an active research culture that is conducted in collaboration with industry partners. The courses with a master's in marketing are particularly popular in the discipline.
The Cork University Business School at UCC offers various courses in the subject through its Department of Management and Marketing. The curriculum at the university ensures that students are trained in specialised skills and knowledge to become successful marketing leaders. Graduate students also get the chance to gain crucial practical experience through an applied research and consultancy project that is completed in collaboration with industry partners. UCC ensures its graduates develop strategic skills and creative abilities and undergo personal development to stand out in their professional fields.
TU Dublin was Ireland's first technological university, established in 2019, but has its roots dating back to 1887. The School of Marketing at TU Dublin offers a comprehensive range of undergraduate, graduate and postgraduate programmes, specialising in digital marketing, advertising, marketing communications, content marketing, and much more. Students can choose from short-term and long-term courses according to their choices, some of which also include conversion programmes in the subject. The courses have been designed in a manner that students can either join the job market directly or take up higher education.
Dublin City University offers undergraduate and graduate courses in marketing with interesting specialisation options. Students are trained to become future marketing leaders by giving them the required knowledge and skills through the specially designed curriculum. There are masters in digital marketing courses as well that focus on deepening the understanding of students on how digital technologies work to optimise buyer awareness, intention, and sentiment. Graduates from the DCU have highly-developed competencies in data-driven decision-making and communications.
Study Marketing Course in Ireland
Begin your application to study marketing in Ireland by arranging a free consultation with SI-Ireland today.