A strategic report on the 'First Destination of Graduates' prepared by the Higher Education Authority of Ireland reveals that almost 70% of all graduates from the seven public universities in Ireland are in employment. Moreover, the report shows that of the 70% of university graduates employed, about 60% were working in Ireland, whilst 10% found a job in other countries.
The job market in Ireland is optimistic and consistent growth in the service sector makes it the first choice of Irish university graduates. Sector-wise, employment trends show that the maximum number of graduates who were offered jobs in ITC companies followed by the education sector.
The top five destinations where Irish university postgraduates were employed are:
United Kingdom
United States of America
Germany
France
China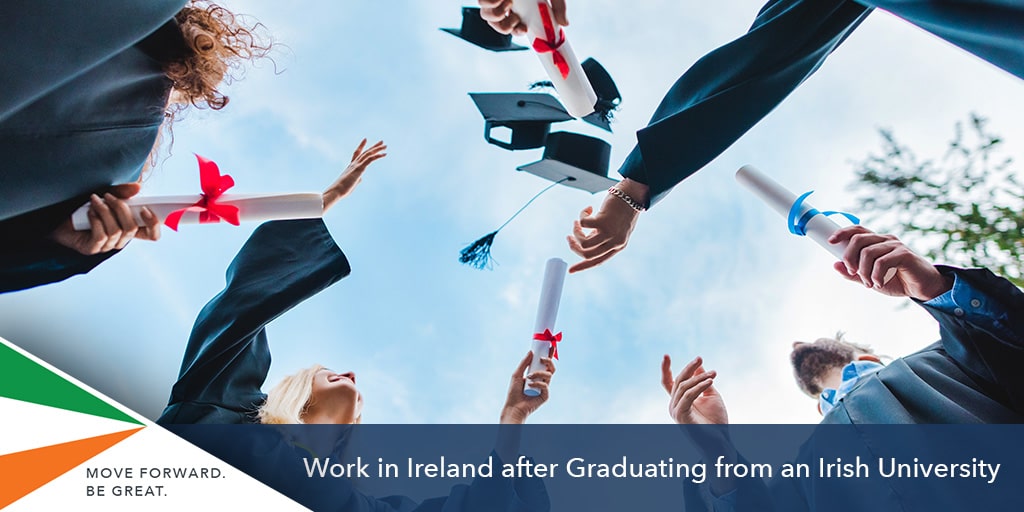 Irish Universities Academic Report
Major Irish universities have witnessed a substantial spike in graduate population. There were 88,638 graduates in 2021, an 8.8% increase from the previous year's figure of 81,461. In 2021, 41.3% of students graduated with an Honours Degree and 19.7% graduated with a Taught Master's. These figures were 43.4% and 19.7%, respectively, for the year 2020.
The annual statistics compiled by the HEA show that 20.6% of students studied Business, Administration & Law, and 17.5% studied Health & Welfare in 2020/21. These were the most popular subject groups studied by students. Comparing these stats with the previous year, these stats were 22.3% and 17.3& respectively.
23.5% of students graduated with a First-Class Honours degree in 2021, while the number was 20.9% in 2020 and 5.9% in 2015, showing Irish students have been upgrading their performances quite well.
Better Work Opportunities in Ireland
The main reasons why university graduates have better post-study work opportunities in Ireland compared to other European countries include:
Ireland is one of the fastest-growing economies in Europe and offers great work opportunities
A strong collaboration between industry and higher education institutes has resulted in a highly skilled workforce of work-ready graduates
Significant numbers of multinational companies have their headquarters in Ireland, opening a plethora of opportunities for internships and post-study work
Ireland is friendly and safe and popular amongst international students and has a global workforce with a well-connected geographical location
International students enrolled on undergraduate and postgraduate courses at Irish universities get a two-year stay back work visa allowing them more time to gain valuable work experience in Ireland after completion of their degrees
How to Study in Ireland and Get a Student Visa with Work Permit
International students in Ireland enrolled on undergraduate and postgraduate degree courses can receive a work permit on their student visa.
Courses should be accredited and recognised by the authorised institutions and governing bodies
Degree programmes chosen must be on the ILEP list of Programmes to be eligible for a work permit
Students can take up casual employment before completion of the degree programme according to the specified time period
Upon completion of the course, students can extend their Ireland study visa to a work visa for up to a maximum of two years subject to fulfilment of conditions.
Study in Ireland
To learn more about studying in Ireland and get information on how to work in Ireland on student visa, arrange a free consultation with SI-Ireland today.