International students pursuing nursing courses at Irish schools are granted a degree recognised across the European Union, giving them greater mobility regarding the career options available across the continent and globally.
Careers in nursing have many options, and nursing degrees in Ireland train students to become Registered General Nurses (R.G.N) through the Bachelor's programme that lasts four years. Interested students can also take up the Masters's programmes, taking 1 to 2 years, to specialise in child nursing, mental health nursing, maternity care and midwifery, and nursing for older people, among others. The ageing population across Europe and today's post-pandemic scenario have raised the demand for nursing graduates. Ireland is also among the top 5 highest paying countries for nursing careers, averaging around USD 56,000 yearly.
Over 40 schools nationwide offer nursing courses at undergraduate and graduate level and the below are the best five in Ireland (QS World University Rankings by Subject 2022). If you want to study nursing in Ireland, arrange a free consultation call with SI-Ireland today to discuss your best options and the way forward.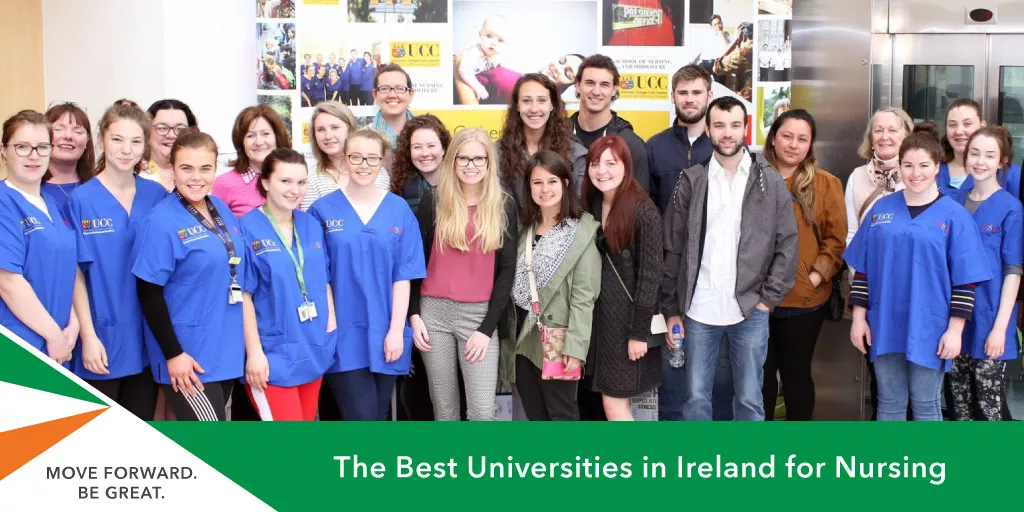 Top Five Nursing Schools in Ireland
1. University College Cork
The Medicine and Nursing College at the University College Cork is a top-ranking educational institution with many nursing courses. There are courses for laying the foundations of a good nursing career, and pathways for education in specialised fields of nursing are also available at the university.
Nursing at UCC provides students with excellent opportunities to develop the relevant skills and knowledge to have a professional nursing practice in the country and other parts of the world. The infrastructure and faculty members at the college ensure that the students are trained to deliver nursing care based on the best current practices in the healthcare field.
2. Trinity College Dublin
The School of Nursing and Midwifery at Trinity College Dublin is a top-ranking nursing school in the country with many specialised courses. The programs at the college range from general nursing to mental health, children's health, and community health, among others. The modules in the courses have been designed to provide evidence-based knowledge promoting excellence in nursing practice. The undergraduate courses at the college are not available for non-EU students, but there are a variety of postgraduate programs for international students in various nursing sections.
3. University College Dublin
Being among the top 1% of higher education institutions worldwide, University College Dublin traces its roots back to a school founded in 1854. Today, Ireland's largest university offers various nursing program certifications, diplomas and degrees. The nursing courses at the university prepare students for working with people who need care. The patients' physical, mental, emotional, spiritual and social needs are cared for by the nurses trained at the university. Nursing courses sharpen the critical thinking and analytical skills of the students so that they can assume leadership roles in the clinical care departments.
4. University of Galway
The University of Galway was founded as Queen's College Galway in 1845 and has become one of the most prestigious universities in Ireland. College of Medicine, Nursing and Health Sciences offers undergraduate and graduate nursing programs and has state-of-the-art facilities to provide excellence in training as a nurse. The undergraduate program runs for four years and includes a mandatory 36-week internship at Health Service Executive West, wherein students are paid a salary. Theoretically, the programs are taught through lectures, workshops, seminars, skills training, experiential learning and reading time.
5. University of Limerick
The University of Limerick offers nursing programmes at the undergraduate level, with options in general nursing, mental health nursing, intellectual disability nursing and midwifery. The general nursing programme takes four years to complete and provides education to students so that they can care for people in hospitals and community settings. The practical focus of the training starts with the first year itself, wherein theory is combined with clinical practice. The programme has a 100% employability rate a year after graduation and is offered in conjunction with the Health Service Executive West.
Study Nursing In Ireland
If you wish to study at top-ranking Irish universities, don't delay and arrange a free consultation with SI-Ireland today.