An engineering degree from an Irish university prepares students for a challenging career within a highly competitive professional arena. Everyday life is made easier with engineering ideas and unique technological solutions making an engineering degree one of the most coveted of all qualifications.
Studying Engineering from the best universities in Ireland gives you the flexibility to choose from varied disciplines across the broader engineering framework and the opportunity to get trained by the best minds in this field.
All universities in Ireland offer different types of undergraduate and postgraduate courses in Engineering, including Civil, Mechanical, Electrical, Chemical, Mechanical, Aerospace, Biomedical and more. Basic entry requirements to study Engineering in Ireland must meet typical A-level requirements in Mathematics and Physics. Some Engineering colleges in Ireland may require students to take Engineering Maths Qualifying Exams.
Read about the best universities to study Engineering (QS World University Rankings by Subject 2022) in Ireland below. If you want to begin your application, arrange a free consultation with SI-Ireland today.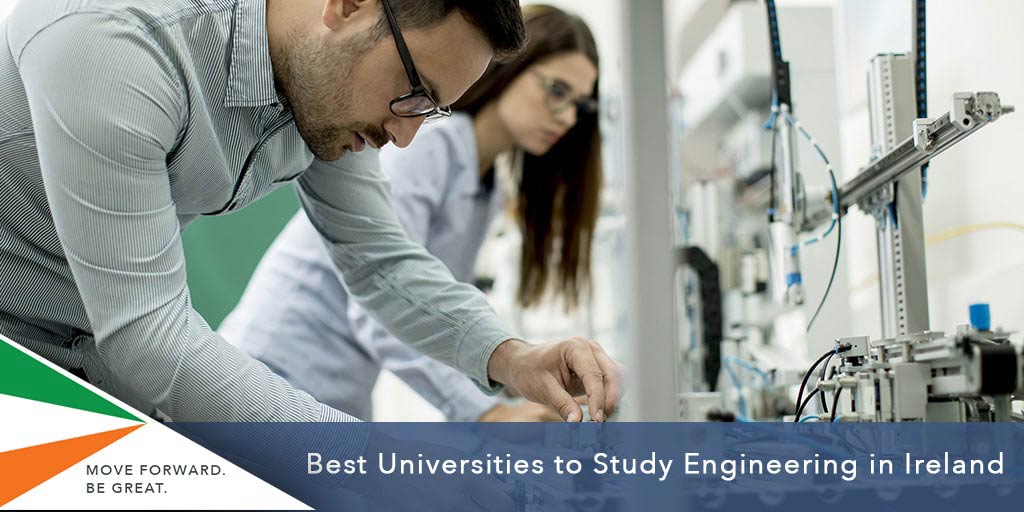 Best Universities to Study Engineering in Ireland
1. Trinity College Dublin
The School of Engineering at Trinity College Dublin is one of Ireland's best, focusing on innovative teaching to help students exploit their full potential. The school offers different types of engineering courses, including mechanical engineering, environmental engineering, and structural and geotechnical engineering. Courses cover detailed modules on various subjects such as control engineering, wave and hydro energy, turbomachinery, etc.
International fees: €16,000-25,000
Entry requirements: Graduates with an upper second class honours degree, or better, in engineering, science, computing, statistics, mathematics or a related discipline
2. University College Dublin
The ME Mechanical Engineering programme at University College Dublin is a two-year professional degree that emphasises promoting advanced knowledge and understanding of mechanics, mathematics, and modern technologies. The curriculum is designed by industry professionals to enhance students' ability to identify, formulate, analyse and solve complex Mechanical engineering problems.
International fees: Year 1: €26,400, Year 2: €25,600
Entry requirements: An honours undergraduate degree with minimum upper second class honours or international equivalence in a Mechanical Engineering programme.
3. University College Cork
University College Cork's engineering faculty is among the best engineering schools in Ireland. The BE (Hons) Electrical and Electronic Engineering at UCC is a four-year undergraduate programme designed to give students a broad view of different key subjects, including circuit designs, photonic systems, and optical electronics. It also focuses on making students acquainted with telecommunications, optoelectronics, and industrial automation.
International fees: €22,600
Entry requirements: Educational qualifications of a standard equivalent to the Irish Leaving Certificate.
4. National University of Ireland, Galway
The NUI Galway College of Engineering is ranked in the world top 175 as per Times Higher Education and has a long credible history of more than 100 years, boasting of an internationally recognised faculty of professionals and academicians who have constantly contributed to the world of engineering and informatics through innovation.
The Master of Civil Engineering at NUI, Galway is among the most sought-after courses in Ireland. It is a part of the integrated (bachelors+masters) programme, meeting the European Framework Standards for engineering accreditation.
International fees: €24,140
5. University of Limerick
The University of Limerick's bachelor/master's degree programme in Electronic and Computer Engineering has been developed to meet the demand for graduates with sound skills in computer software and electronic hardware engineering. The course, designed in synchrony with industry professionals, also aims to enhance students' understanding of mathematical analysis abilities and various other in-demand subjects, including Computer Engineering, Robotic Engineering, and Electrical Energy Engineering.
International fees: €16,557
Entry requirements: Click here for country-specific information.
Study Engineering in Ireland
If you are interested in studying engineering in Ireland, book a free consultation today.