National University of Ireland, Galway has consistently ranked as one of Ireland's leading universities across major university league tables. The Sunday Times University Guide awarded NUI, Galway the 'University of the Year' title for the third time in 2018 and the University offers unique undergraduate and postgraduate courses which have won the Gradireland Higher Education Award several times. A one-year Masters degree programme in Climate Change, Agriculture and Food Security (CCAFS) at NUI, Galway was amongst the winners.
Learn more about CCAFS at NUI, Galway below and arrange a free consultation to begin your application to study in Ireland today.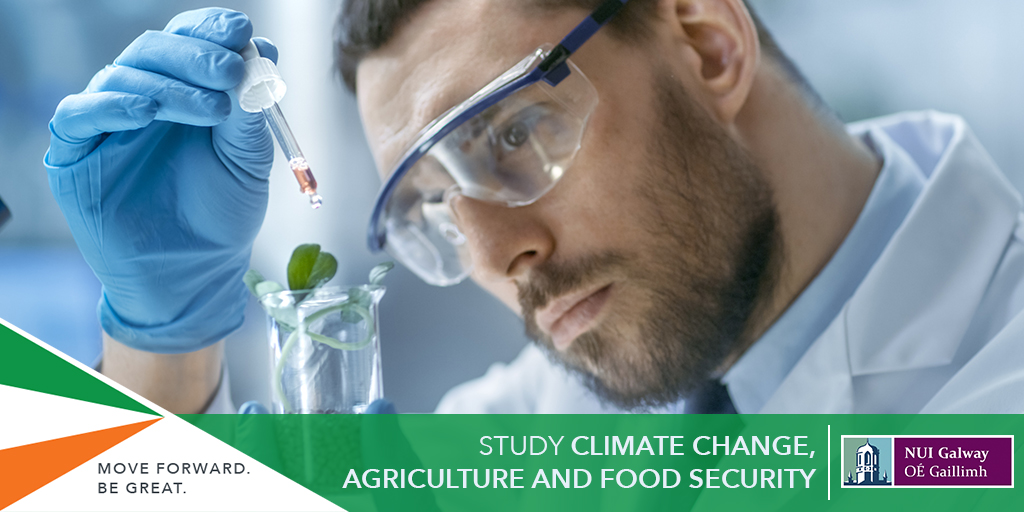 Masters Programme in Climate Change, Agriculture and Food Security (MSc. CCAFS)
The CCAFS one-year masters course at NUI, Galway won the 'Best New Postgraduate Course' for 2017 at the Gradireland and Higher Education Awards. This course was selected from 14 shortlisted new postgraduate courses in higher education institutes across Ireland and Northern Ireland.
Why study CCAFS at NUI Galway?
Climate Change, Agriculture and Food Security (MSc.) is a specialized taught masters course that generates highly skilled and motivated graduates to take up the challenges of global warming, and contribute to the development of agricultural policies and food security worldwide. Climate change is threatening the global agricultural systems and this course imparts combined scientific, technical, engineering, social and policy skills to handle the impact of climate change on world agriculture and food systems.
Climate Change, Agriculture and Food Security Careers
Graduates of this course are placed both in public as well as private institutions for positions in policy making, administration, research, business, advisory and strategy formulation.
Entry Requirements for CCAFS (MSc.)
Grade 1 or equivalent qualifications in the appropriate discipline is required. NQAI level 8 honours degree or an equivalent second class honours degree.
MSc. CCAFS at NUI, Galway
Course Duration: 1 Year (Full Time)
Course Fee: €14,750 p.a. (Non-EU)
Apply to Study at NUI, Galway
If you are interested in studying at National University of Ireland, a consultation with SI-Ireland's university application experts will assist you in the process. Book a free consultation at a location near you today.