There will be a loss of around 75 million jobs by 2022 according to the 2018 Future of Jobs Report by the World Economic Forum. Due to technological advancements, many jobs will become obsolete and will be replaced by newer roles requiring higher technical skills and knowledge. It is estimated that such technological advancements will lead to the creation of almost 133 million jobs globally by 2022. The most relevant future job roles according to the World Economic Forum include:
Big Data Specialist
Data Analysts and Scientists
AI and Machine Learning Specialists
Sales and Marketing Professionals
General and Operations Managers
Information Technology Services
Organisational Development Specialists
New Technology Specialists
Digital Transformation Specialists
Software and applications developers and analysts
Globalisation and technological advancements have completely transformed work. However, many countries are still not ready to develop indigenous talent and prepare their human capital to make it competent for potential job requirements. The existing education system in many countries remain underinvested and inefficient to impart training and education fit for the new labour markets.
Learn more about international universities offering courses and degrees that will prepare you well for future jobs below. Arrange a free consultation with SI-Ireland and receive specialist help in selecting the right international university and course for you.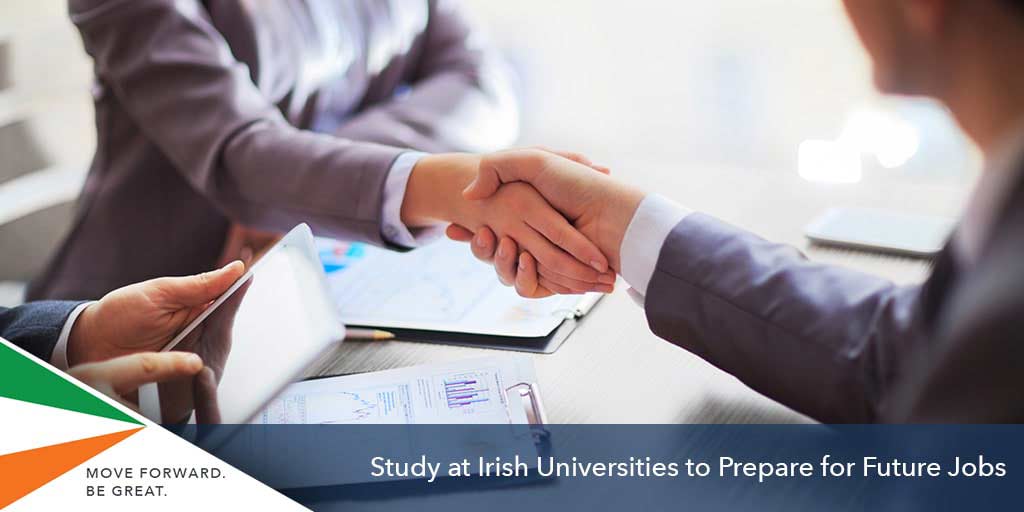 Why do you need globally recognised degrees with high specialisation?
It is peremptory for students to upskill themselves and receive adequate training to avoid skill mismatch in future and be ready for a technologically advanced workplace
Highly specialised degrees from international universities are a stronger determinant of long term success than other factors
Up-to-date skills and knowledge help to create value for the global economic system
Although the education system in India produces sufficient number of engineers, doctors and IT professionals to meet the growing demand of labour market. But many of these professionals are unable to use their skills due to the rapidly changing labour market trends. In order to stay relevant to the workplace requirements and avoid skill mismatch, many Indian students are heading to international universities in countries with a more futuristic education system.
Study in Ireland
Irish universities are committed towards the development of talent through operational excellence. Universities in Ireland are some of the world's leading universities which are recognised for high quality teaching, modern infrastructure and industry partnerships offering students opportunities for internship and placement with world's leading multinationals.
Top ranking Irish universities for international students:
If you want to study in Ireland, book a free consultation with SI-Ireland to learn more about Ireland university application and visa process.