Ireland is rapidly emerging as a key international business and manufacturing centre for several industries, including IT, Communications, Pharmaceuticals, Medicine, and Finance. Master's courses in International Management at universities in Ireland provide a unique opportunity to learn from industry experts through a combination of interactive and experiential learning. Modules of many courses are developed to impart skills in varied specialised areas such as human resource management, strategic management, financial management, marketing and ethical business.
International Management continues to grow in popularity as a significant area of business studies in the current global environment. It facilitates an understanding of management principles in light of their global applications. Postgraduate courses in International Management serve the needs of business and non-business graduates interested in learning about the dynamics of a globalised workplace.
If you are interested in studying MSc. International Management or Business courses in Ireland, book a free consultation with SI-Ireland.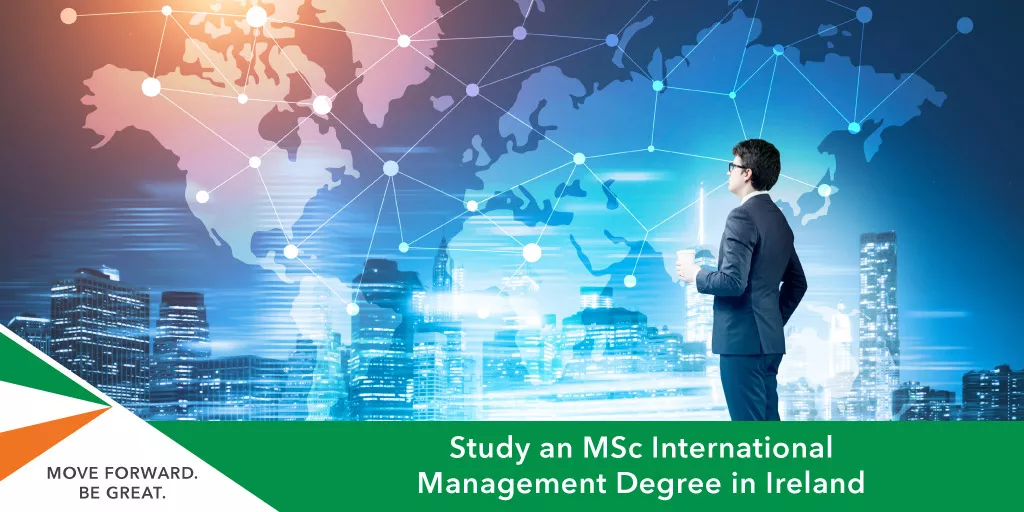 MSc. International Management Courses in Ireland
Eduniversal ranked the MSc. International Management course at Trinity Business School #1 in Ireland and Western Europe in 2022. The course lends cutting-edge global business skills to graduates with an undergraduate degree in Business or any other related discipline. Students in this one-year masters course learn the basics of international management theory and get to spend a week at an International location for a residency programme in Global Business Strategy. An exciting range of electives is also available for students to customise their education according to their interests.
International consultancy project is a part of the course, apart from International Residency Week.
Ranked 9th in UK & Ireland and 38th in the world by QS Management Rankings 2023 for Masters courses
International fees: €22,100
Entry requirements: A 2.1 honours degree or international equivalent with two academic referees. English competency exam is a must; in some cases, a GMAT score is also needed. Work experience is optional.
University of Galway- J.E. Cairnes School of Business and Economics
Winner of the National Postgraduate Course of the Year 2013 and shortlisted for the Postgraduate Course of the Year 2018 by Gradireland, this award-winning course aspires to develop a student's global mindset. Students can gain international management exposure through numerous industry linkages and develop the professional potential for multiple career paths. The university has partnered with the Florida International University (FIU), Miami, through which the students can visit the FIU campus and local multinational firms in Florida.
The course includes an international trip
Has an AACSB Global Accreditation, a body for business schools and the largest business network that connects educators, businesses and students across the globe.
International fees: €18,590
Entry requirements: An H2.1 degree (NFQ Level 8 or equivalent) is required. However, prospective candidates with an H2.2 honours degree and a work experience of minimum of 2 years are also considered. English language proficiency with an IELTS score of 6.5 or equivalent is also required for non-native English speakers.
This course is designed for multilingual business graduates interested in developing a global managerial career. It is a full-time taught master's programme delivered over 16 months at the Smurfit Business School in collaboration with the CEMS Global Business School Alliance and participation from NGOs and multinational companies. This is a dual degree, including a MIM certification from CEMS other than the MSc. in International Management degree from UCD Smurfit Business School.
Ranked 8th in the world by Financial Times Masters in Management Rankings 2022
97% employability ratio after six months of course completion
Mandatory semester abroad and international networking events
International fees: €23,620
Entry requirements: A minimum of a second-class honours degree or equivalent in Economics/Business or a related discipline with fluency in English and another language. Preference is given to students who are fluent in more than three languages. Two letters of recommendation are also required.
The one-year postgraduate Global Management (Digital Disruption) programme at DCU gives students dual accreditation, a university degree and an IPBS (International Partnership of Business Schools) certification. This intensive full-time degree programme involves a study period in two countries. The programme is rooted in the core management disciplines taught through a global strategy while considering the technological advances of today's times. Participants will develop skills and cultural sensitivity through an interdisciplinary approach to managing business in international scenarios.
Entry requirements include an honours degree in Business or a business-related discipline
Programme offered through three pathways, one of them giving a chance to graduate with a double degree award
International fees: €17,000
Entry requirements: A 2.1 honours degree or equivalent international qualification in a Business discipline with letters of reference (professional or academic). Applicants with 2.2 honours may also get admission, depending on the availability of the seats and other factors. English language competency is also required.
Taught at the state-of-the-art Kemmy Business School and delivered by internationally experienced academic staff, this course is an excellent blend of academic and practical learning styles to enhance your international career potential. Upon successful completion, candidates will be able to develop skills to analyse international business challenges, evaluate financial decision-making practices, develop international human resource strategies and identify the core tenets of an international business framework. Offering a dual degree opportunity, this course takes students to the French partners of the University of Limerick. This option involves studying for a second year at the partner university, after which the student gets awarded with MSc. from the University of Limerick and a Masters's from the French partner institution.
Full-time one-year programme completed over three academic semesters
Incorporates an international workshop and research paper for the completion of the programme
International fees: €19,790
Entry requirements: An honours degree (Level 8- National Qualifications Authority of Ireland) in Business or a related discipline or international equivalent is required. Non-native English speakers must demonstrate achievement in a Standard English Language Competency Test.
Study in Ireland
Arrange a free consultation today to start with your application to study in Ireland.