Studying for a reputable business degree is one of the most important steps towards a successful career that students can take when deciding on what to do for their future. Once you have a business degree, a world of opportunities opens up, and you can take up a job that lets you implement your skills and take forward the legacy of the organisation you are a part of. Alternatively, you also get the confidence to start and run your own business, which has its own benefits in the long run.
Ireland's education system is internationally recognised for its high quality and academic excellence, and Ireland's universities and institutions offer a wide range of business courses that are designed to provide a solid theoretical foundation, practical skills, and real-world experience. Ireland is also known for its dynamic business environment, with a strong presence of multinational corporations, innovative startups, and a thriving entrepreneurial ecosystem. Studying business in Ireland offers unique insights into diverse industries, making it a perfect environment to learn from real-world case studies and industry professionals.
Book a free consultation with SI-Ireland today to learn more about studying a business degree.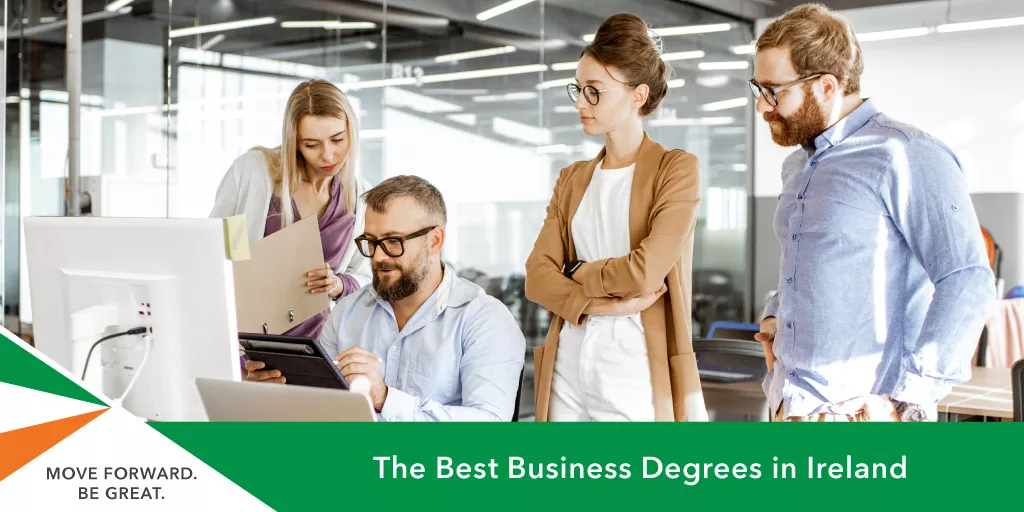 Five Great Business Degrees to Study in Ireland
1. MSc in Digital Marketing Strategy at Trinity College Dublin
The MSc in Digital Marketing Strategy at Trinity College Dublin is a cutting-edge course that enables students to navigate the dynamic and ever-evolving digital landscape. It has been designed to meet the demands of the digital age and offers an exceptional educational experience that combines strategic marketing principles with innovative digital marketing techniques needed in today's times. The curriculum covers essential marketing principles with an emphasis on digital marketing strategies and tools. Students delve into topics such as digital advertising, social media marketing, content strategy, SEO, data analytics, and consumer behaviour in the digital realm.
The faculty consists of experienced marketing professionals and accomplished academics, providing students with a blend of real-world insights and theoretical knowledge. The university provides state-of-the-art facilities, including dedicated digital marketing labs and access to cutting-edge marketing tools and software.
2. MSc in International Business at University College Dublin
The MSc in International Business at University College Dublin has been designed to equip students with the relevant knowledge, skills, and global mindset to excel in the ever-expanding international business landscape. The course offers a comprehensive curriculum that covers essential business disciplines with a strong emphasis on international perspectives by letting students get knowledge on topics such as global marketing, cross-cultural management, international finance, supply chain management, and emerging market dynamics. They also have the opportunity to engage with diverse business environments, cultures, and global business practices through international modules and study trips abroad.
UCD offers state-of-the-art facilities, including modern lecture halls, collaborative spaces, and dedicated international business research centres.
3. MSc in Management (Business) at Dublin City University
The Master of Science in Management (Business) at DCU stands as a transformative pathway for aspiring business leaders. Designed to cultivate a deep understanding of management principles, strategic thinking, and global perspectives, the MSc in Management at Dublin City University equips students with the skills and knowledge to thrive in the dynamic and competitive business world.
Recognising the importance of a global mindset, the MSc in Management (Business) programme incorporates international study trips, guest lectures by global business leaders, and opportunities for students to engage with a diverse and multicultural community. The university embraces experiential learning through practical projects, internships, and consultancy opportunities. Students work on real business challenges, gaining hands-on experience and building a portfolio of accomplishments that enhance their employability.
4. MSc Business Economics at University College Cork
University College Cork has a highly-acclaimed Master of Science (MSc) in Business Economics that is tailored for aspiring economists and business professionals. It offers a comprehensive curriculum that combines the principles of economics with practical business applications. Students delve into economic theories, quantitative analysis, financial decision-making, and strategic management, gaining a holistic understanding of the economic forces shaping businesses and industries.
Distinguished faculty members lead UCC's MSc Business Economics with expertise in various economic and business disciplines. The course leverages UCC's research-driven environment, allowing students to engage in cutting-edge research projects and contribute to advancements in economic and business knowledge.
5. MSc Business Analytics at the University of Galway
The Master of Science (MSc) in Business Analytics at the University of Galway provides students with the skills and knowledge to unlock the potential of data in the business world. The business courses in the degree have been designed to meet the growing demand for data-driven decision-making, combining advanced analytical techniques with practical business applications. Students get the opportunity to study topics such as data mining, predictive modelling, machine learning, and business intelligence, gaining a deep understanding of how data can drive strategic decisions.
The curriculum places great importance on hands-on learning, enabling students to work on real-world business analytics projects. The university offers state-of-the-art facilities and research resources, including dedicated data analytics labs and access to the latest software and technology.
Studying Business in Ireland FAQ
Which business degree is best for the future?
With the increasing importance of data-driven decision-making, business analytics and data science degrees in the business domain are becoming increasingly valuable. Another booming option is the specialised degrees in Digital Marketing.
What rank is Ireland in business?
Ireland usually ranks relatively high in the ease of doing business. According to the World Bank's "Doing Business" report for 2020, Ireland was ranked 24th out of 190 countries in terms of ease of doing business.
What is the best subject to study in Ireland?
Ireland is known for its business and management courses, but it also offers a wide range of high-quality degrees in computer science and information technology, including courses in cybersecurity, data science, cloud computing, and other specialisations.
What are the pros and cons of studying in Ireland?
Pros:
High-Quality Education: Ireland boasts a reputable education system, with several universities consistently ranked among the top in the world. Students can expect to receive a high standard of teaching, research opportunities, and access to modern facilities.
Vibrant Cultural Experience: Ireland's rich history, vibrant arts scene, and welcoming locals create a unique cultural experience for international students. The country's lively cities, picturesque landscapes, and festivals offer a diverse and exciting lifestyle.
English Language: As English is the primary language of instruction, non-native English speakers can improve their language skills while studying in Ireland, enhancing their employability globally.
Post-Study Work Opportunities: Ireland offers post-study work permits to international graduates, allowing them to gain work experience in the country after completing their degrees.
Tech and Business Hub: With a strong presence of multinational corporations and startups, especially in the technology and business sectors, studying in Ireland can provide excellent networking and career opportunities.
Cons:
While tuition fees for international students in Ireland are generally lower than in some other countries, the cost of living can be relatively high, especially in urban areas like Dublin. Ireland's climate is known for being unpredictable and rainy and students from warmer climates might take some time to adjust to the cooler and wetter weather.