Dublin Business School is a private college located in Dublin, Ireland. Founded in 1975 as Accountancy and Business College, it is now known as Dublin Business School and is considered one of the largest independent colleges in Ireland.
Dublin Business School has over 9,000 students enrolled across its various undergraduate and postgraduate courses in business, law, psychology, arts, media, IT, and more. A highly qualified faculty comprising experienced academicians and industry experts deliver the courses with a comprehensive understanding of the latest practices and trends in their respective fields. It is known for its innovative and practical approach to imparting education, which is because of the practical learning opportunities such as internships, work placements, and industry-focused projects that are part of Dublin Business School courses. Dublin Business School fees are competitive, and international students can expect to pay between €10,000 - €14,500 on tuition.
Keep reading ahead to learn more about Dublin Business School, and book a free consultation with SI-Ireland today to start your application to study in Ireland.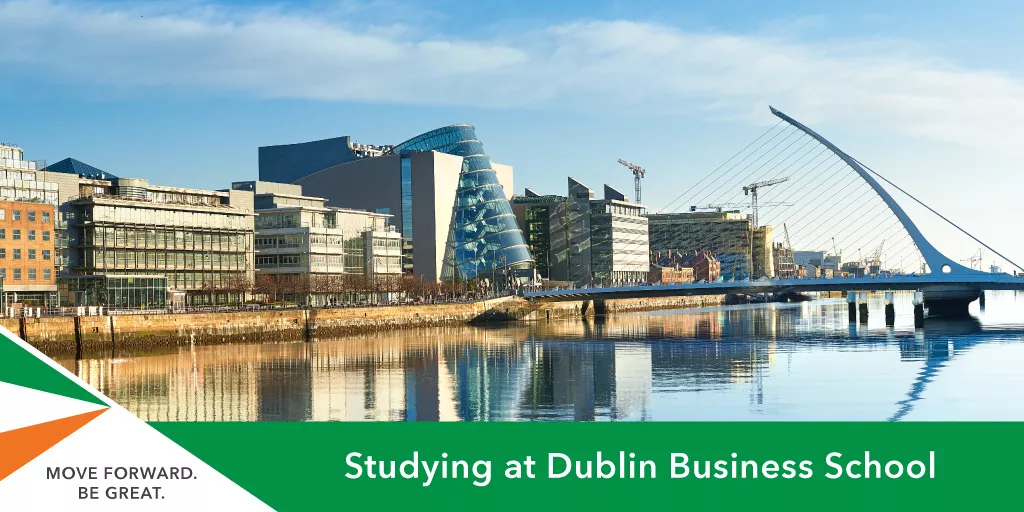 Five Reasons to Choose Dublin Business School
1. Accreditation and awards
Dublin Business School has some of the best accreditations in Europe, which makes the quality of education particularly impressive. It is accredited by Quality and Qualifications Ireland and other industry-specific organisations, such as the Chartered Institute of Management Accountants and also by the Association of Chartered Certified Accountants. Dublin Business School has also been awarded international accreditations by prestigious organisations such as AMBA, AACSB, and EDUQUA. Some awards the institute has won for its academic excellence, and contribution are the Education Institute of the Year Award, Business School of the Year Award and the National Education Award.
2. Career progression
Dublin Business School strongly focuses on preparing students for their careers and helping them progress in their chosen fields of study. Programmes have industry-focused courses designed to provide students with the skills and knowledge that employers are looking for in the global workspace. Dublin Business School courses are regularly reviewed to ensure they are up-to-date and relevant to the current job market.
With strong industrial links, the college offers work placements and internships as part of the curriculum. This allows students to gain practical experience in their chosen field while studying. The college also has a dedicated career development centre known as The DBS Careers Hub providing services such as career guidance, CV preparation, job search support, networking and interview skills, among others.
3. Student support
Dublin Business School provides a wide range of student support services to help them succeed academically and personally. Through academic support services, students can attend workshops and receive tutorial and writing support to help improve their performance. While being away from home, students tend to feel the need to have personal support and guidance, which is provided with services such as counselling and mental health support.
These services are particularly important when students face challenging situations during their stay at the college. The college also has career services to guide them towards a better career pathway. Other services include accommodation help, assistance with visa and immigration issues, financial assistance, and other important aspects of studying abroad.
4. Variety of business courses
Being a leading business school in Ireland, the variety of business courses at Dublin Business School courses is truly commendable. These include the Bachelor of Business, covering disciplines such as accounting, management, finance, marketing and economics. The MBA is designed to develop leadership and management skills for professionals.
Additionally, other Master's degrees are also provided in Accounting and Finance, Entrepreneurship, International Business, and Strategic Management. There are postgraduate diplomas in various disciplines like Marketing, Digital Marketing, Human Resources Management, and International Business, among others. Apart from these, there are professional certification programs and other short-term courses intended for professionals who wish to upskill or specialise in a specific field of business.
5. Great location
DBS is located in the heart of Dublin city, and it has state-of-the-art facilities, including lecture theatres, computer labs, a library, a student centre, and a career development centre. The city is known for its cultural heritage and vibrant arts scene. The students can enjoy a variety of cultural activities like music, theatre, art exhibitions and literary events.
The people of Dublin are known for their friendliness and welcoming nature. Another plus point of learning and living in Dublin is that despite being a bustling city, it is relatively affordable compared to other major European cities. The environment to grow and enjoy while pursuing higher education is among the best in the city, which makes it possible for students to have an experience of a lifetime.
Study at Dublin Business School
If you want to study a Dublin Business School course, contact SI-Ireland today for a free consultation on your future.