Architectural studies in Ireland impart technical skills for home design and building. As a discipline of study, Architecture is closely connected with subjects such as Art, Design and History, whilst other essential components of architecture courses include subject knowledge of Engineering, Graphic Design and User Experience Design and Construction.
Bachelor's and master's degree programmes in Architecture blend interdisciplinary skills, drawing upon engineering, mathematics and technology principles, with an understanding of cultural trends and social issues. Students will also learn about other famous architects. For undergraduate architecture courses, students will need to dedicate five years to complete their degree, including two years to be accredited as an architect. Once accredited, they are ready to apply for employment with international companies.
Specialised courses in architecture are offered at schools and colleges across Ireland. If you want to study Architecture in Ireland or have more questions, arrange a free consultation with SI-Ireland today.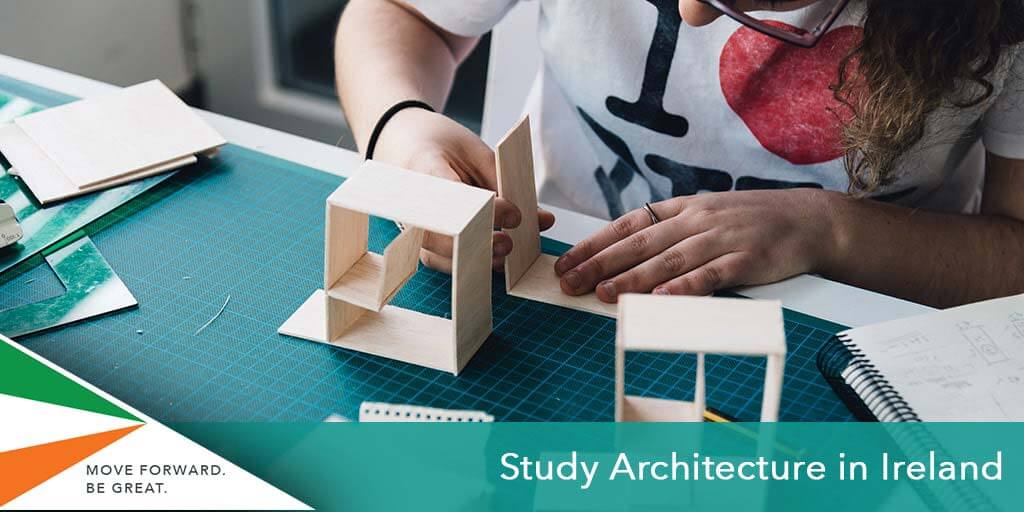 Top Universities in Ireland for Architecture
University College Dublin
International students studying at the University College Dublin's School of Architecture are encouraged to engage constructively and creatively with the difficulties of designing the built environment. UCD offers the most comprehensive range of facilities in Ireland and the most respected courses to help you achieve your potential.
Architecture courses at the University College Dublin are accredited by the Royal Institute of Architects of Ireland (RIAI), The Royal Institute of British Architects (RIBA), and NAAB (International Certification).
University College Cork
The Architecture programme at the Cork Centre for Architectural Education is a challenging and engaging programme that includes technology and cultural/contextual modules, with a strong focus on design studio activities. The Architecture degree is delivered through a collaboration between University College Cork and the Munster Technological University at the Cork Centre for Architectural Education in Cork city,
The programme is accredited by the RIAI and combined with the Master of Architecture, and it provides students with the skills and experience needed to work as an architect. The programme includes two years of work experience in an architect's office and a Postgraduate Certificate in Architectural Professional Practice and Experience.
University of Limerick
The MArch programme at the University of Limerick is designed for graduates with an undergraduate degree in architecture. It is a fast-paced and flexible course that emphasises research learning.
The Design Studio is the core element of the course and uses a unique instruction method that encourages collaborative peer-to-peer learning. The programme can be completed full-time in one to three years, depending on the applicant's prior knowledge. Note: This programme is subject to professional accreditation by the RIAI.
Technological University Dublin
The Bachelor of Architecture (Hons) at Technological University Dublin is a five-year course that prepares students for architecture practice. The course covers topics such as design studio, the history of theory and criticism of architecture, environment, construction, and law.
This course is ideal for students with a creative aptitude for architectural design, the ability to implement their strategies in practice, an interest in artistic and cultural aspects of society, and a talent for technical and managerial challenges.
Waterford Institute of Technology
This three-year Architecture course at Waterford Institute of Technology allows students to create construction drawings and specifications for more intricate buildings. The course focuses on environmental studies to ensure students know how to save energy in the construction process from start to finish. In computer software, students will be trained in various programs emphasising the latest Building Information Modelling tools.
The course will also cover topics such as graphical presentation techniques, structures and construction systems, and the principles guiding construction law and professional practice.
Architecture Courses in Ireland
Landscape Architecture
Landscape architecture specialises in the designing and planning external spaces such as cities, regions, gardens and neighbourhoods. Landscape architecture is firmly focused on sustainability and conservation through aesthetic designs which are ecologically and socially viable. Recreational planning, ecological restoration and urban design and planning are some of the areas covered under this dynamic specialisation field of architectural studies.
Regional and Urban Planning
Studying architecture specialising in regional and urban planning will mean community-based learning of sustainable urban designs for cities, towns and metropolitan regions.
This architectural specialisation focuses on strong analytical skills to improve the functionality and quality of places. Graduates who have studied architecture specialising in urban and regional planning are much sought after by government and local civic agencies, planning consultancies and global developmental organisations.
Architectural Engineering
Stspecialisationctural engineering helps understand designing systems for lighting, ventilation, emphasising and cooling structures for greater functionality. This field of architecture studies helps build structures like dams, canals, roadways etc. A specialisation in architectural engineering develops skills to work with public structures, emphasising the functionality of design systems and a greater inclination towards the physics and mathematics of creating structures than design and art.
Study Architecture in Ireland
Contact SI-UK to learn more about studying architecture in Ireland and book a free consultation to begin your application for the upcoming intake.