University College Cork (UCC) was Ireland's first 5-star university. Founded by Queen Victoria in 1845, UCC is now a comprehensive university with more than 22,000 students, 3,500 of which are international, representing 100-plus countries worldwide. UCC offers over 120 degree and professional programmes in the Humanities, Business, Law, Architecture, Science, Food and Nutritional Sciences, Medicine, Dentistry, Pharmacy, Nursing and Clinical Therapies.
UCC has a vibrant campus life, with a wide range of clubs and societies for students to get involved in. The University also offers a variety of sports teams and facilities, including a gym and sports fields. The city of Cork is a popular destination for students, known for its rich cultural heritage and lively atmosphere.
If you wish to get admission to top universities in Ireland, such as University College Cork, arrange a free consultation call with SI-Ireland today to discuss your study options.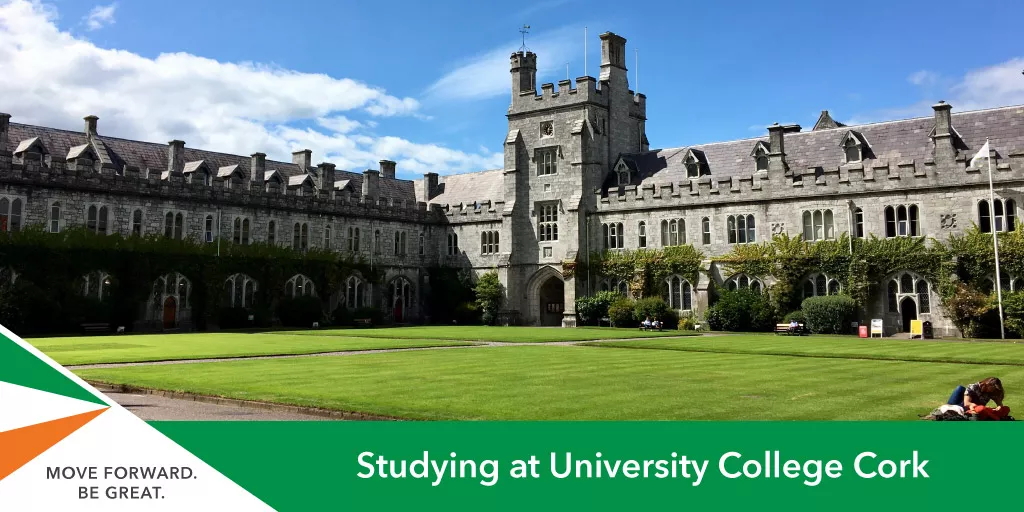 Six Reasons to Study at UCC
1. Global ranking, awards and reputation
University College Cork is consistently ranked among the best universities in Ireland and the world. According to the 2023 QS World University Rankings, UCC is ranked 303rd in the world, while the 2023 Times Higher Education World University Rankings place the University in the global top 350.
Additionally, UCC is consistently ranked highly in various subject-specific rankings, such as the 2022 QS World University Rankings by Subject, which ranked UCC in the top 200 in the world in subjects such as Agriculture & Forestry, Environmental Sciences, and Education.
UCC was voted the Best Student Campus in Ireland by the Irish Education Awards in 2021 and 2022, and the campus was the first to be awarded a Green Flag by the Foundation for Environmental Education. UCC is also ranked 7th globally for sustainability by UI Green Metric for 2022. UCC is the only Irish University to have won The Sunday Times University of the Year award two years in a row and has also won the award on three different occasions.
2. Amazing campus and facilities
University College Cork has a large and well-maintained campus comprising a mix of historic and modern buildings, including the iconic Main Quadrangle, which is the centrepiece of the campus. The Main Quadrangle was built in the 19th century and is a protected structure. It now houses several key buildings, such as the Aula Maxima, used for graduation ceremonies and other events, and the Boole Library, the university's main library.
The UCC Student Hub, located centrally on the main campus, provides access to more than 100 clubs and societies, apart from a range of student advisory services such as health and wellness, career counselling, finances and much more. Accommodation options at the university also make the study years memorable for the students who participate in campus activities to enjoy their stay in the city fully.
The campus is also surrounded by a beautiful park, with many walking trails and bike paths, which makes it a great place to study and relax. The campus also has a number of cafes and restaurants that offer a variety of food and drinks.
3. Career opportunities and post-study work visa
Cork is a hub of various multinational companies, with industry giants such as HP, Google, IBM, Twitter, and LinkedIn headquartered in the city.
Every year, nearly 97% of students from UCC get either a campus placement or projects in such big companies. And as the post-study work visa for students (outside of EU/EAA) graduating from Irish universities enables them to stay back for two years to look for job opportunities, the chances of having a successful career are much higher for students.
3. Cork is a student-friendly city
Cork is the second largest city in Ireland and features many attractions to make your stay in the city memorable. Cork City Gaol, St. Finn Barre's Cathedral, and the English Market are all hugely popular, while The River Lee runs through the city and gives a picturesque view.
Additionally, the city is surrounded by beautiful countryside, making it a great destination for outdoor activities such as hiking and cycling. Cork is among the most student-friendly cities in Ireland.
4. Scholarships and funding support
There are over 200 programmes at undergraduate and postgraduate levels at UCC, and international students can choose many among them with various scholarship options. Most of the merit scholarships range from giving 25% to 50% tuition fee waivers that deserving candidates can avail. There are other scholarships awarded for excellence in extracurricular activities and sports. Postgraduate international students can also receive grants of up to EUR 3000 in the form of scholarships.
5. Cork is a sustainable university
University College Cork promotes sustainability and has implemented a number of initiatives to reduce its environmental impact. Examples include:
UCC has installed a number of renewable energy systems on campus, including solar panels and a wind turbine.
UCC promotes sustainable transportation options such as cycling and public transportation and provides facilities for cyclists such as bike racks and shower facilities.
UCC ensures that all products and services purchased by the university are sustainable and environmentally friendly.
UCC has a number of research and education programs focused on sustainability, including courses in environmental science, energy and renewable resources.
UCC also has a sustainability office committed to driving sustainability initiatives and promoting sustainable practices across the university.
Study at University College Cork
Arrange for a free consultation call with the education experts at SI-Ireland, if you wish to be a part of one of the top-ranking Irish Universities as an international student.